Many U.S. Teens Still Denied 'Morning After' Pill at Pharmacies: MedlinePlus Health News
Many U.S. Teens Still Denied 'Morning After' Pill at Pharmacies
'Mystery shopper' study found druggists refusing sales, despite FDA's removal of age limit for the contraceptive
Friday, June 30, 2017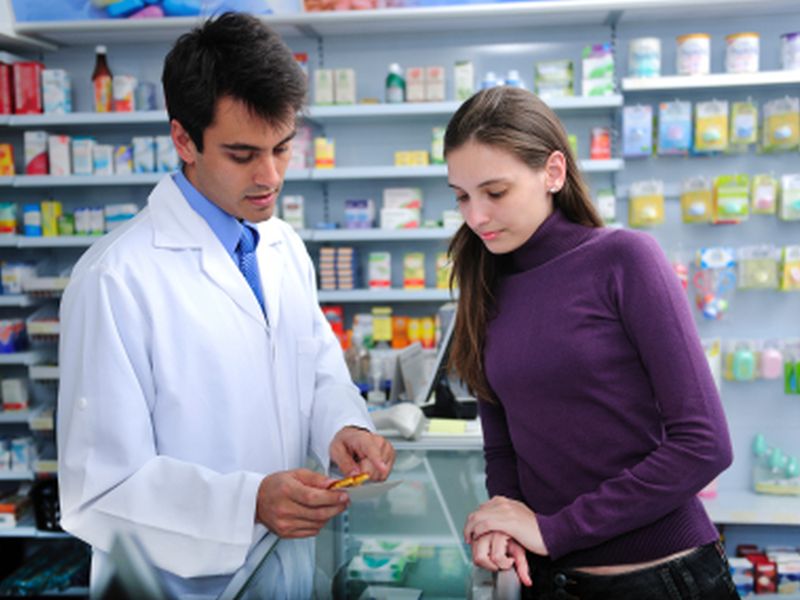 FRIDAY, June 30, 2017 (HealthDay News) -- Although the U.S. Food and Drug Administration has lifted age restrictions on the use of the "morning after" pill, new research suggests that many teens may still have a tough time trying to get the emergency contraception.
In the study, researchers posing as teenagers were often told erroneously by pharmacies that they needed a prescription for the over-the-counter pill or they were denied it altogether because of their age.
"In 2013, the FDA lifted the age restrictions for emergency contraception, and a lot of people thought, 'Great, we won, it's over, and now it's available and acceptable to anyone without any identification,' " said study author Dr. Tracey Wilkinson, an assistant professor of pediatrics at Indiana University School of Medicine.
"But knowing a little about what happens to my patients, and understanding that just because there were a lot changes it doesn't mean that implementation is universal, I was really interested in trying to figure out if anything had changed once those restrictions had been removed," she added.
So Wilkinson, who performed a similar study in 2012, before the removal of age limits, decided to do a follow-up study.
Two female research assistants posed as 17-year-olds, calling 993 pharmacies in select cities and asked for the contraception that day, just as in the previous study.
The results were similar, with same-day availability of the emergency contraception hitting 83 percent, versus 81 percent in 2012. However, 8.3 percent of these pharmacies denied access to emergency contraception due to the caller's age.
And when the callers asked about general dispensing information, 48 percent of pharmacies incorrectly told the callers that emergency contraception was not available without a prescription to anyone.
The researchers found that the denial of access to nonprescription emergency contraception was more common in low-income neighborhoods, another fact that has not changed since the 2012 study.
Dr. Tomer Singer, an obstetrician-gynecologist at Lenox Hill Hospital in New York City, was disappointed that pharmacists are still restricting teen access to emergency contraception.
"I'm not surprised that there was still some confusion among pharmacies, and adolescents who are probably requesting this pill for the first time in their life," said Singer, who wasn't involved with the study. "The adolescents will accept whatever the person on the phone tells them, and that's discouraging."
Wilkinson is also concerned that this misinformation could be spread among teens.
When someone is denied access, she tells her friends, who in turn tell their friends, spreading the false information that they are not able to receive emergency contraception from a pharmacy, Wilkinson said.
"The United States still has the highest unplanned teen pregnancy rate of similar high-income countries," she noted. "And even though we have lowered the teen pregnancy rate rather well over the last seven years, it's not lowering across the board. There are still high rates in impoverished communities and in states with not great access to health care."
"Now, with threats to ACA [Affordable Care Act], talks about changing access and rumors that contraception access will now be optional for employers, you are going to have teenagers that can only get access to contraception based on whether or not their parents work for a company that will cover it," Wilkinson continued.
She said this is going to make the morning after pill "even more important, because it's something you can access without necessarily having insurance."
The study recommended that educating pharmacy staff and clinicians, as well as educating teens, are two ways to help change the misconceptions regarding access to emergency contraception.
Singer believes it should go further, with schools providing education about safe sex practices and emergency contraception.
"We should have an honest discussion with our students in fifth, sixth and seventh grades about the risk of having unprotected intercourse," Singer said.
"And, there should be simple, cheap methods available, like putting condoms in vending machines at schools and potentially even having the nurse maintain a stock of Plan B [the morning after pill]. Students can go to the nurse, explain that they had unprotected intercourse and get the medication right there," he said.
The morning after pill prevents pregnancy in seven out of eight women when taken properly within 72 hours after unprotected intercourse, Singer explained. This spares women from having to undergo surgical procedures or more aggressive treatments later to terminate a pregnancy, or from having an unplanned pregnancy.
Wilkinson would also like to see more community awareness regarding the availability emergency contraception, such as advertising from a variety of sources, like drug companies, sex educators, community health workers and public health departments.
"From a reproductive health advocate perspective, this study shows there is still a lot of work that needs to be done," she said. "We have a lot of work ahead of us to guarantee access for everybody."
The study was published online June 30 in the journal Pediatrics.
SOURCES: Tracey Wilkinson, M.D., MPH, assistant professor, pediatrics, Indiana University School of Medicine, Indianapolis; Tomer Singer, M.D., ob-gyn, Lenox Hill Hospital, New York City; June 30, 2017, Pediatrics, online
HealthDay
Copyright (c) 2017
HealthDay
. All rights reserved.
News stories are written and provided by HealthDay and do not reflect federal policy, the views of MedlinePlus, the National Library of Medicine, the National Institutes of Health, or the U.S. Department of Health and Human Services.
More Health News on