Ultra-Sten and D-Zine Capsules by Hardcore Formulations: Recall - Contains Anabolic SteroidsHardcore Formulations is voluntarily recalling all lots and expiration dates of Ultra-Sten and D-Zine capsules to the consumer level. These products are labeled to contain methylstenbolone (Ultra-Sten) and dymethazine (D-Zine), which are considered to be derivatives of anabolic steroids. The presence of these anabolic steroids in Ultra-Sten and D-Zine render them unapproved drugs for which safety and efficacy have not been established and therefore subject to recall. This recall applies to all lot numbers and expiration dates of these products.
Consumption of products containing derivatives of anabolic steroids may cause serious liver injury and other adverse health consequences, including kidney injury, increased risk of heart attack and stroke, decreased high-density lipoprotein (HDL) cholesterol levels, elevated blood pressure, aggressive behavior, male infertility, virilization in women (e.g., menstrual irregularities, deeper voice, increased body hair, baldness, etc.), and enlarged breasts and shrinkage of the testes in men. Patients with underlying cardiac, hepatic, or prostate conditions may be at higher risk for adverse reactions than otherwise healthy users.
More information
Sten Z and M1 Alpha Capsules by Andropharm: Recall - Contains Derivatives of Anabolic Steroids
Andropharm is voluntarily recalling all lots of Sten Z and M1 Alpha capsules to the consumer level because these products contain derivatives of anabolic steroids rendering them unapproved drugs for which safety and efficacy have not been established and therefore subject to recall. Consumption of these products may cause elevated blood pressure, aggressive behavior, male infertility, or enlarged breasts and shrinkage of the testes in men. Patients with underlying cardiac, hepatic, or prostate conditions may be at higher risk for adverse reactions than otherwise healthy users. To date, Andropharm has not received any reports of these or any illnesses or injuries related to Sten Z or M1 Alpha.
More information
Novopen Echo Insulin Delivery Device by Novo Nordisk: Recall - May Crack or Break If Exposed To Certain ChemicalsNovo Nordisk is initiating a recall of insulin cartridge holders used in a small number of NovoPen Echo batches because they may crack or break if exposed to certain chemicals, like certain cleaning agents. Using a device with a cracked/broken cartridge holder may result in the device delivering a reduced dose of insulin which could potentially lead to high blood sugar.
Novo Nordisk has received numerous complaints of damaged cartridge holders and has received some reports of adverse events to date.
The affected batches were distributed between 8/1/2016 – 6/22/2017 to distributors, sales representatives and replacement programs for further distribution to pharmacies, healthcare providers and patients nationwide.
More information
Statement from Alberto Gutierrez, Ph.D., Director, Office of In Vitro Diagnostics and Radiological Health, FDA's Center for Devices and Radiological Health on the status of FDA's investigation into inaccurate results from certain lead tests
In May 2015, the FDA
warned Americans
that Magellan Diagnostics' LeadCare test systems performed on blood drawn from the vein (venous) may provide inaccurate results.
At that time, our first priority was to warn laboratories, health care professionals and people who may have been impacted by this issue. We also launched an aggressive investigation to determine the cause of the inaccurate results and promised to continue to communicate as we learned more about the issue.
More information
Federal judge enters consent decree against Alabama compounder Medistat
U.S. District Judge William H. Steele entered a consent decree of permanent injunction between the United States and Medistat RX LLC of Foley, Alabama, the company's co-owners, Mark D. Acker and Timothy L. Fickling, and quality manager and pharmacist-in-charge V. Elaine Waller.
The consent decree prohibits Medistat, its owners and pharmacist-in-charge from manufacturing, holding or distributing drugs until they comply with the Federal Food, Drug and Cosmetic Act (FD&C Act) and its regulations, in addition to other requirements.
More information
Comunicaciones de la FDA sobre la seguridad de los medicamentos en español
Descargo de responsabilidad: La FDA reconoce la necesidad de proporcionar información importante sobre seguridad de los medicamentos en idiomas distintos al inglés. Hacemos lo mejor posible para proporcionar versiones en español precisas y oportunas de nuestras Comunicaciones de Seguridad de Medicamentos. Sin embargo, en caso que existiera discrepancias entre las versiones en inglés y la de español, la información contenida en la versión en inglés es la que se considera como versión oficial. Si tiene alguna pregunta, por favor contáctese con Division of Drug Information en
druginfo@fda.hhs.gov
.
Comunicaciones de la FDA
FDA knows the major public health consequences that can result from drug shortages. These shortages occur for many reasons including manufacturing and quality problems, delays and discontinuations. When issues are discovered, FDA works closely with the company to address risks involved to prevent harm to patients. FDA also considers the impact a shortage would have on patient care and access and works with the company to restore supplies while also ensuring safety for patients.
More information
Drug Shortages Voluntarily Reported by Manufacturers During the Past 2 Weeks:
La FDA reconoce las consecuencias significativas para la salud pública que pueden resultar de la escasez de medicamentos y hace un gran esfuerzo dentro de sus facultades legales para abordar yprevenir la escasez de medicamentos. La escasez se produce por muchas razones, incluyendo problemas de fabricación y calidad, retrasos y discontinuación del producto. Cuando los problemas son descubiertos por la empresa o el público y reportados a la FDA o se descubren por inspecciones de la FDA, la FDA trabaja en estrecha colaboración con la empresa para hacer frente a los riesgosinvolucrados y evitar daños a los pacientes. La FDA también considera el impacto que una escaseztendría en la atención médica del paciente y al acceso del producto y trabaja con la empresa pararestablecer el suministro al tiempo que garantiza la seguridad de los pacientes.
Más
información
FDA approves Vosevi for hepatitis C
The FDA approved Vosevi to treat adults with chronic hepatitis C virus (HCV) genotypes 1-6 without cirrhosis (liver disease) or with mild cirrhosis. Vosevi is a fixed-dose, combination tablet containing two previously approved drugs – sofosbuvir and velpatasvir – and a new drug, voxilaprevir. Vosevi is the first treatment approved for patients who have been previously treated with the direct-acting antiviral drug sofosbuvir or other drugs for HCV that inhibit a protein called NS5A.
"Direct-acting antiviral drugs prevent the virus from multiplying and often cure HCV. Vosevi provides a treatment option for some patients who were not successfully treated with other HCV drugs in the past," said Edward Cox, M.D., director of the Office of Antimicrobial Products in the FDA's Center for Drug Evaluation and Research.
More iniformation
FDA approves new treatment to reduce the risk of breast cancer returning
The FDA approved Nerlynx (neratinib) for the extended adjuvant treatment of early-stage, HER2-positive breast cancer. For patients with this type of cancer, Nerlynx is the first extended adjuvant therapy, a form of therapy that is taken after an initial treatment to further lower the risk of the cancer coming back. Nerlynx is indicated for adult patients who have been previously treated with a regimen that includes the drug trastuzumab.
"HER2-positive breast cancers are aggressive tumors and can spread to other parts of the body, making adjuvant therapy an important part of the treatment plan," said Richard Pazdur, M.D., director of the FDA's Oncology Center of Excellence and acting director of the Office of Hematology and Oncology Products in the FDA's Center for Drug Evaluation and Research. "Now, these patients have an option after initial treatment that may help keep the cancer from coming back."
More information
New treatment for sickle cell disease approved
The FDA approved Endari (L-glutamine oral powder) for patients age five years and older with sickle cell disease to reduce severe complications associated with the blood disorder.
"Endari is the first treatment approved for patients with sickle cell disease in almost 20 years," said Richard Pazdur, M.D., acting director of the Office of Hematology and Oncology Products in the FDA's Center for Drug Evaluation and Research and director of the FDA's Oncology Center of Excellence. "Until now, only one other drug was approved for patients living with this serious, debilitating condition."
More information
FDA granted marketing approval to the Praxis Extended RAS Panel
The FDA granted marketing approval to the Praxis Extended RAS Panel (Illumina, Inc.), a next generation sequencing (NGS) test to detect certain genetic mutations in RAS genes in tumor samples of patients with metastatic colorectal cancer (mCRC). The test is used to aid in the identification of patients who may be eligible for treatment with panitumumab (VECTIBIX, Amgen, Inc.).
This is the first FDA-approved NGS test that can detect multiple RAS gene mutations for colorectal cancer in a single test.
More information
For information on drug approvals or to view prescribing information and patient information, please visit Drugs@FDA or DailyMed.
CDER's Director's Corner Podcasts Antibiotic Misuse and Resistance
Dr. Woodcock discusses the issues surrounding the use and misuse of antibiotic medicines, as well as the emergence of antibiotic-resistant bacteria and how the issues are related.
More information
Statement from FDA Commissioner Scott Gottlieb, M.D., on National Academies of Sciences, Engineering, and Medicine report on pain management and prescription opioid abuse
In March 2016, the FDA asked the National Academies of Sciences, Engineering, and Medicine (NASEM) to outline the state of the science regarding prescription opioid abuse and misuse, as well as the evolving role that opioids play in pain management. We greatly appreciate all the work done by NASEM over the past year to produce the
comprehensive report
released today, which includes recommendations for the FDA and others on this important issue.
Reducing the scope of the epidemic of opioid addiction is my highest immediate priority as Commissioner, and since joining the FDA two months ago, I've been working with my colleagues to capitalize on the good work that has already been done and expand those efforts in novel directions. I've asked my FDA colleagues to take a fresh look at some key features of the agency's regulation of opioids, including provider education, benefit-risk assessment in the pre- and post-market setting, and steps we can take to reduce overall exposure to these drugs. As we continue these efforts, I was encouraged to see that many of NASEM's recommendations for the FDA are in areas where we've already made new commitments.
More information
Building a Strong FDA Workforce to Bring Scientific Advances to Patients, by Scott Gottlieb, M.D., Commissioner of FDA.
The key to FDA's public health mission, and its ability to bring innovative new therapies to patients, is the technical, scientific, and clinical expertise of its people. As the products that we're asked to review become more complex and specialized, so do the technical demands on our workforce. Our staff must remain current with the dramatic advances in science and medicine and meet the increasing demands that globalization and other trends place on our core consumer protection functions.
As a result, FDA continually faces the challenges related to building and maintaining a diverse, talented, and dedicated professional workforce. However, we're committed to doing what's necessary to tackle these challenges and maintain a strong FDA — one that attracts and preserves world-class talent.
To read the rest of this post, see
FDA Voice Blog, July 17, 2017
In this section you will find a comprehensive list of all the meetings that the FDA is involved with. The meetings may include advisory committee meetings, public workshops and public conferences that are seeking to hear from patients and caregivers.
Most FDA meetings are free to the public and do not require the public to register. Interested persons may present data, information, or views, orally at the meeting, or in writing, on issues pending before the committee. Other types of meetings listed may require prior registration and fees.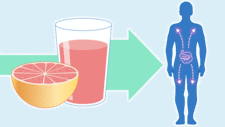 Grapefruit Juice and Some Drugs Don't MixGrapefruit juice and the actual grapefruit can be part of a healthy diet. Grapefruit has vitamin C and potassium—nutrients your body needs to work properly.
But it isn't good for you when it affects the way your medicines work, especially if you have high blood pressure or arrhythmia (irregular or abnormal heart beat).
This food and drug interaction can be a concern, says Shiew Mei Huang, PhD, of the U.S. Food and Drug Administration. The FDA has required that some prescription and over-the-counter (OTC) drugs taken by mouth include warnings against drinking grapefruit juice or eating grapefruit while taking the drug, Huang says.
More information
More Consumer Updates
For previously published Consumer Update articles that are timely and easy-to-read and cover all FDA activities and regulated products.
More information
En Español
La información en esta página es para el público en general, y para profesionales y educadores de salud. Esta información puede ser distribuida y publicada sin previa autorización.
En Español
The Safety Reporting Portal
The Safety Reporting Portal (SRP) streamlines the process of reporting product issues to the Food and Drug Administration and the National Institutes of Health. Whatever your role, (manufacturer, health care professional, researcher, public health official, or concerned citizen), when you submit a safety report through this Portal, you make a vital contribution to the safety of America's food supply, medicines, and other products that touch us all.
More information
Center for Food Safety and Applied Nutrition
The Center for Food Safety and Applied Nutrition, known as CFSAN, carries out the mission of FDA. The Center provides services to consumers, domestic and foreign industry and other outside groups regarding field programs; agency administrative tasks; scientific analysis and support; and policy, planning and handling of critical issues related to food and cosmetics.
More information
Food Facts for You
The Center for Food Safety and Applied Nutrition, known as CFSAN, issues food facts for consumers to keep you and your family safe.
More information
Travel Training for You and Your Pets by Ashley Steel, Contributing Writer, CommunicationsWith the summer months rapidly approaching, vacation season will soon be here. We all need a little time away from the monotony of an everyday routine, so as you get ready to retreat, it's important to know how to care for your four-legged friends traveling with you. Most of us travel by car or plane, but each option brings certain drawbacks for pets.
Car travel is usually less stressful on pets because it allows Freckles and Champ to be close to you, so you can monitor their well-being and come to their aid when needed. If you choose to drive to your destination, here are a few helpful hints to make the trip more enjoyable.
More information
Animal Health Literacy
Animal Health Literacy means timely information for the benefit of all animals and their humans. With continuous communication and outreach, the Center for Veterinary Medicine (CVM) strives to enhance the public trust, promote safe and effective use of the animal health products we regulate, and share our scientific endeavors. CVM provides reliable, science-based information to promote animal and human health.
More information
and
Publicaciones en Español del FDA
Animal and Veterinary Updates
Animal and veterinary updates provide information to keep your pets healthy and safe.
More information
How to Report a Pet Food Complaint
You can report complaints about a pet food product electronically through the
Safety Reporting Portal
or you can call your state's
FDA Consumer Complaint Coordinators.
Please provide as much information as possible in your complaint, such as exact name of product, type of container, lot number, UPC codes, how the food was stored, and purchase date and exact location where purchased. If possible, please save the original packaging until the pet food has been consumed. The packaging contains IMPORTANT information often needed to identify the variety of pet food, the manufacturing plant, and the production date.
More information
FDA releases age calculator app for tobacco retailers
Takings steps to protect youth from the harms of tobacco, the FDA recently released a voluntary smartphone application, "FDA Age Calculator," on the
Google Play
and
iTunes
app stores designed to help tobacco retailers comply with age restriction laws. Retailers will now be able to use their personal smartphones to help determine if a purchaser is old enough under federal law to buy tobacco products.
Find out more about FDA's efforts to prevent tobacco use among youth
.
FDA's Center for Tobacco Products celebrates 8th anniversary of tobacco oversight
It has been eight years since the landmark Family Smoking Prevention and Tobacco Control Act was signed into law in June 2009. During this period, the agency has taken many strides towards public health protection, as shown by the CDC's and FDA's recent findings from the 2016 National Youth Tobacco Survey. Despite these and other encouraging indications of progress, a great deal of work remains to be done in further reducing the death and disease toll of tobacco.
Learn about the 2016 National Youth Tobacco Survey findings
.
Comments invited as FDA reviews "modified risk" tobacco product applications
The public can now comment on modified risk tobacco product (MRTP) applications submitted by Philip Morris Products S.A., for its IQOS system and three types of Marlboro Heatstick products. By law, tobacco products may not be marketed as being less harmful or presenting lower risk of tobacco-related disease without a written order from FDA, and there are no authorized MRTPs currently on the market in the United States. You can view related
Philip Morris Products S.A. documents
as they become publicly available, and
comment through Dec. 12
.
Missed the last issue of CTPConnect?
The Center also publishes a regular periodical known as CTPConnect, a
plainspoken digest
with the latest stories from the Center.
Sign up today
to receive the next issue of CTPConnect and other important updates from CTP directly to your inbox.
Tips to help avoid "vape" battery explosions
You may have heard that e-cigarettes, or "vapes," can explode and seriously injure people. To help reduce the risk of vape battery overheating, fires, and explosions, the FDA has developed an
infographic with five key tips
, a video on how to report adverse events to the FDA's
Safety Reporting Portal
, and shareable and downloadable content to help spread the word about vape battery safety.
How cigarettes are made and how you can make a plan to quit
Ever wonder why it's so hard to kick smoking to the curb? Well, we've got an answer! CTP created an infographic that explores
how cigarettes are made
, highlighting how their very design may be an obstacle to quitting. As people across the country pledge to quit smoking, consider sharing this infographic with someone who could benefit.
How to Safely Use Nail Care Products
Manicures and pedicures can be pretty. The cosmetic products used, such as nail polishes and nail polish removers, also must be safe—and are regulated by the U.S. Food and Drug Administration.
The FDA also regulates devices used to dry (or "cure") artificial nails or gel nail polish as electronic products because they emit radiation.
You can do your part to stay safe (and look polished, too) by following all labeled directions and paying attention to any warning statements listed on these products.
More information
Bad reaction to a cosmetic? FDA needs to know
What do you do if you have a reaction after using a cosmetic product? First, stop using the product and contact your healthcare provider. Next, please report it to FDA.
Here's why that next step is so important: Cosmetic products aren't required by law to have FDA approval before they go on the market. Companies that market cosmetics have a legal responsibility to ensure product safety, but FDA can only take action if the product is shown to be unsafe after the product is on the market.
And, because the law doesn't require cosmetic companies to share customer complaints or other safety information with FDA, voluntary reports from consumers and healthcare providers are one of the best ways for FDA to learn about any problems.
Cosmetics include a range of products people use every day, such as moisturizers, makeup, shampoos and conditioners, face and body washes, deodorants, nail care products, hair dyes and relaxers, and tattoos.
More information
Recalls and Alerts
To see safety alerts and recent recalls related to cosmetics and other products regulated by FDA.
More information
What to watch for, how to report
You can report an allergic reaction, a rash, redness, burn, hair loss, headache, infection, illness, or any other unexpected reaction, whether or not it required medical treatment. You can also report a bad smell, color change, or other sign of contamination. You can choose the way you'd prefer to report:
Information about Expanded Access
Expanded access, sometimes called "compassionate use," is the use outside of a clinical trial of an investigational medical product (i.e., one that has not been approved by FDA). FDA is committed to increasing awareness of and knowledge about its expanded access programs and the procedures for obtaining access to human investigational drugs (including biologics) and medical devices.
More information
Learn about what your physician should do before submitting a request for individual patient expanded access use of an investigational medical product, who may be eligible for expanded access, associated costs, FDA contacts and more.
Information for Patients
Learn about your responsibilities under the expanded access pathway, how to submit a request for expanded access for an individual patient (including for emergency use), which forms to use, FDA contacts and more.
Information for Physicians