Experimental Zika virus vaccines restrict in utero virus transmission in mice | National Institutes of Health (NIH)

Institute/Center
Contact
Experimental Zika virus vaccines restrict in utero virus transmission in mice
Vaccines protect against Zika-related congenital damage.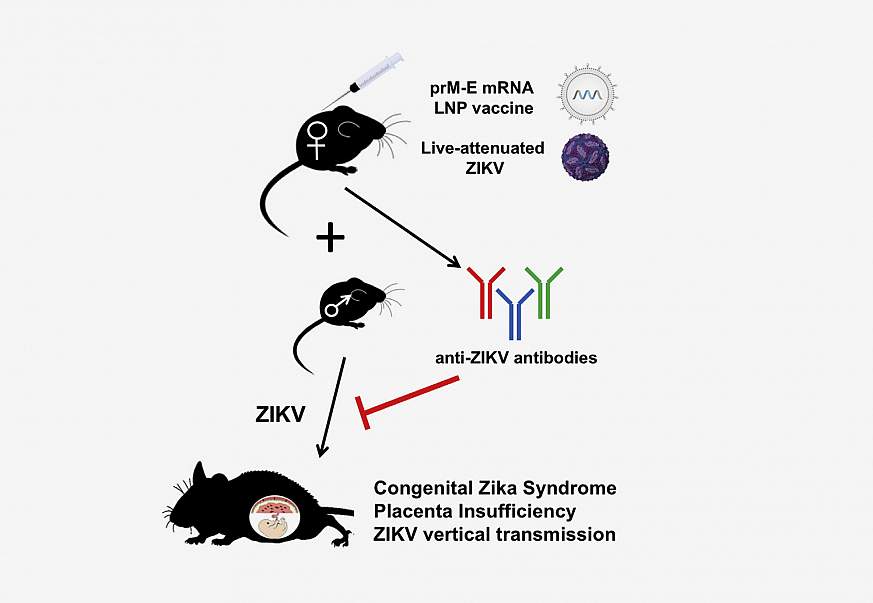 JM Richner et al./Cell
What
Two experimental vaccines can restrict Zika virus transmission from pregnant mice to their fetuses and can prevent Zika virus-induced placental damage and fetal demise, according to new findings published July 13 in Cell. Scientists from the National Institute of Allergy and Infectious Diseases (NIAID), part of the National Institutes of Health (NIH); Washington University School of Medicine in St. Louis; the University of Texas Medical Branch (UTMB); and other partners conducted the research. They tested a live-attenuated vaccine candidate developed by UTMB and an mRNA vaccine candidate developed by the biotechnology company Moderna.
Although Zika virus usually does not cause significant illness in children or adults, it can cause serious birth defects when an infected pregnant woman transmits it to her fetus. Currently, no vaccine or treatment is available to prevent or treat Zika virus disease or congenital Zika syndrome. However, several vaccine candidates have advanced to clinical trials in humans.
The current study is the first animal model study to demonstrate the protection conferred by experimental Zika virus vaccines when administered to female mice before they become pregnant and infected with Zika virus. Researchers gave 20 non-pregnant female mice two injections of the mRNA vaccine candidate 28 days apart and gave a separate group of 20 non-pregnant mice two injections of a placebo at the same time points. Another group of 18 female mice received a single immunization with the live-attenuated vaccine while a control group of 11 mice received a placebo injection. Subsequent tests revealed that mice that received mRNA experimental vaccine or live-attenuated experimental vaccine produced high levels of neutralizing antibodies against Zika virus in their blood.
All female mice were then mated and infected with Zika virus. One week after infection, the scientists observed that most fetuses in the vaccinated mice showed no evidence of having Zika virus transmitted to them from their pregnant mothers. Those mice that were infected showed markedly diminished levels of Zika virus RNA in maternal, placental and fetal tissues compared to placebo-injected mice, resulting in protection against placental damage and fetal demise. Together the data show that both experimental vaccines can restrict in utero transmission of Zika virus in mice. Further evaluation of the experimental vaccines is warranted, the authors say, as a vaccine that prevents congenital Zika syndrome in people is a critical public health need.
The research was funded in part by NIAID and the Eunice Kennedy Shriver National Institute of Child Health and Human Development (NICHD), part of NIH.
Article
JM Richner et al. Vaccine mediated protection against Zika virus-induced congenital disease. Cell DOI: 10.1016/j.cell.2017.06.040 (2017).
Who
NIAID Director Anthony S. Fauci, M.D., is available for comment. Theodore C. Pierson, Ph.D., chief, Viral Pathogenesis Section, part of NIAID's Laboratory of Viral Diseases, is also available for comment.
Contact
NIAID conducts and supports research — at NIH, throughout the United States, and worldwide — to study the causes of infectious and immune-mediated diseases, and to develop better means of preventing, diagnosing and treating these illnesses. News releases, fact sheets and other NIAID-related materials are available on the NIAID Web site at
www.niaid.nih.gov
.
About the Eunice Kennedy Shriver National Institute of Child Health and Human Development (NICHD): NICHD conducts and supports research in the United States and throughout the world on fetal, infant and child development; maternal, child and family health; reproductive biology and population issues; and medical rehabilitation. For more information, visit
NICHD's website
.
About the National Institutes of Health (NIH):
NIH, the nation's medical research agency, includes 27 Institutes and Centers and is a component of the U.S. Department of Health and Human Services. NIH is the primary federal agency conducting and supporting basic, clinical, and translational medical research, and is investigating the causes, treatments, and cures for both common and rare diseases. For more information about NIH and its programs, visit
www.nih.gov
.
NIH…Turning Discovery Into Health

®