Don't Let Summer Strain Your Back: MedlinePlus Health News
Don't Let Summer Strain Your Back
All that yard work and traveling can lead to injury, so spine experts offer safety tips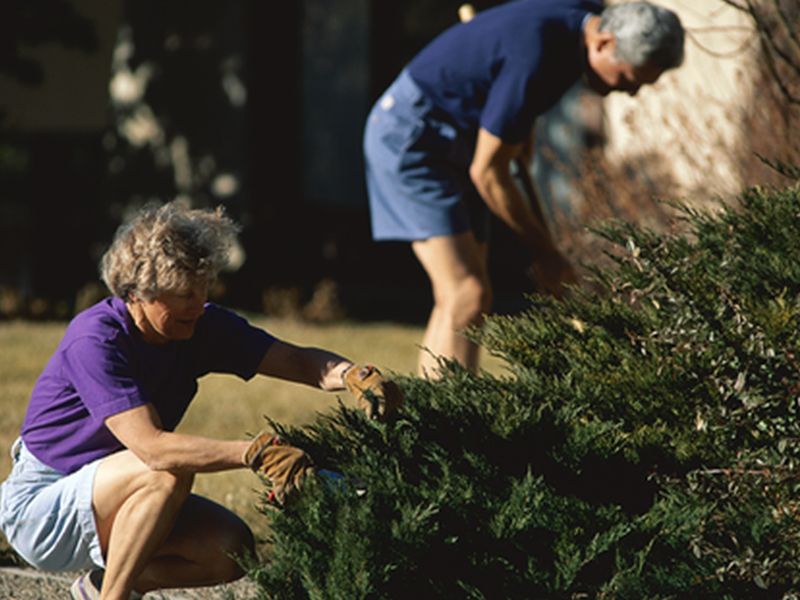 SATURDAY, July 1, 2017 (HealthDay News) -- Summer is the time when everyone dives into yard work and takes family vacations. But all that time spent bending, lifting and traveling can strain your back, spine experts say.
An estimated 3.7 million Americans sought care for back pain and injuries at doctors' offices in the summer of 2014, according to the American Academy of Orthopaedic Surgeons (AAOS).
"Many back injuries occur from sudden movements during daily activities such as bending, lifting and twisting," said Dr. Afshin Razi, a spokesperson for the academy.
"Always be mindful of the way you're positioning your body and practice safe lifting techniques during these motions. Keep the core muscles in your back and abdomen strong and flexible. Strengthening your core muscles will help to support your spine," Razi said in an AAOS news release.
The academy offers these tips for protecting yourself from back injuries during the summer:
Lift heavy items with your legs instead of your back, and don't bend over. Bend your knees instead and keep your back straight.
Get someone to help you lift heavy objects. Turn to your friends or family or hire someone to assist.
Pack as lightly as possible when traveling, and try to spread heavier items among several boxes or bags.
Take breaks, regardless of whether you're sitting or working, and stretch between tasks.
Watch your posture and sit with your back in a slightly arched position. Your chair should support your lower back and your head and shoulders should be upright.
Be careful about your footwear. Your shoes should fit properly and have rubber non-skid soles to protect you from falling, especially when you're traveling or working outdoors.
If you're outside, make sure hoses, rakes and garden tools are out of your path so you don't trip over them.
Pets like to be underfoot and can pose a tripping hazard. Consider putting a bell on your pet so you know its location when it's moving around.
SOURCE: American Academy of Orthopaedic Surgeons, press release
HealthDay
Copyright (c) 2017
HealthDay
. All rights reserved.
News stories are written and provided by HealthDay and do not reflect federal policy, the views of MedlinePlus, the National Library of Medicine, the National Institutes of Health, or the U.S. Department of Health and Human Services.
Saturday, July 1, 2017