Daily Jolt of Java May Bring Longer Life: MedlinePlus Health News
Daily Jolt of Java May Bring Longer Life
Two large studies boost potential benefits of coffee, and one looked at consumption in all races
Monday, July 10, 2017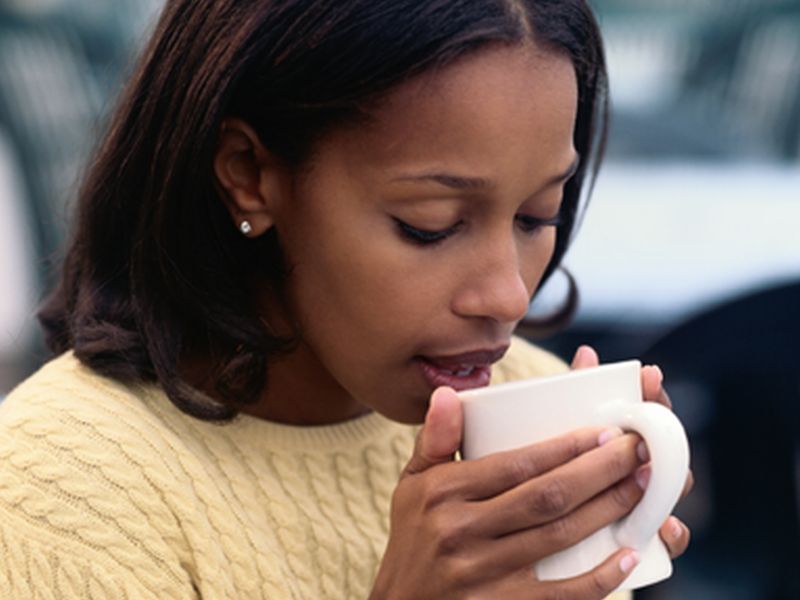 MONDAY, July 10, 2017 (HealthDay News) -- Here's news to perk up your day: Drinking coffee might help you live a little longer, two new studies suggest.
Researchers found that daily coffee drinkers were up to 18 percent less likely to die over the next 10 to 16 years, versus non-drinkers.
The findings -- based on over 700,000 middle-aged and older adults -- add to the growing list of benefits linked to moderate coffee drinking.
Studies have already tied the habit to lower risks of various diseases -- from heart disease and type 2 diabetes, to liver cancer, to neurological diseases like Parkinson's and multiple sclerosis.
None of those studies prove coffee, per se, provides the benefit.
And it's unlikely that doctors will start recommending coffee as some sort of elixir, according to Veronica Setiawan, the senior researcher on one of the studies.
"But if you've always been a coffee drinker," she said, "there's no reason to stop."
That runs counter to the common belief that coffee drinking is a bad habit -- a belief the evidence does not bear out, according to Setiawan.
"Moderate coffee consumption can be incorporated into a healthy lifestyle," said Setiawan. She's an associate professor of preventive medicine at the University of Southern California's Keck School of Medicine.
For their study, Setiawan and colleagues used data on nearly 186,000 middle-aged and older Americans of all races.
That's important, Setiawan said, because past studies on coffee and life span have mainly included white people.
At the study's start, in the 1990s, people reported on their diet and lifestyle habits, including coffee drinking. During the next decade, more than 58,000 study participants died.
It turned out that coffee drinkers had somewhat better survival odds. Those who downed one to three cups a day were 12 to 18 percent less likely to die, versus non-drinkers.
And the pattern was consistent across racial groups -- including whites, blacks, Latinos and Japanese-Americans, the study found.
According to Setiawan, that bolsters the theory that coffee, itself, might have some beneficial biological effects.
She noted that Americans of different races tend to differ in lifestyle habits, education and other factors. Yet coffee consumption was consistently linked to better survival, regardless of race.
The second study had similar findings.
This study included more than 520,000 Europeans. During the investigation, nearly 42,000 died.
People who drank about three cups of coffee (23 to 29 ounces) per day were 7 percent to 12 percent less likely to die over the next 16 years, compared with non-drinkers. And they had a 40 percent to 59 percent lower risk of dying from digestive disorders, such as liver disease.
The researchers said that finding makes sense. Past studies have hinted that coffee might support liver function; and coffee drinkers in this study typically had lower levels of certain proteins that can signal problems with the liver.
Both studies were published online in the July 11 issue of the Annals of Internal Medicine.
Still, neither study proved that coffee can extend a person's life, according to an editorial published with the findings.
"We are not in a position to recommend people drink coffee for health benefits," said Dr. Eliseo Guallar, one of the editorial's authors.
There are also potential downsides to coffee, noted Guallar, a professor at Johns Hopkins University in Baltimore.
He said that drinking more than 400 milligrams of caffeine a day -- equivalent to four to five cups of coffee -- can cause symptoms such as dizziness and a spike in heart rate. And some people, such as pregnant women and teenagers, should have stricter caffeine limits.
Plus, Guallar said, if people load their coffee with cream and sugar, that adds calories and unhealthy fats.
That said, he agreed with Setiawan's take: "We can reassure moderate coffee drinkers that they can continue," Guallar said.
If coffee does help ward off certain health problems, it's not clear why. It contains a mix of antioxidants, Setiawan noted, but no one knows if they deserve the credit.
It's not clear if caffeine has a role, either. In the U.S. study, people who drank decaf also had a lower death risk, Setiawan said.
Even if coffee has specific benefits, though, it would not be a magic bullet.
"Obviously," Setiawan said, "overall lifestyle -- physical activity, diet, not smoking -- is important."
SOURCES: Veronica W. Setiawan, Ph.D., associate professor, preventive medicine, University of Southern California Keck School of Medicine, Los Angeles; Eliseo Guallar, M.D., Dr.PH, professor, epidemiology and medicine, Johns Hopkins Bloomberg School of Public Health, Baltimore; July 11, 2017, Annals of Internal Medicine, online
HealthDay
Copyright (c) 2017
HealthDay
. All rights reserved.
News stories are written and provided by HealthDay and do not reflect federal policy, the views of MedlinePlus, the National Library of Medicine, the National Institutes of Health, or the U.S. Department of Health and Human Services.
More Health News on