CPAP Mask Not a Prescription for Heart Troubles: MedlinePlus Health News
CPAP Mask Not a Prescription for Heart Troubles
Device helped with sleep apnea, but didn't cut deaths from cardiovascular causes, study finds
Tuesday, July 11, 2017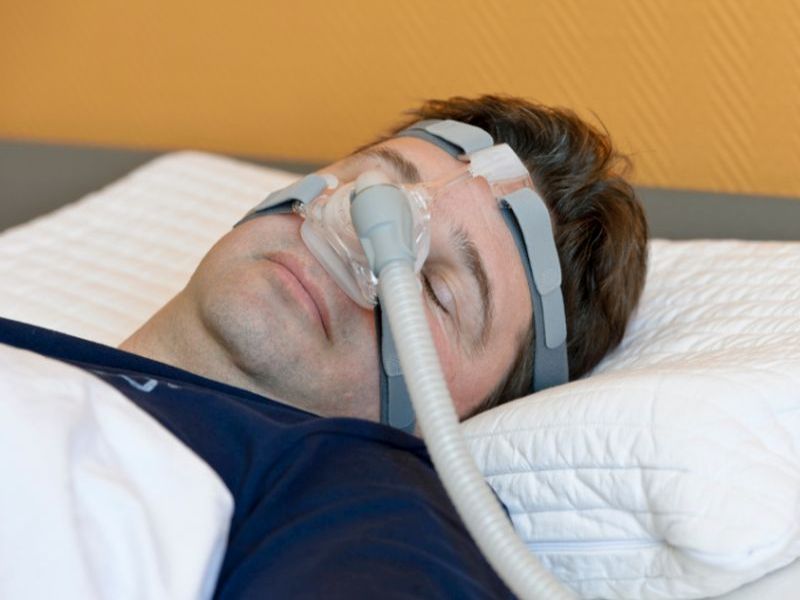 TUESDAY, July 11, 2017 (HealthDay News) -- Using a breathing device to treat sleep apnea may help you get a good night's rest, but it might not lower your risk of dying from a stroke or heart condition, a new analysis suggests.
Looking at data from 10 clinical trials, researchers found that apnea patients' risk of cardiovascular-related death remained the same whether or not they used a CPAP (continuous positive airway pressure) machine.
Until now, accepted medical practice has assumed that because sleep apnea can promote high blood pressure, inflammation and thicker blood, treating it should reduce a person's risk of fatal heart problems, the researchers explained in background notes.
"There are an awful lot of people who are prescribing CPAP and a lot of patients using CPAP with the impression it's improving their outcome," said Dr. Alfred Bove. He is a professor emeritus at Temple University's Lewis Katz School of Medicine in Philadelphia. "The question here is, does it improve mortality, and the answer here is that it does not."
People with sleep apnea suffer from pauses in breathing or shallow breaths during their sleep, according to the U.S. National Institutes of Health. These pauses can happen as often as 30 times an hour, wrecking a night's rest.
When you doze off, the throat muscles that keep your airway stiff and open tend to relax. For some people, the muscles relax so much that the airway closes, causing sleep apnea.
CPAP machines prevent this by pumping air under pressure into the throat and lungs, keeping the windpipe open during sleep and preventing episodic airway collapse.
In the analysis of nearly 7,300 people with sleep apnea, the investigators found no connection between CPAP use and a reduced risk of heart attacks, stroke or sudden cardiac arrest.
"CPAP for the purposes prescribed doesn't seem to be providing significant improvements in mortality from the variety of cardiovascular diseases we know about," said Bove, a past president of the American College of Cardiology.
That doesn't mean sleep apnea patients should stop using CPAP machines, Bove said, given the fatigue and other health problems that can result from chronic sleeplessness.
Still, "it's going to be harder to convince people to use CPAP if they read this paper or someone tells them about it," he explained. "At the same time, there are an awful lot of people who sleep better when they're not awakened late at night short of breath from sleep apnea."
Dr. Deepak Bhatt, executive director of Interventional Cardiovascular Programs at Brigham and Women's Hospital Heart & Vascular Center in Boston, agreed that sleep apnea is still worth treating with CPAP.
"If treating sleep apnea reduces cardiovascular events, that's icing on the cake," Bhatt said. But "if someone has sleep apnea, it should be treated for its own sake."
Bove and Bhatt both added that the pool of patients in this analysis remained too small to conclusively rule out any heart benefits from CPAP.
"We can't claim there is benefit right now in terms of cardiovascular event reduction from treating sleep apnea, but this serves as an impetus for future studies that are large and well-designed," Bhatt said. "I don't think it by any means disproves it, and it would be unfortunate if readers walked away saying treating sleep apnea isn't important."
The analysis was published July 11 in the Journal of the American Medical Association.
SOURCES: Alfred Bove, M.D., Ph.D., professor emeritus, Temple University's Lewis Katz School of Medicine, Philadelphia; Deepak Bhatt, M.D., MPH, executive director, Interventional Cardiovascular Programs, Brigham and Women's Hospital Heart & Vascular Center, Boston; July 11, 2017, Journal of the American Medical Association
HealthDay
Copyright (c) 2017
HealthDay
. All rights reserved.
News stories are written and provided by HealthDay and do not reflect federal policy, the views of MedlinePlus, the National Library of Medicine, the National Institutes of Health, or the U.S. Department of Health and Human Services.