Many Heart Attack Patients Fail to Stick With Statins: MedlinePlus Health News
Many Heart Attack Patients Fail to Stick With Statins
Greater education is needed on the lifesaving benefits of 'high-intensity' treatment, researchers say
Wednesday, April 19, 2017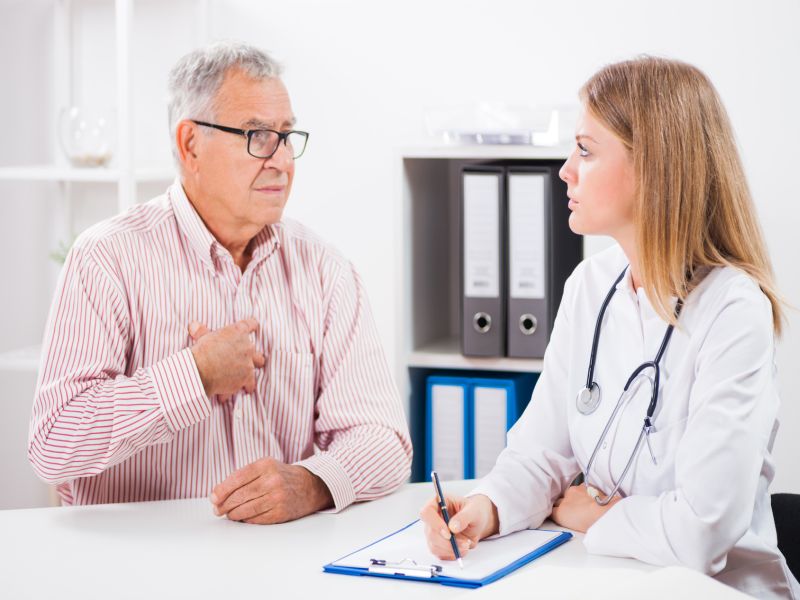 WEDNESDAY, April 19, 2017 (HealthDay News) -- High doses of powerful statin drugs have been shown to avert future heart problems, including heart attack and stroke. Yet many heart attack patients stop taking these medicines as recommended, a new study reveals.
Researchers examined data for heart attack patients who had a prescription for a "high-intensity" statin filled within 30 days of being discharged from the hospital.
Two years later, only 42 percent were taking these medicines regularly, the study found.
Thirteen percent switched to a low- or moderate-intensity statin, while 19 percent weren't taking a statin regularly. Close to 1 in 5 stopped taking any statin altogether, the researchers said.
The lack of adherence to recommended high-intensity statin therapy is short-sighted, suggested study lead author Dr. Robert Rosenson.
"The message is that the benefits of statins continue to accrue over time," said Rosenson, a professor of cardiology at the Icahn School of Medicine at Mount Sinai in New York City.
Rosenson explained that these drugs reduce the future risk of heart attack and stroke and lower patients' risk of dying prematurely. The longer people take them, the greater the benefit, he said.
Statin drugs are widely prescribed to thwart the buildup of waxy plaque in the arteries -- a potential risk for heart disease.
But, for people who've already had a heart attack, the goal of statin therapy is to reduce inflammation throughout the body and blood vessels and improve the stability of plaque to prevent future heart problems, Rosenson said.
The American College of Cardiology and American Heart Association jointly issued new treatment guidelines in 2013 recommending that people 75 and younger with heart disease take high-intensity statins.
With high-intensity therapy, doctors prescribe more powerful statin drugs at higher doses than those typically given to patients to lower their "bad" LDL cholesterol.
Dr. David Pearle is a cardiologist at the MedStar Heart & Vascular Institute in Washington, D.C. He wasn't surprised that heart patients aren't taking these medicines as recommended.
"It always takes a little time for recommendations to be widely accepted into clinical practice," said Pearle, who wasn't involved with the study.
"A lot of doctors were not using quite as high of doses before those recommendations came out," he said.
In addition, many patients taking statins complain about muscle pain.
"As soon as the patient gets aches and pains, either they or their doctor will reduce the dose or stop the drug," Pearle said.
What's more, getting patients to comply with long-term medication regimens of all types, including statin therapy, remains a challenge, he added. Once the initial teachable moment of a heart attack "wears off," patients are less inclined to stick with their medication regimen a year later.
"You're fighting human nature," Pearle said. "The doctor needs to be kind of firm on it because people don't like to take medications."
Rosenson said cost may have played a small role in patients' poor adherence to recommended treatment, although these medicines are now available as generics.
He said the evidence points to the need for better education of health care providers and patients.
The study included information from nearly 30,000 Medicare patients between 66 and 75 years old. It also included nearly 28,000 Medicare patients over age 75. All had been hospitalized for a heart attack between 2007 and 2012.
All of these patients filled a prescription for 40 to 80 milligrams of atorvastatin (Lipitor) or 20 to 40 milligrams of rosuvastatin (Crestor) within 30 days of being discharged from the hospital.
The researchers found that the proportion of Medicare patients taking these high-intensity statins increased over the study period. However, even six months after discharge, only 59 percent of people were taking these high-intensity statins as recommended.
Certain groups of patients -- blacks, Hispanics and new users of high-intensity statins -- were less likely than others to stick to the regimen.
The study authors said the results were similar for people over 75 years old.
People eligible for both Medicare and Medicaid were most likely to take their statin. Others who were compliant included people with more cardiologist visits after discharge and people who participated in cardiac rehabilitation.
The study authors suggested that lower medication costs, greater follow-up by cardiologists and patient participation in cardiac rehabilitation may improve high-intensity statin use.
Dr. Neil Stone is a professor of medicine at Northwestern University's Feinberg School of Medicine in Chicago. He said that "well-tolerated, safe use" of these high-intensity medications plus cardiac rehabilitation after a heart attack "can save lives." He was not part of the study.
"We need to find new ways to make both occur more frequently," Stone said.
The findings were published April 19 in JAMA Cardiology.
SOURCES: Robert Rosenson, M.D., professor, cardiology, Icahn School of Medicine, Mount Sinai, New York City; David Pearle, M.D., cardiologist, MedStar Heart & Vascular Institute, Washington, D.C.; Neil Stone, M.D., professor, medicine, Northwestern University Feinberg School of Medicine, Chicago; April 19, 2017, JAMA Cardiology
HealthDay
Copyright (c) 2017
HealthDay
. All rights reserved.
News stories are written and provided by HealthDay and do not reflect federal policy, the views of MedlinePlus, the National Library of Medicine, the National Institutes of Health, or the U.S. Department of Health and Human Services.
More Health News on