Too Much Screen Time May Raise Kids' Diabetes Risk: MedlinePlus Health News
Too Much Screen Time May Raise Kids' Diabetes Risk
Study finds 3-plus hours each day linked to increased body fat and insulin resistance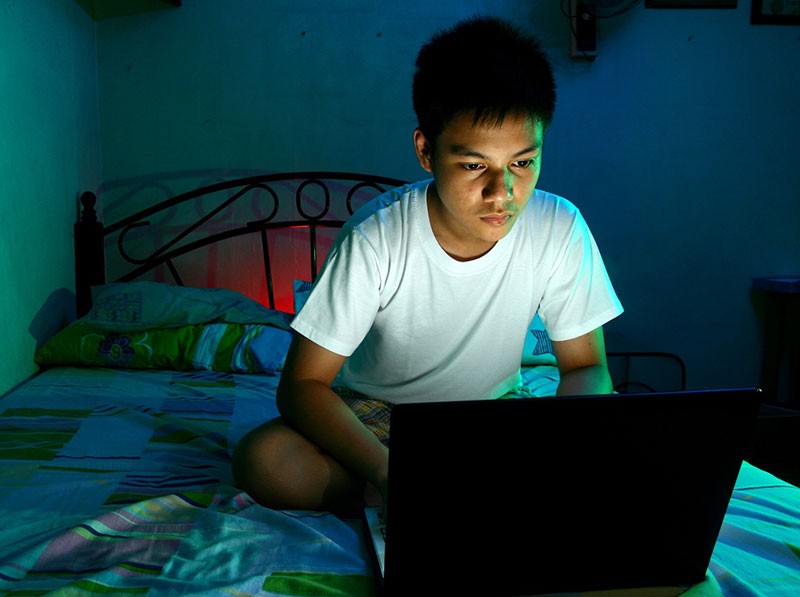 TUESDAY, March 14, 2017 (HealthDay News) -- Kids who get too much screen time may be more likely to have risk factors that increase their chances of type 2 diabetes, new research says.
Watching television, playing video games or sitting in front of a computer or other device for more than three hours each day was linked to more body fat and insulin resistance. Those factors mean the body is less able to keep blood sugar levels under control, the British researchers said.
They said limiting children's screen time could be necessary to prevent health issues later on.
"Our findings suggest that reducing screen time may be beneficial in reducing type 2 diabetes risk factors, in both boys and girls and in different ethnic groups from an early age," wrote the study authors, led by Claire Nightingale, from St. George's University of London.
"This is particularly relevant, given rising levels of type 2 diabetes, the early emergence of type 2 diabetes risk, and recent trends suggesting that screen time-related activities are increasing in childhood and may pattern screen-related behaviors in later life," the researchers said.
Previous research has shown that adults who spend excessive amounts of time in front of a TV or computer are at greater risk for weight gain and type 2 diabetes, Nightingale's group explained.
Since young people are increasingly using devices such as tablets and smartphones, the study authors investigated if this risk also applied to children.
The study included health information on nearly 4,500 children between 9 and 10 years old. The youngsters were from three cities in the United Kingdom -- Birmingham, Leicester and London.
The children's cholesterol, insulin resistance, fasting blood sugar levels, markers of inflammation, blood pressure and body fat were measured. The kids were also asked to detail their daily use of televisions, computers, video games and other devices.
About 4 percent of the children never watched TV or used an electronic device. Slightly more than one-third reported getting less than one hour of screen time each day. Of the remaining children, 28 percent spent up to two hours in front of a screen, 13 percent got up to three hours and 18 percent spent more than three hours each day sitting in front of a television or electronic device.
Excessive screen time was far more common among boys than girls. Children of African or Caribbean descent were also more likely to spend three or more hours in front of a screen than white or Asian children, the researchers reported.
The researchers found that total body fat among the kids increased along with their screen time. Specific indicators of body fat -- such as skin fold thickness and fat mass -- were all higher among the kids who got more than three hours of screen time each day than those who got just one hour or less.
Screen time was also linked to the kids' levels of leptin -- a hormone that's involved in appetite control and insulin resistance, the researchers said. This was true regardless of other factors that could affect the kids' type 2 diabetes risk factors, such as household income, puberty stage and level of physical activity.
The authors noted their findings don't prove a cause-and-effect relationship, but they could have important implications for public health as more children are routinely using electronic devices.
The study was published online March 13 in the Archives of Disease in Childhood.
SOURCE: BMJ, news release, March 13, 2017
HealthDay
Copyright (c) 2017
HealthDay
. All rights reserved.
News stories are written and provided by HealthDay and do not reflect federal policy, the views of MedlinePlus, the National Library of Medicine, the National Institutes of Health, or the U.S. Department of Health and Human Services.
More Health News on:
Tuesday, March 14, 2017