ATMs, Coffee Shops Ideal Spots for Heart Defibrillators: MedlinePlus Health News
ATMs, Coffee Shops Ideal Spots for Heart Defibrillators
Having the devices easily accessible might save the lives of more cardiac arrest victims
Monday, March 20, 2017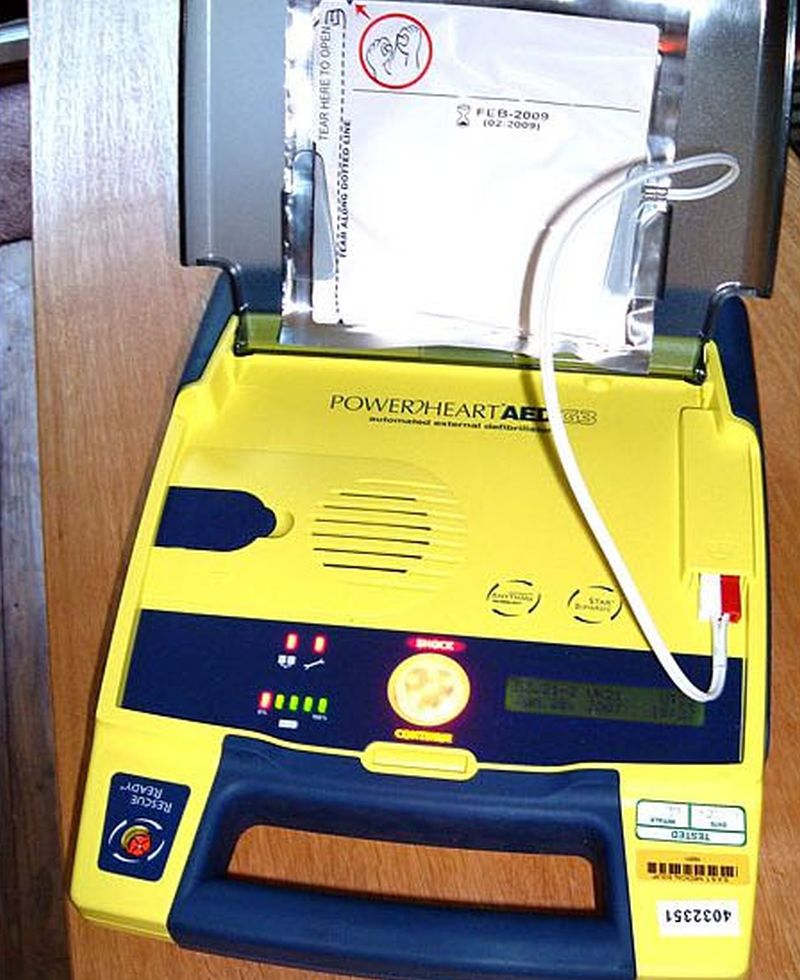 MONDAY, March 20, 2017 (HealthDay News) -- ATMs and coffee shops may be among the best spots to place lifesaving defibrillators, a new study suggests.
Automated external defibrillators (AEDs) are devices that can be used by a layperson to restart the heart of someone in cardiac arrest. But to do that, they have to be readily accessible.
The new study tried to locate where AEDs could potentially save the most lives.
Focusing on Toronto, the Canadian researchers found that many of the city's cardiac arrest emergencies happened near coffee shop chains, such as Tim Hortons and Starbucks, and ATMs connected to large banks.
In fact, those businesses accounted for eight of the top 10 hot spots.
While the study looked only at Toronto, lead researcher Timothy Chan thinks the findings would likely extend to other cities.
Both ATMs and chain coffee shops are ubiquitous, said Chan, who directs the University of Toronto's Centre for Healthcare Engineering.
They also have some other advantages, he noted: The coffee shops typically have long business hours, while ATMs are often accessible 24 hours a day -- which means their AEDs would likely be reachable when needed.
Plus, locals usually know where is the nearest ATM or Starbucks.
"If people generally knew that ATMs and coffee chains have AEDs," Chan said, "they might be able to respond more quickly when someone has a cardiac arrest."
Cardiac arrest is when the heart suddenly stops beating altogether. A common cause is ventricular fibrillation, where the heart's main pumping chamber begins to quiver chaotically. It differs from a heart attack, which is when blood flow to a part of the heart muscle is blocked because of a clogged vessel.
Dr. Benjamin Abella is director of the University of Pennsylvania's Center for Resuscitation Science, and a spokesperson for the American Heart Association.
As it stands, Abella said, AEDs are often available in places where large crowds gather -- like transportation hubs and sports stadiums. Some private businesses also buy them, to be able to respond to an on-site cardiac arrest.
But, Abella said, there is still a need for "creative" ways to make AEDs more accessible to the public.
"These are truly lifesaving devices," he said. "But to do that, they have to be readily available and clearly marked."
Abella said the new findings "show that you can figure out how to rationally place AEDs for the most public health benefit."
Chan's team started by identifying all cardiac arrest cases that happened in public areas in Toronto between 2007 and 2015. There were over 2,600 in all.
Next, the researchers identified all businesses with 20 or more locations in the city. They then calculated the number of cardiac arrests that happened within 100 meters (about 328 feet) of each location, during business hours.
The popular coffee chain Tim Hortons came out on top, the researchers found. It would have "covered" 286 cardiac arrests during the study period. Two other coffee chains -- Starbucks and Second Cup -- along with five large-bank ATMs -- made up most of the remaining top 10.
The study was published March 21 in the journal Circulation.
How do the findings translate into real-world action?
One way is through "public-private" partnerships, Chan said. Working with large national businesses, in particular, has certain advantages, his team noted: They may have the resources to launch a nationwide program that not only makes AEDs available, but helps raise awareness of the devices.
That's another critical point, according to Chan.
"The reality is, many people don't even know what cardiac arrest is, or what AEDs are," he said.
Abella agreed. "Public awareness surrounding CPR and AEDs has been an uphill battle," he said.
Without immediate action, cardiac arrest is fatal within minutes. Bystanders can use CPR chest compressions to help keep the victim's blood flowing until emergency help arrives -- but CPR can't "restart" the heart.
If the cardiac arrest is caused by ventricular fibrillation, an AED will automatically detect that and deliver a "shock" to restore a normal heart rhythm.
"AEDs are specifically designed to be used by untrained laypeople," Abella said. "They won't 'go off' unless they should."
According to the heart association, more than 350,000 Americans suffer cardiac arrest outside of a hospital each year. In 2016, only 12 percent of those people survived.
But, Abella said, that's an improvement over historic rates: In recent years, cardiac arrest survival has been inching up.
"We're finally beginning to see some progress," Abella said. Better deployment of AEDs, he added, could help keep that trend going.
SOURCES: Timothy Chan, Ph.D., Centre for Healthcare Engineering, University of Toronto; Benjamin Abella, M.D., director, Center for Resuscitation Science, University of Pennsylvania, Philadelphia, and spokesperson, American Heart Association; March 21, 2017, Circulation
HealthDay
Copyright (c) 2017
HealthDay
. All rights reserved.
News stories are written and provided by HealthDay and do not reflect federal policy, the views of MedlinePlus, the National Library of Medicine, the National Institutes of Health, or the U.S. Department of Health and Human Services.
More Health News on: