https://medlineplus.gov/news/fullstory_162540.html
Women Denied an Abortion Endure Mental Health Toll: Study
Finding conflicts with previous research that found abortion caused mental health problems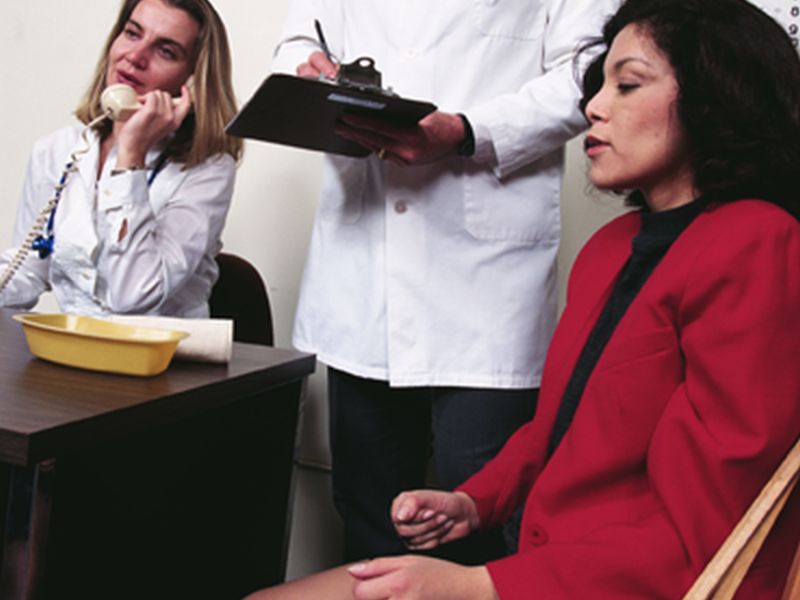 WEDNESDAY, Dec. 14, 2016 (HealthDay News) -- Women who are denied an abortion may suffer anxiety and low self-esteem, a new analysis indicates.
In contrast, the researchers found no indication that having an abortion increased the risk for near- or long-term psychological problems.
"Our study found that denying women an abortion has negative consequences to their mental health and well-being in the short-term," said study author M. Antonia Biggs, a social psychologist researcher at the University of California, San Francisco.
"[And] our study found no evidence of emerging mental health problems after having an abortion -- for at least five years," Biggs added.
Other research has suggested that having an abortion may raise the risk of mental health issues later in life.
Biggs and her colleagues reported their findings online Dec. 14 in the journal JAMA Psychiatry.
The study was released one day after Ohio Gov. John Kasich signed a bill banning abortions after 20 weeks. The ban is similar to what 15 states enforce but has been blocked from enforcement in two other states.
In the study, Biggs and her colleagues analyzed data on 956 U.S. women who had sought an abortion between 2008 and 2010 at one of 30 abortion facilities in 21 states.
The women fell into three groups: those who got an abortion at a point in their pregnancy that was within the two weeks of a facility's cutoff for doing the procedure (452); women who were turned away because they sought an abortion upwards of three weeks past such a cutoff date (231); and women who got an abortion during their first trimester, which is before week 12 (273).
The women were about age 25, on average, and were comparable across the three groups in terms of prior abortion history, education, marital status, mental health history and use of drugs or alcohol. Exact cutoff points varied slightly from facility to facility, ranging from 10 weeks to the end of the second trimester, about week 27. (Some of the women who were initially denied an abortion did get one at another facility).
Each patient completed a mental health phone survey eight days after having an abortion or being turned away. Most also completed follow-up surveys twice yearly for five years, up until as late as 2016.
The result: One week out, women who were denied access to an abortion appeared to suffer from greater anxiety, lower self-esteem and lower life satisfaction than those who got an abortion just under the cutoff period.
Women who were initially denied access but ultimately went on to either terminate their pregnancy elsewhere or suffer a miscarriage experienced particularly high levels of all three feelings at the one-week mark.
Near-term depression risk, however, was similar across all three groups.
And within a year, there was no difference in feelings of anxiety, low self-esteem and low life satisfaction among all three groups.
The researchers concluded that having an abortion does not appear to compromise a woman's psychological well-being, while denying one may pose more of an immediate mental health risk than granting one would.
"This study," said Biggs, "adds to the body of evidence demonstrating that abortion does not harm women.
"Having an abortion does not adversely affect women's mental health over the five years after an abortion," Biggs added. "[So] if our goal is to protect women's mental health, our research suggests that expanding access to abortion, not restricting it, is the most appropriate choice."
Randall O'Bannon is director of education and research for the National Right to Life Educational Trust Fund. He called the study findings "somewhat of a stretch."
"They do show, initially, some greater anxiety one week out among women 'denied' abortions than those having abortions," he said.
"This is an unremarkable finding, since just one week out these women who had been planning to abort and expecting abortion to provide a resolution to their problems have just found out that the 'solution' they sought will not be forthcoming and that they will have to reset all their plans and expectations accordingly," O'Bannon said. "Frustration and anxiety are not surprising at this point.
"[And] the authors here admit," he added, "that once one gets farther out from the initial abortion 'denial,' even with their data, depression, anxiety, satisfaction levels are all relatively the same."
Also, O'Bannon said, "we know that some women do eventually have serious negative psychological responses to their abortions, some within a year or two, but most several years down the road."
Dr. Raegan McDonald-Mosley, chief medical officer for Planned Parenthood Federation of America, offered a different take on the issue.
"For decades," she said, "research has shown that having a safe, legal abortion does not pose mental health problems for women. The best estimate is that nearly one in three women in this country will have an abortion in her lifetime and the vast majority of women who have abortions do not regret their decision. In fact, more than 95 percent of women who have had an abortion report that it was the right decision for them, and that feelings of relief outweigh any negative emotion they might have, even years later.
"This research shows, yet again, why politicians should not play doctor," added McDonald-Mosley. "Instead of laws not based in evidence, we should be considering the women who may be more likely to experience negative mental health consequences: those who are not able to access abortion when they've made that decision."
SOURCES: M. Antonia Biggs, Ph.D., social psychologist researcher, Advancing New Standards in Reproductive Health, Bixby Center for Global Reproductive Health, University of California, San Francisco; Raegan McDonald-Mosley, M.D., M.P.H., chief medical officer, Planned Parenthood Federation of America, Washington D.C.; Randall O'Bannon, Ph.D., director, education & research, National Right to Life Educational Trust Fund, Washington, D.C.; Dec. 14, 2016, JAMA Psychiatry, online
HealthDay
Copyright (c) 2016
HealthDay
. All rights reserved.
News stories are provided by HealthDay and do not reflect the views of MedlinePlus, the National Library of Medicine, the National Institutes of Health, the U.S. Department of Health and Human Services, or federal policy.
More Health News on:
Wednesday, December 14, 2016