https://medlineplus.gov/news/fullstory_162692.html
New MS Drug Shows 'Breakthrough' Promise for Advanced Disease
Specialist hopes ocrelizumab will be available by spring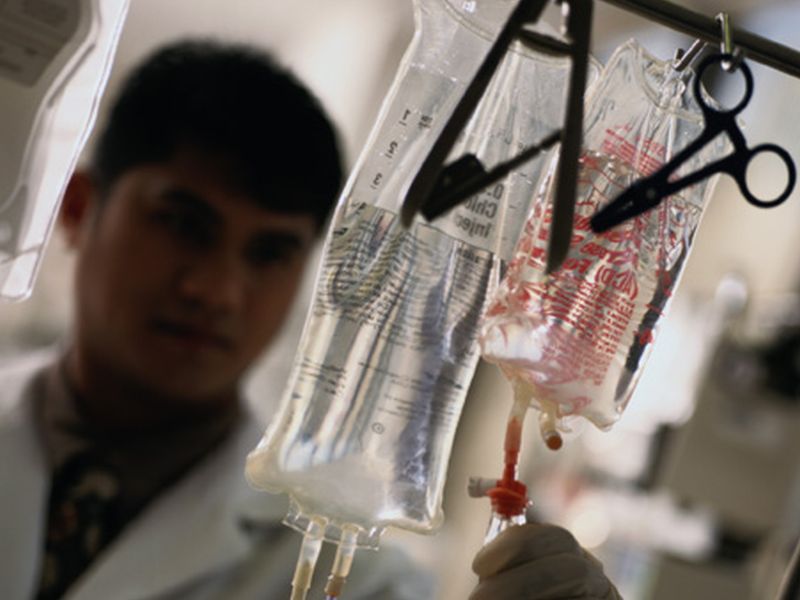 THURSDAY, Dec. 22, 2016 (HealthDay News) -- A new drug slows the progress of multiple sclerosis, including an advanced form of the degenerative nerve disease for which there currently is no treatment, according to a pair of new clinical trials.
One MS specialist called the intravenous drug, ocrelizumab, a "breakthrough."
Ocrelizumab reduced the advance of MS-related disability by 24 percent in people with primary progressive MS compared to a placebo, results from one clinical trial show.
Researchers compared ocrelizumab against a placebo, or dummy drug, because there's no approved treatment available for primary progressive MS. This form affects about 15 percent of MS patients, said Dr. Stephen Hauser, chair of neurology at the University of California, San Francisco.
"It does represent new hope for people with progressive MS," said Hauser, who worked on both reports.
Ocrelizumab also proved superior in treating people with relapsing multiple sclerosis, the most common form of MS, compared with other available medicines, the other clinical trial found.
"The data are really quite dramatic," Hauser said. "They show by MRI that new areas of inflammation in the brain were reduced by 95 percent compared with the current treatment."
Ocrelizumab, under the brand name Ocrevus, is awaiting approval by the U.S. Food and Drug Administration. The FDA had been set to approve the drug this month, but recently extended its review into March.
"We're very hopeful the drug will be available in the spring," said Dr. Aaron Miller, medical director of Mount Sinai's Corinne Goldsmith Dickinson Center for Multiple Sclerosis in New York City. "I expect it will get widespread use."
Hauser explained that multiple sclerosis occurs when the immune system attacks the protective sheath that covers nerve fibers, which is composed of a fatty substance called myelin.
Ocrelizumab treats MS by depleting the immune cells that produce antibodies to attack the myelin, Hauser said.
Initially, multiple sclerosis features inflammation that crops up as the immune system actively attacks the myelin. In this phase, known as relapsing multiple sclerosis, patients alternate between active MS attacks followed by periods of remission, Hauser noted.
But, after the myelin sheath has been destroyed, some MS patients will settle into a lengthy degenerative phase known as primary progressive multiple sclerosis. Instead of having attacks of the disease, patients experience a slow and progressive worsening of their motor function, Hauser said.
MS affects an estimated 2.3 million people around the world, including about 400,000 people in the United States, the study authors said in background notes.
Although there's no cure for any form of MS, multiple treatments are available for relapsing MS to ease symptoms. The clinical trial involving this form of the disorder compared ocrelizumab against the drug interferon beta-1a, which is a current standard-of-care medication.
Ocrelizumab reduced new inflammation, and also produced up to a 47 percent reduction in relapses and a 43 percent reduction in disability compared to interferon, the clinical trial reported. Hauser served as scientific steering committee chair for this trial.
Miller said that the drug also showed itself to be the first real ray of hope for people with progressive MS, slowing the disorder's advance in a limited but meaningful way.
"We have never had any adequate treatments for primary progressive MS. In that respect, this is a breakthrough," Miller said. "Obviously one would like to see higher levels of greater reduction, but this is definitely a very significant finding for appropriate patients."
The drug also was very well-tolerated by patients, Hauser and Miller said.
About one-third of patients suffered a reaction to the infusion of the drug, but other medications helped treat these symptoms with no long-term effects, Hauser said. Only 1.3 percent of patients developed a serious infection, compared to 2.9 percent of those treated with interferon.
Both clinical trials were sponsored by the drug's manufacturer, F. Hoffmann-La Roche. The results were published Dec. 21 in the New England Journal of Medicine.
SOURCES: Stephen Hauser, M.D., chair, department of neurology, University of California, San Francisco; Aaron Miller, M.D., medical director, Mount Sinai's Corinne Goldsmith Dickinson Center for Multiple Sclerosis, New York City; Dec. 21, 2016, New England Journal of Medicine
HealthDay
Copyright (c) 2016
HealthDay
. All rights reserved.
News stories are provided by HealthDay and do not reflect the views of MedlinePlus, the National Library of Medicine, the National Institutes of Health, the U.S. Department of Health and Human Services, or federal policy.
More Health News on:
Thursday, December 22, 2016