https://medlineplus.gov/news/fullstory_162394.html
Many Americans Skip the Dentist Due to Cost
Researchers say finding highlights need to overhaul dental insurance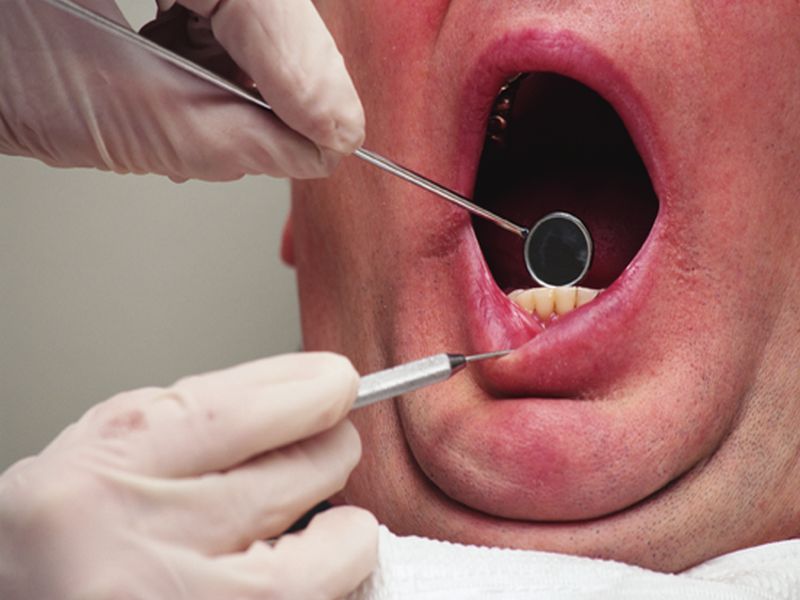 TUESDAY, Dec. 6, 2016 (HealthDay News) -- Americans are more likely to skip needed dental care because of cost than any other type of health care, researchers report.
Working-age adults are particularly vulnerable, the study found. Some 13 percent reported forgoing dental care because of cost.
That's nearly double the proportion of seniors and triple the percentage of children for whom cost poses a barrier to dental care, the study showed.
Cost was the main impediment to dental care even for adults with private insurance.
"It seems like medical insurance is doing a better job at protecting consumers from financial hardship than dental insurance," said study author Marko Vujicic.
Typically, private dental insurance includes annual maximum benefit limits and significant "coinsurance" -- the patient's share of costs on covered services, Vujicic explained.
He is chief economist and vice president of the American Dental Association's (ADA) Health Policy Institute in Chicago.
"Anything beyond checkups, like getting a cavity filled or a root canal and a crown, you're looking right away at 20 to 50 percent coinsurance," Vujicic said.
Typical fees for fillings range from $86 to $606, according to a 2013 ADA Health Policy Institute survey. Root canals go for $511 to $1,274. For a crown, the range is $309 to $1,450.
Evelyn Ireland, executive director of the National Association of Dental Plans, agreed with the report that avoiding dental care can affect overall health.
Fortunately, the percentage of the population citing cost as a reason for not getting dental services has declined steadily since 2010, Ireland said. And in 2014, it was the lowest since 2003, she added.
Colin Bradley is vice president of business development at Winston Benefits Inc., a company that helps employers administer dental benefits.
He said employers who offer private dental plans must emphasize the value of those benefits, including preventive services often provided at no out-of-pocket cost.
The new study is published in the December issue of the journal Health Affairs. The issue is devoted to oral health in America.
Collectively, one theme emerges: "that the divide between dental care and medical care is vast, has significant consequences for patients, and is entirely of our own making," wrote Alan Weil, the journal's editor-in-chief.
Vujicic and his co-authors, from the University of Michigan School of Business and Families USA, noted an intrinsic divide in coverage levels between children and adults.
Kids' dental care is covered under the Affordable Care Act and is a mandatory benefit in state Medicaid programs. Adults have no such guarantee. Dental care isn't covered by Medicare, and it's an optional benefit in Medicaid, the researchers reported.
In 22 states, Medicaid only covers adults' emergency dental services, the research team noted.
For the analysis, Vujicic and his colleagues used data from the 2014 National Health Interview Study and the ADA Health Policy Institute's 2015 Oral Health and Well-Being Survey.
They examined barriers to dental care and other health services by age group -- children, adults and seniors -- and type of insurance.
Across all ages, people in households with lower incomes experienced more problems.
Nearly one in four adults aged 19 to 64 with incomes below 100 percent of the federal poverty level didn't get needed care because of cost. By comparison, only 5 percent of adults in the highest income category faced that barrier to care.
In 2016, poverty is defined as a household income of $11,800 for a individual and $24,300 for a family of four, according to the U.S. government.
Cost was nearly three times more likely to be the reason for people not seeing the dentist in the past year than fear of the dentist. Cost also surpassed inconvenient appointments or trouble finding a dentist who takes their insurance as reasons for skipping dental care.
In 2015, an estimated 40 percent of spending on dental care was out of pocket, compared to 11 percent of total health spending, according to a recent U.S. Centers for Medicare and Medicaid Services analysis.
The data in the new study were self-reported and merely describe the financial barriers that people encounter, the authors noted. In other words, the findings don't prove that financial barriers cause people to skip needed care.
Still, the results suggest "important shortcomings" exist in the design of private and public dental insurance, the study authors said.
"To me, it's really time to redo this insurance model," Vujicic said.
Instead of paying per procedure, dental benefits should be designed to incentivize dentists to care for patients' overall dental health, the researchers argued.
Trouble is, there's been no consensus in dental care on what those outcomes should be, Vujicic said. But he's encouraged because there are now groups working on developing those measures.
"It's late, but it's starting," he said.
SOURCES: Marko Vujicic, J.D., chief economist and vice president, Health Policy Institute, American Dental Association, Chicago; Evelyn Ireland, executive director, National Association of Dental Plans, Dallas; Colin Bradley, vice president, business development Winston Benefits Inc., Manasquan, N.J; National Health Expenditures 2015 Highlights, Centers for Medicare and Medicaid Services, Baltimore; December 2016, Health Affairs
HealthDay
Copyright (c) 2016
HealthDay
. All rights reserved.
News stories are provided by HealthDay and do not reflect the views of MedlinePlus, the National Library of Medicine, the National Institutes of Health, the U.S. Department of Health and Human Services, or federal policy.
More Health News on:
Tuesday, December 6, 2016