https://medlineplus.gov/news/fullstory_162720.html
Lung-Sparing Surgery May Boost Mesothelioma Survival
Treatment nearly doubled survival or more, study finds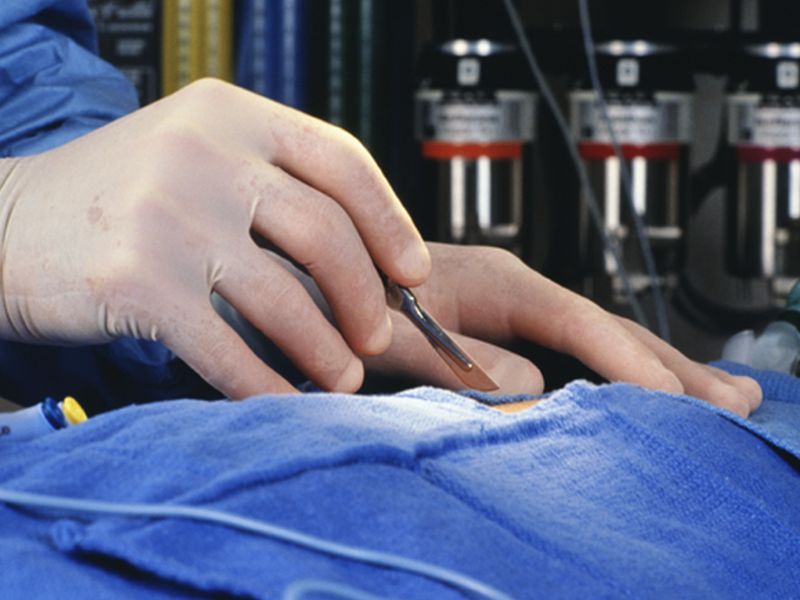 FRIDAY, Dec. 23, 2016 (HealthDay News) -- Surgery that preserves the lung, when combined with other therapies, appears to extend the lives of people with a subtype of the rare and deadly cancer mesothelioma, a new study suggests.
Tracking 73 patients with advanced malignant pleural mesothelioma -- which affects the lungs' protective lining in the chest cavity -- researchers found that those treated with lung-sparing surgery had an average survival of nearly three years. A subset of those patients survived longer than seven years.
Mesothelioma patients treated with chemotherapy alone, which is standard care, live an average of 12 to 18 months, the researchers said.
Study participants received lung-sparing surgeries and another treatment called photodynamic therapy that uses light to kill cancer cells. Ninety-two percent of the group also received chemotherapy.
The study volunteers achieved far longer survival times, said study author Dr. Joseph Friedberg.
"When you take the [entire] lung out, it's a significant compromise in quality of life," said Friedberg. He's director of the University of Maryland Medical Center's Mesothelioma and Thoracic Oncology Treatment and Research Center in Baltimore.
"For all intents and purposes, this [lung-sparing surgical approach] is the largest palliative operation known to man, since chances of curing mesothelioma are vanishingly small," said Friedberg. He completed the research while at his previous post at the University of Pennsylvania.
"Plus, most of these patients are elderly, so preserving quality of life was really the goal," he added.
About 3,000 Americans are diagnosed with mesothelioma each year, the American Cancer Society says. Many of these people were exposed to the mineral asbestos in industrial occupations, according to the U.S. National Cancer Institute (NCI).
Used in products such as insulation, building shingles and flooring, asbestos dust fibers can be inhaled or swallowed, settling in the lungs, stomach or other body areas. Often, it takes decades after exposure for mesothelioma to develop, the NCI says.
Friedberg and his team performed the lung-sparing surgeries on study participants between 2005 and 2013. Overall average survival was 35 months, the study showed. But survival time more than doubled to 7.3 years for 19 patients whose cancer had not spread to their lymph nodes.
Most of the patients in the study had stage 3 or stage 4 cancer. Typically, Friedberg said, only about 15 to 20 percent of mesothelioma patients are treated with surgery, which often removes an entire lung as well as the diaphragm and the sac surrounding the heart.
Friedberg said that between 20 and 40 percent of pleural mesothelioma patients with the epithelial subtype might be eligible for lung-sparing surgery. He explained that this surgery removes all visible traces of cancer. It typically has fewer complications and a lower risk of dying in the 90 days following the 10- to 14-hour procedure.
"It's still relatively new that people do lung-sparing surgery for this disease, and it's not established that this is what we need to do," said Friedberg.
"I would say this is one of the most lethal cancers known to man. There's a pressing need for new and innovative treatments," he noted.
Another mesothelioma expert said he was cautiously optimistic about the new study's results.
"It's not a randomized trial and I think they selected out ... only those patients who were well enough to get to surgery and those with the epithelial subtype who are the patients who tend to do the best," said Dr. Gregory Masters.
He is principal investigator with the U.S. National Cancer Institute Community Oncology Research Program at the Helen F. Graham Cancer Center and Research Institute in Newark, Del.
"Taking the best patients is going to skew the study and make the outcome look very good," added Masters. "But I am encouraged they can take a large group of patients and show such a good outcome at three years."
Dr. Daniel Petro, a medical oncologist/hematologist at the University of Pittsburgh Medical Center, said lung-sparing surgery for mesothelioma is also done at academic centers such as his, and he was not surprised by the study's results.
"This [surgical approach] is a step forward with this particular terrible cancer," Petro said, "and we've got to keep coming up with better options to eradicate it."
The study was published in the December issue of Annals of Thoracic Surgery.
SOURCES: Joseph S. Friedberg, M.D., director, Mesothelioma and Thoracic Oncology Treatment and Research Center, University of Maryland Medical Center, and professor, surgery, and head, Division of Thoracic Surgery, University of Maryland School of Medicine, Baltimore; Gregory A. Masters, M.D., principal investigator, U.S. National Cancer Institute Community Oncology Research Program (NCORP), Helen F. Graham Cancer Center and Research Institute, Christiana Care Health System, Newark, Del.; Daniel Petro, M.D., medical oncologist/hematologist, Hillman Cancer Center, University of Pittsburgh Medical Center; December 2016, Annals of Thoracic Surgery
HealthDay
Copyright (c) 2016
HealthDay
. All rights reserved.
News stories are provided by HealthDay and do not reflect the views of MedlinePlus, the National Library of Medicine, the National Institutes of Health, the U.S. Department of Health and Human Services, or federal policy.
Friday, December 23, 2016