https://medlineplus.gov/news/fullstory_162524.html
Fewer Babies in Poor Families Are Overweight: CDC
Researchers credit improvements in federal food assistance program, awareness of childhood obesity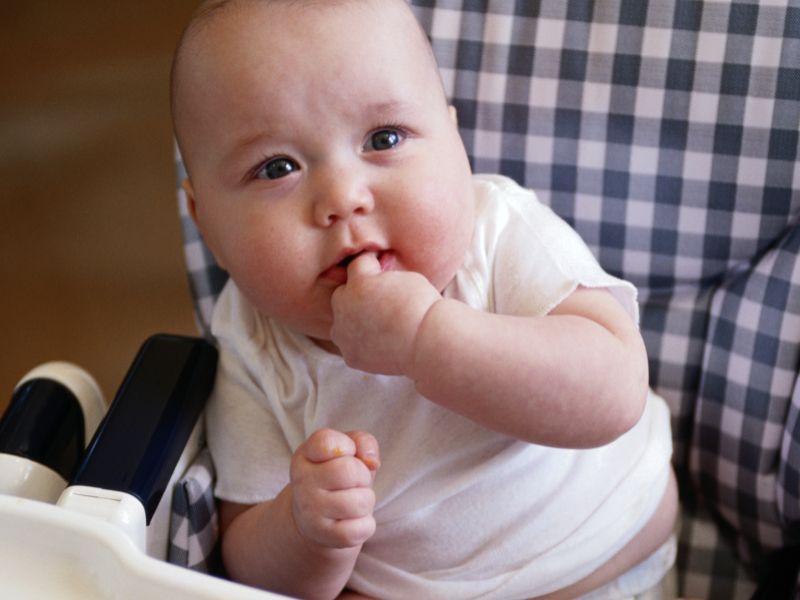 TUESDAY, Dec. 13, 2016 (HealthDay News) -- The percentage of overweight babies in poor families in the United States may be on the decline, a new study suggests.
Researchers found that fewer babies enrolled in the federal Women, Infants and Children (WIC) nutritional assistance program had a high "weight-for-length" in 2014, when compared with 2010. The percentage went from 14.5 percent to just over 12 percent in that period.
The WIC program helps low-income pregnant women, new mothers and children up to age 5. With federal funding, states provide those families with supplemental foods, nutrition education and health care referrals.
Researchers said the new findings are "encouraging."
High weight, even in infancy, has been linked to an increased risk of obesity later on, said study author David Freedman. He is a researcher with the U.S. Centers for Disease Control and Prevention.
And children in low-income families are at particular risk of both a high weight in infancy and childhood obesity, Freedman pointed out.
Dr. William Dietz, director of the Global Center for Prevention and Wellness at George Washington University, in Washington, D.C., agreed that "high weight-for-length is beyond 'chubbiness.' "
Dietz, who was not involved in the study, pointed to a finding he thought was particularly encouraging: Weight improvements were greatest among babies in certain minority groups. Hispanic and Native American babies showed the biggest changes.
The prevalence of high weight among Hispanic babies dropped from 17 percent in 2010 to just under 14 percent in 2014; among Native Americans, the prevalence fell below 16 percent -- down from almost 19 percent, the findings showed.
Meanwhile, just under 12 percent of black babies had a high weight in 2014, compared with 11 percent of white babies.
"The declines were greatest in groups disproportionately affected by obesity," Dietz said. "So those disparities, at least in this youngest age group, may be narrowing. That's an important finding."
The results were based on nearly 17 million U.S. babies younger than 2 whose families took part in WIC between 2000 and 2014.
Between 2000 and 2004, the proportion of babies with a high weight-for-length rose from roughly 13 percent to 14.5 percent. That figure held steady through 2010, then dropped to just above 12 percent by 2014.
Why did the picture improve? Changes to the WIC program are one likely reason, Freedman said.
During the study period, the program's food allocation package was revamped to fall in line with federal dietary guidelines, as well as infant feeding recommendations from the American Academy of Pediatrics.
"There were changes that resulted in increased consumption of whole grains, fruits and vegetables," Freedman said.
Plus, he added, those years saw a growing awareness -- among health professionals and parents -- of the childhood obesity problem.
Freedman did underscore a limitation of the study: Since the findings come from the WIC program, they do not reflect U.S. families as a whole.
However, recent studies have found that early childhood obesity seems to be on the decline nationwide. According to the CDC, just over 9 percent of 2- to 5-year-olds were obese in 2014 -- down from 14 percent a decade earlier.
That's in contrast to what's going on with older kids and adults, Freedman pointed out.
Among 2- to 19-year-olds, the CDC says, the prevalence of obesity has remained stubbornly stable -- at around 17 percent. And roughly one-fifth of U.S. teenagers are obese.
Still, the fact that the youngest kids are showing a different pattern is a positive sign, according to Dietz.
"This shows that we are making some progress," he said.
Freedman agreed. "We are seeing some positive results," he said. Now, the question is whether the encouraging trends will continue, he added.
SOURCES: David Freedman, Ph.D., distinguished consultant, division of nutrition, physical activity and obesity, U.S. Centers for Disease Control and Prevention, Atlanta; William Dietz, M.D., Ph.D., director, Global Center for Prevention and Wellness, Milken Institute School of Public Health, George Washington University, Washington, D.C.; Dec. 13, 2016, Pediatrics, online
HealthDay
Copyright (c) 2016
HealthDay
. All rights reserved.
News stories are provided by HealthDay and do not reflect the views of MedlinePlus, the National Library of Medicine, the National Institutes of Health, the U.S. Department of Health and Human Services, or federal policy.
More Health News on:
Tuesday, December 13, 2016