https://medlineplus.gov/news/fullstory_162418.html
Expect More Record-Breaking Heat in U.S., Scientists Warn
15 hottest-ever days predicted for every record low if greenhouse gas emissions don't decline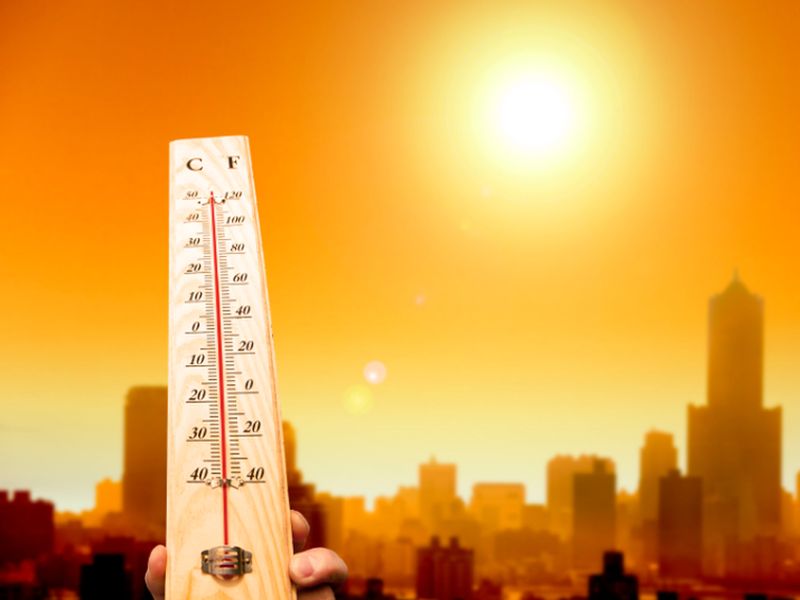 WEDNESDAY, Dec. 7, 2016 (HealthDay News) -- Americans will face many more record-breaking hot days later this century if greenhouse gases continue to be pumped into the atmosphere at current levels, a new U.S. study warns.
Scientists using computer modeling predict about 15 daily record-high temperatures for every record-low by about 2065 if no action is taken. That ratio could jump further if climate change-causing greenhouse gas emissions rise, the study from the National Center for Atmospheric Research (NCAR) predicts.
In comparison, the ratio of record-high temperatures to record-lows has averaged about two to one over the last decade, according to the study authors.
"More and more frequently, climate change will affect Americans with record-setting heat," lead author Gerald Meehl said in a NCAR news release. He's a senior scientist at the research center.
The 15-to-1 ratio of record highs to lows is based on temperatures across the continental United States rising by just over 3 degrees Celsius (5.4 degrees Fahrenheit) from recent years. That's about the amount of warming expected to occur with the current rate of greenhouse gas emissions, the researchers said.
"An increase in average temperatures of a few degrees may not seem like much, but it correlates with a noticeable increase in days that are hotter than any in the record, and nights that will remain warmer than we've ever experienced in the past," Meehl said.
Greenhouse gases trap heat in the atmosphere. They come from a variety of everyday activities in developed countries, such as driving, using electricity and heating homes.
If greenhouse gas emissions continue to expand and cause temperatures in the United States to rise more than 4 degrees C (7.2 degrees F), there could be 38 record highs for every record low, the researchers said.
"Every degree of warming makes a substantial amount of difference, with the ratio of record highs to record lows becoming much greater," Meehl said.
"Even with much warmer temperatures on average, we will still have winter and we will still get record-cold temperatures, but the numbers of those will be really small compared to record-high maximums," he explained.
These findings are a stark reminder of how U.S. temperatures have been shifting and continue to do so, said study co-author Claudia Tebaldi.
"These changes pose adaptation challenges to both human and natural systems," Tebaldi said. "Only a substantial mitigation of greenhouse gas emissions may stop this increase, or at least slow down its pace."
The study results were published Dec. 6 in the journal Proceedings of the National Academy of Sciences.
SOURCE: National Center for Atmospheric Research, news release, Dec. 6, 2016
HealthDay
Copyright (c) 2016
HealthDay
. All rights reserved.
News stories are provided by HealthDay and do not reflect the views of MedlinePlus, the National Library of Medicine, the National Institutes of Health, the U.S. Department of Health and Human Services, or federal policy.
More Health News on:
Wednesday, December 7, 2016