Plasma Cell Neoplasms (Including Multiple Myeloma)—Patient Version - National Cancer Institute
Plasma Cell Neoplasms (Including Multiple Myeloma)—Patient Version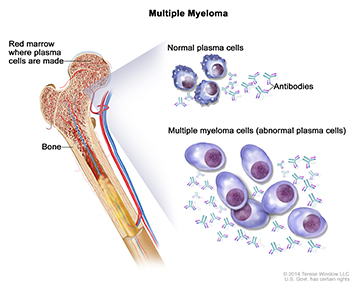 OVERVIEW
Plasma cells are cells in the immune system that make antibodies, which help the body fight infection and disease. Plasma cell neoplasms are diseases in which the body makes too many plasma cells in the bone marrow and these cells are abnormal. The abnormal plasma cells make M proteins, which are abnormal antibodies that build up in the bone marrow and can cause the blood to thicken or damage the kidneys.
The abnormal plasma cells can also form tumors in the bone or soft tissue. When there is only one tumor, the disease is called a plasmacytoma. When there is more than one tumor, the disease is called multiple myeloma. Both are malignant (cancer).
Multiple myeloma may not cause signs or symptoms for a long time and is often not found until it is advanced. Myeloma tumors can weaken the bone, cause too much calcium in the blood, and damage the kidneys and other organs. Bone pain is a common symptom of advanced multiple myeloma. Other signs and symptoms include frequent infections, anemia, bleeding, numbness or tingling, and weakness.
One type of benign (not cancer) plasma cell neoplasm is called monoclonal gammopathy of undetermined significance (MGUS). In MGUS, there are low levels of M protein and there are no symptoms or damage to the body. In rare cases, MGUS can become multiple myeloma.