Long-term oxygen for COPD | National Institutes of Health (NIH)

Long-term oxygen for COPD
At a Glance
Long-term oxygen use wasn't beneficial for people with chronic obstructive pulmonary disease (COPD) and moderately low levels of blood oxygen.
People with COPD should talk with their health care provider about treatment options.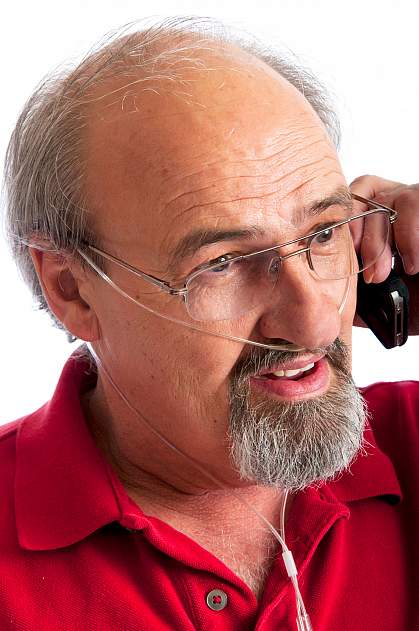 RCarner/iStock/Thinkstock
COPD is a lung disease that makes it hard to breathe. Small airways in the lungs become damaged, inflamed, or clogged, so less air flows in and out. Symptoms, which often worsen over time, include coughing, wheezing, and shortness of breath. COPD can limit a person's ability to do activities such as walking and cooking. It's a major cause of disability and the third-leading cause of death in the U.S.
Treatment options for COPD include lifestyle changes such as quitting smoking and medicines that help open the airways. People with severe COPD who have low levels of oxygen in their blood may be treated with supplemental oxygen at home. This therapy involves breathing in oxygen through a nasal tube or mask from a metal tank cylinder or oxygen concentrator.
Long-term oxygen therapy has been shown to benefit people with COPD and severely low blood oxygen levels. A research group supported in part by NIH's National Heart, Lung, and Blood Institute (NHLBI) set out to determine whether the therapy would also benefit people with moderately low blood oxygen levels. Results were published on October 27, 2016, in the New England Journal of Medicine.
The team enrolled 738 people from 42 medical centers throughout the U.S. Participants had COPD and moderately low levels of blood oxygen saturation (SpO
2
). All participants had a SpO
2
between 89% and 93% at rest or below 90% during a 6-minute walk test (an exercise test).
The participants were randomly assigned to receive no treatment or long-term oxygen supplementation. Within the oxygen supplementation group, the 220 with low SpO
2
at rest were prescribed 24-hour oxygen, and the 148 with low SpO
2
during exercise were prescribed oxygen during exercise and sleep.
The research group followed the participants for 1 to 6 years. They found no differences between the treated and untreated groups in survival or in the time before their first hospitalization. There also were no differences in rates of all-cause hospitalizations, worsening of COPD symptoms, quality of life measures, anxiety, depression, lung function, or the distance walked in 6 minutes.
"These results provide insight into a long-standing question about oxygen use in patients with COPD and moderately low levels of blood oxygen. For the most part, this treatment did not improve or prolong life in study participants," says Dr. James P. Kiley, director of NHLBI's Division of Lung Diseases. "The findings also underscore the need for new treatments for COPD."
People with COPD should discuss their care with a health care provider, as several treatments and approaches to manage the condition are currently available.
Related Links
NIH's National Heart, Lung, and Blood Institute (NHLBI) and the Centers for Medicare and Medicaid Services.