https://medlineplus.gov/news/fullstory_162135.html
Can Occupational Therapy Slow Alzheimer's Decline?
Patients, caregivers may reap some benefits, but study sees no effect on everyday functioning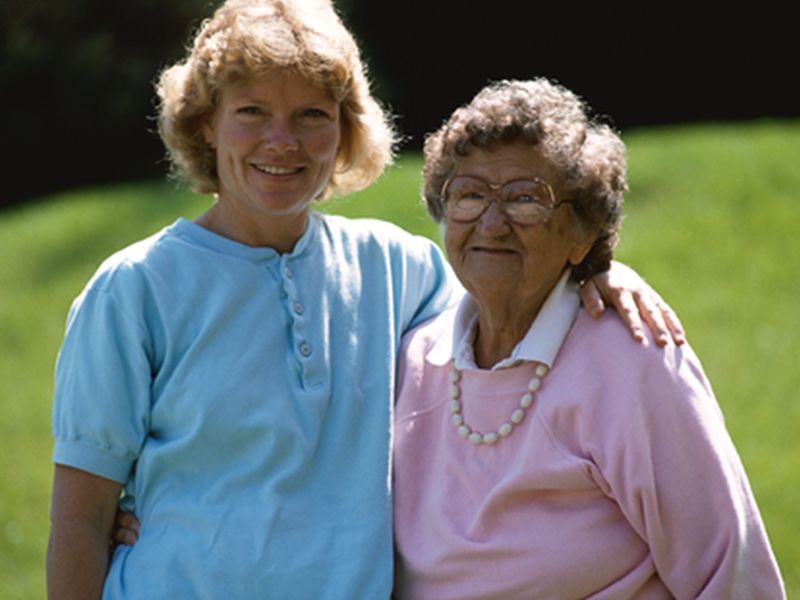 MONDAY, Nov. 21, 2016 (HealthDay News) -- Home-based occupational therapy may not slow down the physical decline that comes with Alzheimer's disease, a new clinical trial suggests.
The study looked at whether home visits from occupational therapists could put the brakes on Alzheimer's patients' "functional decline."
As the brain disorder progresses, it's not only memory that fades, but also day-to-day functioning. People gradually lose their ability to perform routine tasks -- such as making meals, using household items and bathing and dressing.
The goal of occupational therapy is to help family caregivers manage those difficulties. Sessions might address safe bathing or helping a loved one in and out of a car, for instance.
In the two-year study, the hope was that weaving occupational therapy into Alzheimer's patients' primary care would slow down their functional decline.
But that did not happen, said lead researcher Dr. Christopher Callahan, founding director of Indiana University's Center for Aging Research.
He called the findings "disappointing," but also said that occupational therapy can still be useful in managing Alzheimer's.
"There is still a role for occupational therapy in helping with specific impairments," Callahan said.
And others said the study did not fully measure all of the ways the therapy could benefit patients and family caregivers -- like boosting their quality of life.
Past studies have found that getting "home support" can improve caregivers' well-being, for instance, said Susan Stark, an assistant professor of occupational therapy, neurology and social work at Washington University in St. Louis.
According to Stark, the measurements used in this study may not have been "subtle enough" to capture certain benefits.
Plus, she said, the number of sessions may have fallen short: Families typically had 18 home visits over two years.
"It makes me wonder if there was a dose issue," Stark said.
In the real world, occupational therapy is not an automatic part of Alzheimer's care. But doctors may prescribe it on a case-by-case basis, Stark said.
Typically, an occupational therapist goes to the patient's home and recommends changes that can make daily living easier and safer. They may help the family remove fall risks, or use equipment to make bathrooms safer and more accessible, for example, Stark said.
Beyond that, therapists often use exercise to improve patients' strength and balance. They can also help caregivers learn to manage difficult behavior, or adapt activities that their loved one once enjoyed, such as gardening, to give them some mental stimulation.
Results of the new study were published Nov. 21 in the Annals of Internal Medicine.
For the study, Callahan's team recruited 180 Alzheimer's patients and their caregivers. All were given so-called "collaborative care," whereby an advanced practice nurse coordinated each patient's overall care.
In an earlier study, the researchers found that the collaborative approach helped reduce patients' behavioral problems and ease their caregivers' stress.
"In that first study, we wanted to see if we could help families with behavioral issues like wandering, agitation, or asking the same questions over and over again," Callahan explained.
"We noticed that while behavioral symptoms improved, patients' physical decline continued," he said.
So in this study, half of the families were randomly assigned to receive occupational therapy in addition to collaborative care.
But after two years, the researchers found, there was no evidence that the extra therapy had slowed patients' functional decline.
Still, the findings are based on one relatively small study, said Keith Fargo, director of scientific programs and outreach for the Alzheimer's Association.
"It's difficult to draw conclusions from a single study," Fargo said. "I don't think this means that it's 'case closed' on occupational therapy for Alzheimer's."
He also agreed that it's important to better understand the impact on patients' and caregivers' quality of life.
For now, these specialists agreed occupational therapy can be useful to Alzheimer's patients' families.
"The underlying biology of the disease will continue. Occupational therapy can't change that," Stark said. "But having more environmental support may help patients stay safe and independent at home for a longer time."
To Callahan, his team's findings highlight the challenges family caregivers face. He said "more intensive" efforts will be needed to help them deal with the functional decline that comes with Alzheimer's.
That, Callahan said, might mean more extensive home modifications, better assistive devices and more community services.
SOURCES: Christopher Callahan, M.D., founding director, Indiana University Center for Aging Research, Indianapolis; Keith Fargo, Ph.D., director, scientific programs & outreach, Alzheimer's Association, Chicago; Susan Stark, PhD, OTR/L, assistant professor, occupational therapy, neurology and social work, Washington University in St. Louis; Nov. 21, 2016, Annals of Internal Medicine online
HealthDay
Copyright (c) 2016
HealthDay
. All rights reserved.
News stories are provided by HealthDay and do not reflect the views of MedlinePlus, the National Library of Medicine, the National Institutes of Health, the U.S. Department of Health and Human Services, or federal policy.
More Health News on:
Monday, November 21, 2016