Antibody protects mice from Zika infection | National Institutes of Health (NIH)

Antibody protects mice from Zika infection
At a Glance
A human-derived antibody protected pregnant mice and their developing fetuses from Zika infection.
The findings will help guide researchers working to develop treatments and vaccines to combat Zika.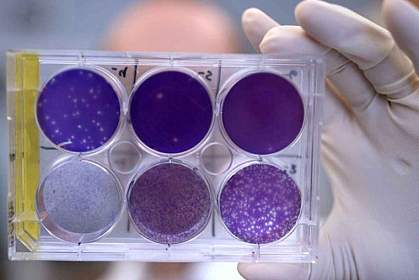 Huy Mach/Washington University School of Medicine
Zika virus spreads mostly through bites from infected mosquitoes, but can also be transmitted through sex. Most people infected with Zika don't become sick. For the 20% who do, the illness is generally mild, with symptoms like fever, rashes, joint pain, and pink eye. In some adults, though, Zika has been linked to serious neurological disease. In pregnant women, Zika infection can severely affect the fetus. Currently, no vaccines or medicines are available to prevent or treat Zika.
Several NIH-funded studies have been dedicated to developing a vaccine against Zika virus, and investigative vaccines are now being studied in early-stage clinical trials. A team of researchers led by Dr. James Crowe of Vanderbilt University and Dr. Michael Diamond of Washington University School of Medicine in St. Louis took another approach. People who have recovered from Zika infection have anti-Zika antibodies in their blood. The scientists obtained blood samples from 8 such people. Their goal was to isolate antibodies that could neutralize Zika viruses. The study was funded in part by NIH's National Institute of Allergy and Infectious Diseases (NIAID). Results appeared online in Nature on November 7, 2016.
The scientists studied antibody-producing B cells from the blood samples. They selected the B cells that produced antibodies that bound to the Zika virus envelope protein (ZIKV E). They then used these cells to generate hybridomas—cells that multiply and continue to produce a specific antibody indefinitely.
Among the 29 hybridomas generated, one called ZIKV-117 was particularly effective in neutralizing Zika virus strains of African, Asian, and American origins. The researchers discovered that the ZIKV-117 antibody acts by binding to ZIKV E at a unique region.
The scientists examined whether ZIKV-117 antibodies could defeat Zika infections in mice. A single dose of ZIKV-117 antibodies, given 1 or 5 days after infection in male mice, offered protection and increased survival compared to the mice that received a control antibody.
To assess whether ZIKV-117 could protect the developing fetus, the scientists gave ZIKV-117 to pregnant mice one day before infection. The treatment reduced levels of virus in both the placenta and the fetal brain. Treated mice had less damage to the placenta and larger fetuses.
"This is proof of principle that Zika virus during pregnancy is treatable, and we already have a human antibody that treats it, at least in mice," Diamond says.
By identifying a vulnerable region on ZIKV E, the findings may also aid efforts to develop an effective anti-Zika vaccine.
"Identifying human antibodies that broadly neutralize Zika virus strains and pinpointing the particular region of Zika virus to which they bind may accelerate development of strategies for treating and preventing Zika virus infection," says NIAID Director Dr. Anthony S. Fauci.
Related Links
Reference:
Neutralizing human antibodies prevent Zika virus replication and fetal disease in mice.
Sapparapu G, Fernandez E, Kose N, Cao B, Fox JM, Bombardi RG, Zhao H, Nelson CA, Bryan AL, Barnes T, Davidson E, Mysorekar IU, Fremont DH, Doranz BJ, Diamond MS, Crowe JE.
Nature.
2016 Nov 7. doi: 10.1038/nature20564. [Epub ahead of print]. PMID: 27819683.
Funding:
NIH's National Institute of Allergy and Infectious Diseases (NIAID), Burroughs Wellcome Fund, and March of Dimes.