For Uncontrolled Tremor, Ultrasound Instead of Brain Surgery?: MedlinePlus
For Uncontrolled Tremor, Ultrasound Instead of Brain Surgery?
Noninvasive technique helps patients who don't respond to medication, study says
Thursday, August 25, 2016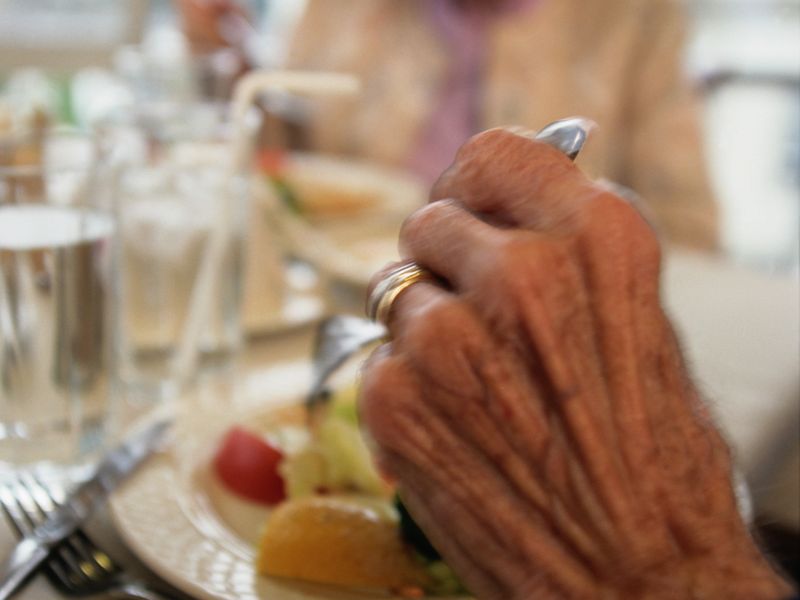 THURSDAY, Aug. 25, 2016 (HealthDay News) -- Patients with uncontrolled shaking caused by a condition called essential tremor may get relief with a new noninvasive ultrasound procedure, a study finds.
The movement disorder involves involuntary tremors in the hands or feet, and sometimes the voice is shaky, said Dr. Max Wintermark, a professor of neuroradiology at the Stanford Neuroscience Health Center in Palo Alto, Calif. "It's called 'essential' because we don't know what is causing it."
In some cases, essential tremor keeps people from feeding themselves, writing or carrying out other everyday activities. It's estimated that more than 7 million people have the condition in the United States.
The standard medications, drugs called propranolol and primidone, only help as many as 60 percent of patients, and they lose effectiveness over time. Until now, when drugs failed, doctors could only offer brain surgery -- including deep brain stimulation -- as a potential treatment, the researchers said.
Focused ultrasound, a noninvasive technique, is "a new treatment option that is available for patients with essential tremor," said Wintermark, who wasn't involved in the study. He termed this advance "exciting."
Based on this trial, the U.S. Food and Drug Administration in July approved the technique to treat essential tremor. Israel-based InSightec, the device maker, funded the research.
Here's how focused ultrasound works: Sound waves guided by MRI are sent into an area of the brain called the thalamus to kill cells causing the tremor, researchers explain.
"This technology allows you to destroy those tremor cells completely in a noninvasive procedure that takes a day," said study co-author Dr. Travis Tierney, a pediatric neurosurgeon at Nicklaus Children's Hospital in Miami.
Previously, doctors might have suggested electrical stimulation, but with that approach, he said, "you have to make an incision and put in a complicated pacemaker system with an electrode in the brain that stays with the patient for the rest of their lives."
According to Tierney, Medicare and other insurers will cover the ultrasound procedure. He said it's FDA-approved for those aged 22 and older who have failed medical therapy.
For the study, Tierney and colleagues randomly assigned 76 patients with moderate-to-severe essential tremor who had not responded to medical treatment to focused ultrasound or a sham procedure. Patients completed a quality-of-life questionnaire at the start of the study and periodically for one year.
Neurologists saw videotapes of patients and assessed improvements in tremor, according to the report published Aug. 25 in the New England Journal of Medicine.
The researchers found that three months after treatment, those receiving focused ultrasound experienced an improvement in their hand tremor greater than those getting the sham procedure. The improvement lasted for at least a year.
After treatment, most patients were tremor-free, Tierney said.
The outcomes were as good as those seen with deep brain stimulation, Tierney added. If the tremor recurs, the procedure can be repeated to kill any tremor cells that were missed the first time, he said.
Ultrasound patients also saw an improvement in measures of disability and quality of life, compared with those who received the sham procedure, he said. They could now feed themselves foods like soup or cereal if they couldn't before.
Side effects associated with focused ultrasound included problems walking in 36 percent of the patients, which persisted for one year in 9 percent. Numbness in the hand and face occurred in 38 percent, and remained in 14 percent a year after therapy, the study says.
Tierney and other experts said the benefits of focused ultrasound aren't limited to essential tremor.
"Focused ultrasound opens the door to treat other disorders of the brain," said Dr. Neal Kassell, a professor of neurosurgery at the University of Virginia.
The technique is already being studied in Parkinson's disease, obsessive compulsive disorder, depression, epilepsy and brain tumors, said Kassell, who is chairman of the Focused Ultrasound Foundation.
Although he predicts it will become a standard therapy, Kassell said focused ultrasound is not a panacea for every patient or every neurological disorder. "But it's one more good, solid noninvasive therapy that will . . . improve outcomes and decrease cost of care," he said.
SOURCES: Travis Tierney, M.D., pediatric neurosurgeon, Nicklaus Children's Hospital, Miami; Max Wintermark, M.D., professor, neuroradiology, Stanford Neuriscience Health Center, Palo Alto, Calif.; Neal Kassell, M.D.,chairman Focused Ultrasound Foundation, professor neurosurgery, University of Virginia, Charlottesville, Va.; Aug. 25, 2016, New England Journal of Medicine
HealthDay
Copyright (c) 2016
HealthDay
. All rights reserved.
News stories are provided by HealthDay and do not reflect the views of MedlinePlus, the National Library of Medicine, the National Institutes of Health, the U.S. Department of Health and Human Services, or federal policy.
More Health News on: