Sex Partner With No Zika Symptoms Transmits Virus: CDC: MedlinePlus
Sex Partner With No Zika Symptoms Transmits Virus: CDC
New report also highlights ties between Zika and Guillain-Barre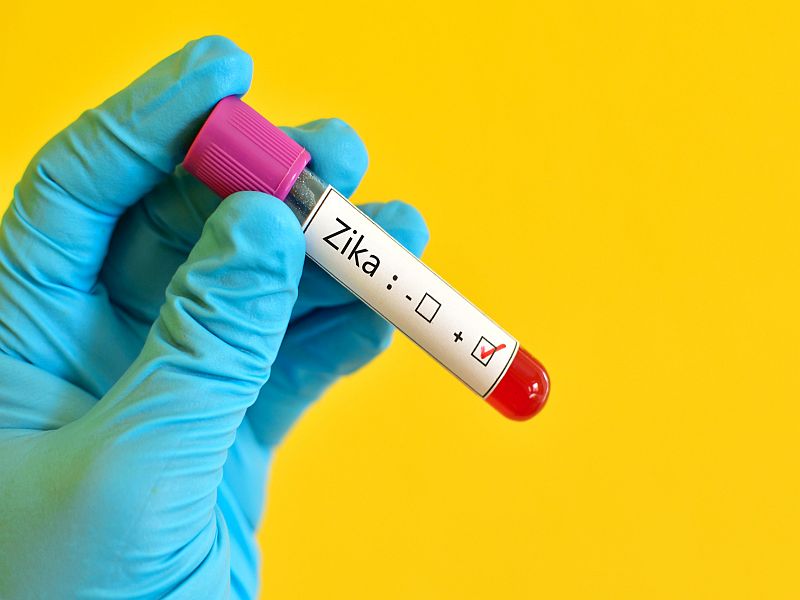 FRIDAY, Aug. 26, 2016 (HealthDay News) -- U.S. health officials report that the Zika virus can be spread sexually even when a partner shows no signs of infection.
A Maryland woman who had not traveled to an active Zika area was diagnosed with the virus in June after having condomless sex with a man who had been to the Dominican Republic, according to the U.S. Centers for Disease Control and Prevention.
The mosquito-borne virus is circulating in the Dominican Republic, but the man had experienced no Zika symptoms, such as fever, pink eye or rash. Although he had felt tired, he blamed that on traveling.
Testing, however, confirmed that he had been exposed to Zika, researchers said.
"As more is learned about the incidence and duration of seminal shedding of Zika virus in infected men, recommendations to prevent sexual transmission of Zika virus will be updated if needed," the CDC researchers said.
Zika can cause severe brain damage in babies whose mothers are exposed to it during pregnancy. It is also tied to a rare autoimmune disorder called Guillain-Barre syndrome.
Only one other case of sexual transmission of Zika without symptoms is known to the CDC. But in that case a mosquito bite -- the usually source of Zika -- couldn't be ruled out because both partners had traveled to an active Zika region outside the United States.
This new twist in the myriad ways Zika can spread should strengthen warnings to couples hoping to start a family if either one plans to travel anywhere the virus is active, health officials said. Currently, it's circulating in South and Latin American countries and the Caribbean. Parts of Florida have also experienced local Zika transmission.
Regardless of whether Zika symptoms surface, if one partner travels to a Zika region, couples should wait at least eight weeks before attempting to start a family, the CDC reiterated.
Also, men with a Zika diagnosis should wait at least six months before trying for pregnancy and women with Zika should wait at least eight weeks before trying to conceive, the agency says.
Couples not trying to have children should use reliable birth control and condoms to help prevent transmission of the virus. They also might consider abstaining from sex, the CDC says.
A second CDC report adds to knowledge about the link between Zika and Guillain-Barre, which is characterized by weakness and paralysis.
Since Puerto Rico's first Zika diagnosis last December, cases of Guillain-Barre there have dramatically increased, the CDC reported. Fifty-six suspected cases of Guillain-Barre were reported the first seven months of 2016, of which 34 were linked to infection with Zika or an unspecified flavivirus. (Zika is the chief flavivirus now active in Puerto Rico.)
"Overall, the number of persons with suspected [Guillain-Barre] and evidence of Zika virus or flavivirus infection was 2.5 times greater than the number of persons with suspected [Guillain-Barre] and no evidence of Zika virus infection," the report says. Most of the Guillain-Barre patients were older than 50, and one died.
Both reports were published Aug. 26 in the CDC publication Morbidity and Mortality Weekly Report.
SOURCE: Aug. 26, 2016, U.S. Centers for Disease Control and Prevention, Morbidity and Mortality Weekly Report
HealthDay
Copyright (c) 2016
HealthDay
. All rights reserved.
News stories are provided by HealthDay and do not reflect the views of MedlinePlus, the National Library of Medicine, the National Institutes of Health, the U.S. Department of Health and Human Services, or federal policy.
More Health News on:
Sunday, August 28, 2016