Diabetes Drug Victoza Might Not Help Advanced Heart Failure Patients: MedlinePlus
Diabetes Drug Victoza Might Not Help Advanced Heart Failure Patients
Study participants may have been too sick to benefit from the medication, diabetes expert says
Tuesday, August 2, 2016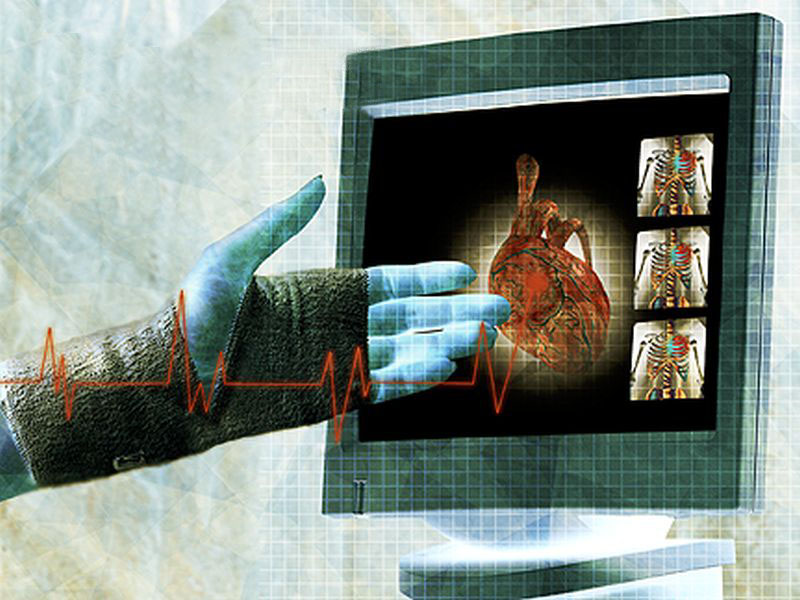 TUESDAY, Aug. 2, 2016 (HealthDay News) -- The diabetes drug liraglutide (Victoza) doesn't appear to improve heart function in patients with advanced heart failure, a new study finds.
The theory for this trial was that this drug -- from a class of medications called (GLP-1) agonists -- might interact with the heart's GLP-1 receptors on cells and thereby improve heart function.
"We were hoping for a benefit; we didn't see that. It's at best neutral," said lead researcher Dr. Kenneth Margulies. He's a professor of medicine and research director of heart failure and transplantation at the University of Pennsylvania in Philadelphia.
Previous studies found evidence that people with advanced heart failure have insulin resistance of their peripheral muscles and heart muscle, and "this was felt to be a detrimental feature that this type of diabetes medicine might help," he said.
Not only did the drug not help, but it's possible that Victoza might have even been slightly harmful in some patients with advanced heart failure, Margulies said. The study noted that people with type 2 diabetes who were taking Victoza had a slightly higher, though nonsignificant, risk of death and rehospitalization, as well as signs of worsening kidney function.
But, patients using Victoza who develop heart failure shouldn't abruptly stop taking it, he added.
One expert noted that this trial contradicts the findings of another study that found that Victoza lowered the risk of dying from heart disease.
"I suspect that [this] trial is not the final word on the issue," said Dr. John Buse. He's the chief and professor of the division of endocrinology at the University of North Carolina School of Medicine in Chapel Hill.
This new study was small, relatively short in duration and statistically complex, Buse explained. It also involved treating people with diabetes, as well as those without diabetes, he added.
"It does not square with the results of the larger, longer LEADER trial (Liraglutide Effect and Action in Diabetes: Evaluation of Cardiovascular Outcome Results)," Buse said.
The LEADER trial researchers, including Buse, found that over nearly four years, patients with type 2 diabetes and heart disease who were taking Victoza had a lower risk of death from heart disease and stroke, or from any cause, compared with placebo.
"Clearly, the treatment of heart failure in people with diabetes is an area needing more study," Buse said.
In the current study, Margulies and colleagues randomly assigned 300 recently hospitalized advanced heart failure patients to daily injections of Victoza or an inactive placebo.
Over six months, the researchers looked for the number of patients who died, who were readmitted to the hospital for heart failure, or whose disease had stabilized.
Among the 271 patients who completed the study, Victoza had no significant effect on any of the outcomes Margulies' team was looking for.
Among those taking Victoza, 12 percent died. Eleven percent of those receiving placebo died, the study found. Forty-one percent of those taking Victoza were rehospitalized for heart failure, compared with 34 percent of those receiving placebo, the research showed.
In addition, no difference was seen between the groups in measurements of heart function and disease stability, including heart structure and function, six-minute walking distance, and quality of life. And, when the researchers looked at those with and without diabetes, they didn't see any significant differences between the groups.
"In patients who already have severe heart failure, starting this medication to further improve their heart failure does not make sense," Margulies concluded.
But, not everyone necessarily agreed with that conclusion.
"People shouldn't think anything of this study because it didn't show anything," said Dr. Caroline Apovian. She's a professor of medicine and pediatrics at Boston University School of Medicine.
These findings, she said, have to be put in the context of other studies that have shown a benefit in protecting the heart. It's possible that patients in this study were too sick to benefit from Victoza, Apovian said.
"This study took people who were really, really sick and threw a drug at them, and nothing happened," she said. "But these patients may have been too sick to benefit from this drug. If it is started sooner, it may have a real benefit," Apovian said.
Repeated requests for comments from Novo Nordisk, the maker of Victoza, went unanswered.
The report was published Aug. 2 in the Journal of the American Medical Association.
SOURCES: Kenneth Margulies, M.D., professor, medicine, research director, heart failure/transplantation, University of Pennsylvania, Philadelphia; John Buse, M.D., Ph.D., chief and professor, division of endocrinology, University of North Carolina School of Medicine, Chapel Hill; Caroline Apovian, M.D., professor, medicine and pediatrics, Boston University School of Medicine; Aug. 2, 2016, Journal of the American Medical Association
HealthDay
Copyright (c) 2016
HealthDay
. All rights reserved.
News stories are provided by HealthDay and do not reflect the views of MedlinePlus, the National Library of Medicine, the National Institutes of Health, the U.S. Department of Health and Human Services, or federal policy.
More Health News on: