Calcium Supplements Might Raise Older Women's Dementia Risk: MedlinePlus
Calcium Supplements Might Raise Older Women's Dementia Risk
Finding even more pronounced if blood flow to brain has been affected, study suggests
Thursday, August 18, 2016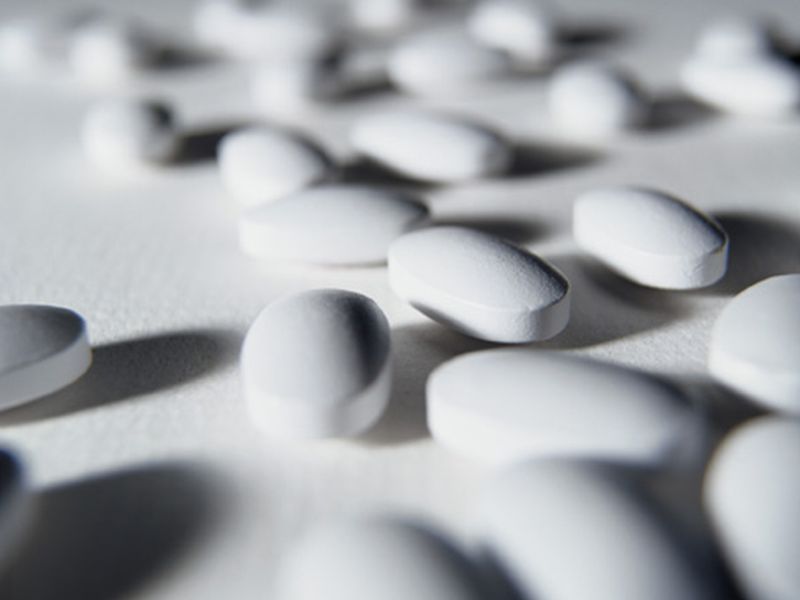 WEDNESDAY, Aug. 17, 2016 (HealthDay News) -- Taking calcium supplements with the hope of keeping osteoporosis at bay may raise an older woman's risk of dementia, a new study suggests.
And that seems particularly true if a woman has already sustained an event causing poor blood flow to the brain (cerebrovascular disease), such as from a stroke, researchers said.
The study can't prove cause-and-effect. However, dementia risk was seven times higher in female stroke survivors who took calcium supplements, compared to women with a history of stroke who didn't use the supplements, the findings showed.
The risk of dementia also was three times higher in women with white matter brain lesions who took calcium supplements, compared to women with white matter lesions who didn't take the supplements. Lesions in white matter tissue are evidence of a mini-stroke or some other problem impeding blood flow within the brain.
Because the study can't prove causality, "women with cerebrovascular disease and osteoporosis should discuss this new information with their clinicians," said lead researcher Dr. Silke Kern. She is a neuropsychiatric researcher at the University of Gothenburg in Sweden.
Kern noted that some guidelines have recommended that seniors consume 1,000 to 1,200 milligrams of calcium a day to prevent osteoporosis.
But, other research has suggested that calcium supplements may increase a woman's risk of heart attack or stroke, Kern said.
She stressed that the findings apply only to calcium supplements. Calcium from food appears to affect the brain differently than calcium from supplements, Kern explained, and appears to be safe or even protective.
The current study included information from 700 dementia-free women. The participants were between the ages of 70 and 92 at the start of the study. The study began in 2000, and researchers followed the women's health for five years.
The study participants took a variety of tests at the beginning and end of the study, including tests of memory and thinking skills. Researchers also conducted CT brain scans on 447 participants at the start of the study, which revealed that 71 percent of these women had white matter lesions.
A total of 98 women were taking calcium supplements at the start of the study, and 54 women had already experienced a stroke. During the study, 54 more women had strokes and another 59 women developed dementia.
Initially, the research team found that the women taking calcium supplements were twice as likely to develop dementia as women who did not take supplements.
However, a more thorough analysis of the data revealed that the risk was being driven by women with signs of cerebrovascular disease -- either a previous stroke or signs of white matter damage in their brains.
Kern isn't sure why calcium supplements might have this effect. Calcium plays a crucial role in cell death, she said, and high levels of calcium in the blood might prompt the early death of neurons. Excess calcium also might somehow affect the blood vessels within the brain.
Dr. Neelum Aggarwal is an associate professor of neurological science and director of research for the Rush Heart Center for Women at Rush University Medical Center in Chicago. She said that calcium also can affect brain chemistry, and too much calcium might cause a cascade of events that lead to brain cell degeneration.
But Aggarwal cautioned against blaming calcium supplements alone for any person's dementia risk.
"We need to consider that the combination of nutrients will be more predictive than one nutrient," she said. "For example, calcium, phosphorus and magnesium all are typically looked at for their effects on multiple organs, and cognitive [mental] functioning will be affected most likely by a combination of these nutrients. To say that only one nutrient increases the risk of dementia is premature, and more studies need to look at a combination of nutrients."
Osteoporosis is a major problem for seniors, and it's worth looking further into the tradeoffs that come with calcium supplements, Aggarwal said.
"My suspicion is that M.D.s will not change their prescribing habits at this time based on this article," she said. "I would hope this type of study will be reproduced in larger populations and more ethnically diverse populations."
Duffy MacKay is spokesperson for the Council for Responsible Nutrition, a supplement trade association. spokesperson. He agreed that little should change for women based on this study.
"This new calcium study provides limited evidence to support its hypothesis, and therefore we caution against jumping to conclusions. Even the authors acknowledge these findings 'need to be confirmed,'" MacKay said.
"The authors mined data from a decade-old observational study, which was not originally designed to assess calcium intake," MacKay noted.
"Further, the new analysis included only 98 women who took calcium supplements and did not include any information on their supplemental calcium dose or duration, or dietary intake of calcium, which are needed in order to draw accurate conclusions about the effects of calcium supplementation," he explained.
The findings were published online Aug. 17 in the journal Neurology.
SOURCES: Silke Kern, M.D., Ph.D., neuropsychiatric researcher, University of Gothenburg, Sweden; Neelum Aggarwal, M.D., associate professor of neurological science and director of research, Rush Heart Center for Women, Rush University Medical Center, Chicago; Duffy MacKay, spokesperson, Council for Responsible Nutrition; Aug. 17, 2016, Neurology, online
HealthDay
Copyright (c) 2016
HealthDay
. All rights reserved.
News stories are provided by HealthDay and do not reflect the views of MedlinePlus, the National Library of Medicine, the National Institutes of Health, the U.S. Department of Health and Human Services, or federal policy.