Men Face Greater Risk of Cardiac Arrest: Study: MedlinePlus
Men Face Greater Risk of Cardiac Arrest: Study
Heart disease tends to develop earlier than it does in women, researchers say
Thursday, June 30, 2016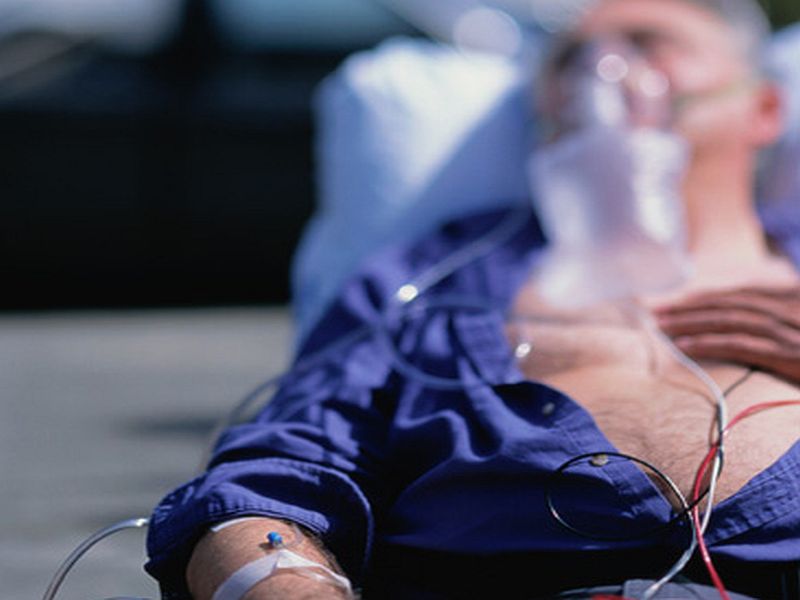 THURSDAY, June 30, 2016 (HealthDay News) -- Men are significantly more likely to have their heart stop suddenly than women are, a new study finds.
About one in nine men will suffer a cardiac arrest before the age of 70, compared to about one in 30 women. At age 45, men have nearly an 11 percent lifetime risk of sudden cardiac death, compared with a 3 percent risk among women of the same age, researchers report.
"Most of these deaths are occurring prematurely -- before age 70 -- which means that this is a very important and largely preventable cause of death that's really affecting families in a devastating way," said lead researcher Dr. Donald Lloyd-Jones. He is chair of preventive medicine at Northwestern University Feinberg School of Medicine, in Chicago.
About 450,000 Americans die from sudden cardiac death each year, and most never have any symptoms of a heart problem, he said. Men are especially at risk because heart disease tends to develop earlier in men than in women, Lloyd-Jones explained.
"We need to get more serious about screening men for risk factors for cardiac arrest," he said. The major risk factors include smoking, high blood pressure, high cholesterol and diabetes.
"Know your numbers, especially your blood pressure, but also know your cholesterol or whether you have diabetes," he said. "At 50, men should also have a baseline electrocardiogram, which might reveal heart problems."
For the study, Lloyd-Jones and his colleagues examined data on more than 5,200 men and women, aged 28 to 62, who took part in the long-running Framingham Heart Study, which began in 1948.
That study looked at four major risk factors for heart trouble -- blood pressure, cholesterol, smoking and diabetes. None of the participants had a heart problem at the start of the study. Because most of those in the study were white, the findings cannot necessarily be applied to other groups, the researchers cautioned.
Over decades of follow-up, 375 people died from a cardiac arrest. The risk for sudden cardiac death was even higher -- 12 percent -- among men who had two or more risk factors, the researchers found.
In addition, high blood pressure alone or in combination with other risk factors was linked to a higher risk of sudden cardiac death. High blood pressure was the single most accurate predictor of cardiac arrest for both men and women, Lloyd-Jones said.
Dr. Michael Sayre, a professor of emergency medicine at the University of Washington in Seattle, said that "men have more risk factors, such as smoking and high blood pressure, putting them at risk for cardiac arrest." He wasn't involved in the new study.
However, the number of cardiac arrests has dropped dramatically because more people are controlling their blood pressure, cholesterol and blood sugar, and have quit smoking, he added.
"In our system, over 30 years, the number of cardiac arrests is less than half of what it used to be," Sayre said.
"We used to have 300 of these a year, and now there's closer to 100," he said. "Even though we are doing better than we did 15 years ago, there are still too many [cardiac arrests]. We can do better."
Many people confuse cardiac arrest with a heart attack, which is when part of the heart is damaged after being deprived of oxygen, usually because of a blocked artery. Cardiac arrest is the sudden and complete stoppage of the heart.
The findings were published June 29 in the Journal of the American Heart Association.
A study in the June 22 issue of the same journal found another difference between men and women when it comes to cardiac arrest. Women who survive cardiac arrest are less likely than men to get aggressive lifesaving care at the hospital, those researchers reported.
In that study, women treated for cardiac arrest were 25 percent less likely to have an angiography -- imaging to look for blocked heart arteries. Women were also 29 percent less likely to undergo angioplasty, a technique to open blocked arteries, the study found.
"Although we have made a lot of improvement in treating patients with cardiac arrest over the last decade, there is room for improvement, especially in women," said lead researcher Dr. Luke Kim, an assistant professor of medicine at Weill Cornell Medical College in New York City.
SOURCES: Donald Lloyd-Jones, M.D., chair, department of preventive medicine, Northwestern University Feinberg School of Medicine, Chicago; Michael Sayre, M.D., spokesman, American Heart Association, and professor, emergency medicine, University of Washington, Seattle; June 29, 2016,Journal of the American Heart Association, online
HealthDay
Copyright (c) 2016
HealthDay
. All rights reserved.
News stories are provided by HealthDay and do not reflect the views of MedlinePlus, the National Library of Medicine, the National Institutes of Health, the U.S. Department of Health and Human Services, or federal policy.
More Health News on: