'Ice Bucket Challenge' Funds a Boon to ALS Research: MedlinePlus
'Ice Bucket Challenge' Funds a Boon to ALS Research
Money raised during the online campaign helped scientists spot gene linked to deadly nerve disease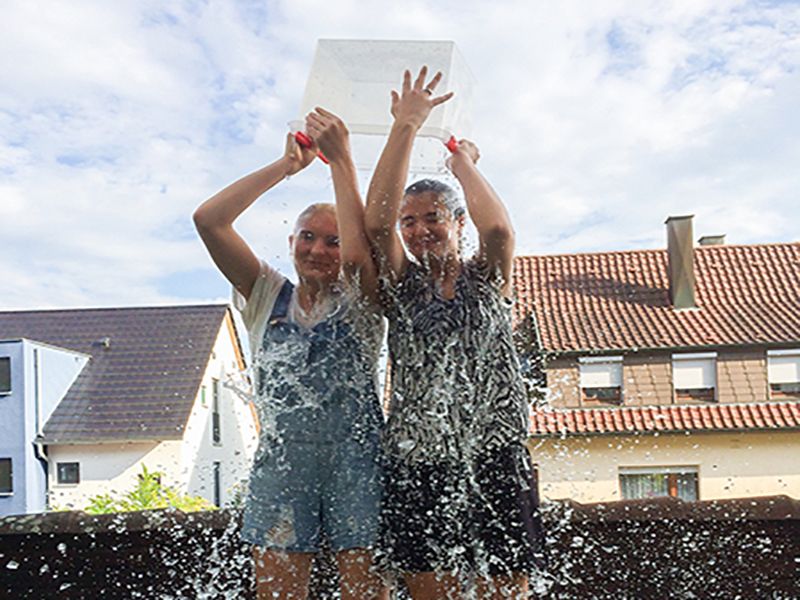 WEDNESDAY, July 27, 2016 (HealthDay News) -- The hugely popular "Ice Bucket Challenge" did more than convince millions of people to dump buckets of ice water over their heads to raise money for amyotrophic lateral sclerosis (ALS) research: It actually funded a study that has discovered an important new ALS gene.
The ALS Association used Ice Bucket Challenge donations to fund Project MinE, an international effort to sequence the genomes of at least 15,000 people with ALS.
Researchers now report on the fruits of that effort: A gene called NEK1 was discovered through a search for ALS risk genes in more than 1,000 families with a history of ALS. Further gene testing, of more than 13,000 people with ALS who did not have a family history of the devastating disease, also revealed over-representation of variants in the NEK1 gene.
"Global collaboration among scientists, which was really made possible by ALS Ice Bucket Challenge donations, led to this important discovery," said study co-leader John Landers, from the University of Massachusetts Medical School in Worcester.
"It is a prime example of the success that can come from the combined efforts of so many people, all dedicated to finding the causes of ALS. This kind of collaborative study is, more and more, where the field is headed," Landers explained in an association news release.
The researchers added that the NEK1 gene now ranks among the most common genes associated with the disease, and offers scientists another target for developing treatments for ALS.
ALS, sometimes called Lou Gehrig's disease, is a progressive neurodegenerative disease that affects nerve cells in the brain and spinal cord. It leads to total paralysis and death, usually within two to five years of diagnosis.
An estimated 10 percent of ALS cases are inherited, while 90 percent of patients do not have a family history. However, genes likely play a direct or indirect role in more than 10 percent of ALS cases, according to the researchers.
"The discovery of NEK1 highlights the value of 'big data' in ALS research," Lucie Bruijn, ALS Association chief scientist, said in the news release. "The sophisticated gene analysis that led to this finding was only possible because of the large number of ALS samples available."
The study, which involved more than 80 researchers in 11 countries, was published July 25 in the journal Nature Genetics.
SOURCE: ALS Association, news release, July 25, 2016
HealthDay
Copyright (c) 2016
HealthDay
. All rights reserved.
News stories are provided by HealthDay and do not reflect the views of MedlinePlus, the National Library of Medicine, the National Institutes of Health, the U.S. Department of Health and Human Services, or federal policy.
More Health News on:
Wednesday, July 27, 2016