U.S. Panel Says Evidence 'Insufficient' to Recommend Skin Cancer Screenings: MedlinePlus
U.S. Panel Says Evidence 'Insufficient' to Recommend Skin Cancer Screenings
But dermatology experts disagree and worry opportunities to save lives will be missed
Tuesday, July 26, 2016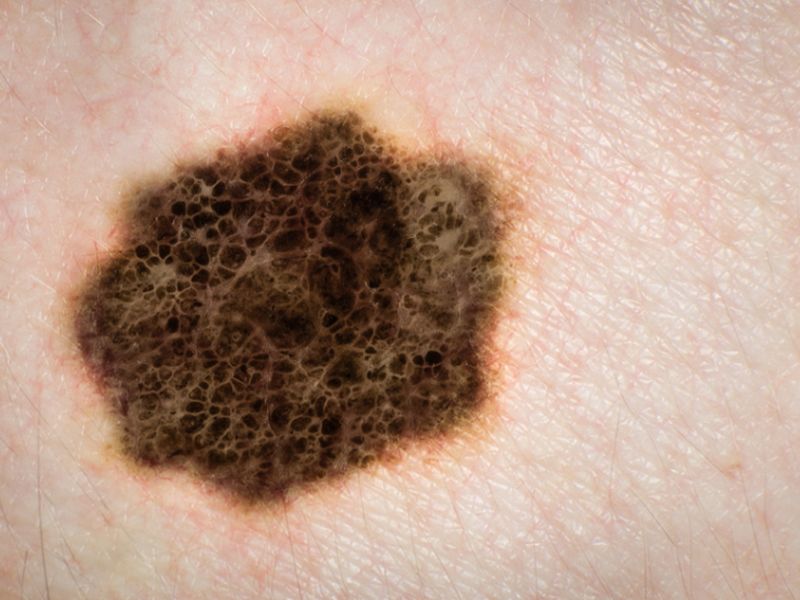 TUESDAY, July 26, 2016 (HealthDay News) -- There currently isn't enough scientific proof to recommend regular full-body exams for skin cancer as a means of preventing deaths from these cancers, a leading panel of U.S. preventive health experts has concluded.
An updated evidence review found scant evidence on either the benefits or harms of a health care professional performing a skin exam as part of a patient's regular check-up, said Dr. David Grossman. He is vice-chairperson of the U.S. Preventive Services Task Force (USPSTF).
"We don't know if taking the extra time to examine every inch of someone's skin actually does yield benefit or causes no harm," Grossman said.
Despite this, people should regularly check their own bodies for signs of skin cancer, and report anything unusual to their doctor, he added.
"Someone who's got a mole they're worried about because it's growing and changing colors, they're not a part of this recommendation," Grossman explained.
More than 5 million basal and squamous cell skin cancers are diagnosed each year in the United States. It's estimated that around 2,000 people die due to these cancers annually, the American Cancer Society (ACS) says.
Melanoma skin cancer occurs far less often, but is much deadlier. More than 76,000 new melanomas are expected to be diagnosed in 2016. Approximately 10,000 people will die from melanoma in 2016, the ACS says.
The new report doesn't change the task force's prior statement on skin cancer screening issued in 2009. That report said the evidence was inconclusive as well.
This latest update is "an explicit call for more evidence," Grossman said. "We're pretty clear on what it would take to move this" to a recommendation in favor of regular skin exams.
But, not everyone agrees that the evidence is so meager.
The American Academy of Dermatology (AAD) said its own skin cancer screening program -- in place for 30 years -- has resulted in detection of more than 255,000 suspected skin cancer lesions and 28,500 melanomas out of more than 2.5 million screenings.
"We know that screenings, which are noninvasive, quick and painless, are the best tool possible to detect skin cancer early when it is most treatable," AAD President Dr. Abel Torres said in a prepared statement.
Torres added that the AAD "is disappointed with this recommendation, as dermatologists know that skin cancer screenings can save lives."
In an accompanying editorial, dermatologist Dr. Martin Weinstock argued that "insufficient evidence of benefit" doesn't mean the same thing as "evidence of no benefit."
The largest benefit of regular skin exams would be catching a melanoma before it became invasive, Weinstock said. He's a professor of dermatology and epidemiology with Brown University's Warren Alpert Medical School in Providence, R.I.
"The worst risk would be unnecessary biopsies that could lead to scarring of a person's skin and greater health care costs," he explained.
"Really, the potential harms aren't great, and the potential benefit is that you could save some lives," Weinstock said.
Grossman said very little new research has surfaced on either the benefits or the harms of screening for skin cancer during the past seven years.
The largest recent study involved more than 360,000 people in northern Germany who received regular skin screening as well as education on sun protection, Grossman said. That study showed a nearly 50 percent decline in death rates from melanoma in men, and improved melanoma death rates compared with other nearby regions.
But the study design makes it impossible to tell what actually caused the benefits. "It's unclear whether the drop they saw in mortality is related to the screening or to improved behavioral response, with people using skin protection," Grossman said.
In addition, the melanoma death rate subsequently jumped back up. "That rate wasn't sustained over time," he said.
"If we saw a number of studies like this and they all were consistent and sustained, we would consider such evidence," Grossman concluded. "But this one had so many limitations and was only a single study, so it wasn't sufficient."
The USPSTF is an independent, volunteer panel of national experts who regularly review the scientific evidence and make recommendations regarding health screening procedures and preventive medicine.
The Affordable Care Act has placed tremendous value on the task force's opinion, as insurance companies are required to provide -- free of cost -- any screening that the USPSTF recommends, according to the U.S. Department of Health and Human Services.
A recommendation for skin cancer screening would place tremendous pressure on health care providers across the nation to make sure properly trained professionals are available to provide the service, Weinstock said.
"If something is recommended by the task force, it becomes incumbent upon organizations providing health care to keep tabs on whether they are making the services available to their patients," he said.
"I'm disappointed that we have 10,000 Americans dying every year from melanoma, and that if they were getting screened by appropriately trained people, I think that number would be much less," Weinstock added.
The task force's updated evidence review and statement on skin cancer screening appears in the July 26 Journal of the American Medical Association.
SOURCES: David Grossman, M.D., M.P.H., senior investigator, Group Health Research Institute, and medical director, population health strategy, and pediatrician, Group Health Cooperative, Seattle; Martin Weinstock, M.D., Ph.D., professor of dermatology and epidemiology, Brown University's Warren Alpert Medical School, Providence, R.I.; American Academy of Dermatology, media statement, June 25, 2016; July 26, 2016, Journal of the American Medical Association
HealthDay
Copyright (c) 2016
HealthDay
. All rights reserved.
News stories are provided by HealthDay and do not reflect the views of MedlinePlus, the National Library of Medicine, the National Institutes of Health, the U.S. Department of Health and Human Services, or federal policy.
More Health News on: