College Linemen Larger Than Ever, Study Finds: MedlinePlus
College Linemen Larger Than Ever, Study Finds
These athletes will need help adopting healthy lifestyles after their careers end, researcher says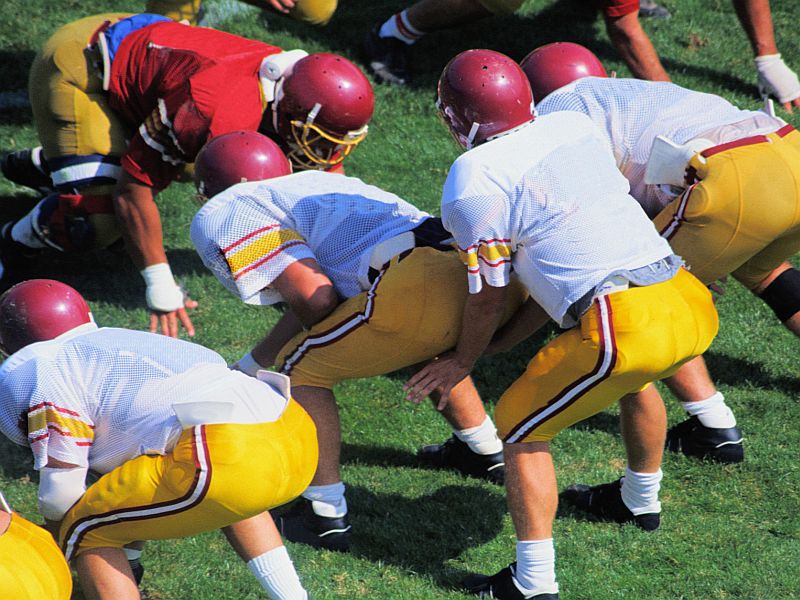 MONDAY, July 18, 2016 (HealthDay News) -- Offensive linemen who play college football -- even at small Division III schools -- are getting bigger than ever, a new study shows.
Researchers at Tufts University School of Medicine in Boston found these players were 38 percent heavier than their counterparts were in 1956. Meanwhile, the average male's weight increased only 12 percent during the same period.
"Through selective recruiting, weight training and nutrition ['hyper-nutrition'], we end up with a population of large linemen," said senior study author Dr. David Greenblatt, professor of integrative physiology and pathobiology.
"The public health issue is that everybody involved with American football needs to develop concerted ways to assure the health of players when their football days are over," he said in a Tufts news release.
"The results of our study emphasize the importance of helping these players to develop a healthy post-football lifestyle in order to reduce their risks of serious long-term health complications," Greenblatt added.
Such complications include heart disease, diabetes and high blood pressure.
For the study, the researchers examined the football rosters of 10 colleges and universities in the New England Small College Athletic Conference. Rosters from 1956 to 2014 were analyzed in five-year intervals.
The researchers divided the players in groups based on the position they played. Using game programs and rosters available online, they also recorded the athletes' weight, height and BMI -- a measure used to determine if someone is a healthy weight for their height. The data on the players was then compared with a control group of average men between the ages of 20 and 29.
The mean weight of the offensive linemen in the study surged 38 percent, but their height increased only 3.8 percent overall since 1956, the study found.
The researchers noted the weight changes among players in other positions, such as quarterbacks, wide receivers and kickers, were similar to the men in the control group.
After analyzing the players' BMI, the study showed the average BMI of the offensive linemen in 1956 was 26, compared to nearly 34 in 2014.
Nearly one out of three offensive linemen had a BMI greater than 35. None of the offensive linemen who played in the conference in 1956 had a BMI over 35. The researchers explained that people with a BMI over 30 are considered obese.
The researchers added that more studies are needed to determine if athletes in other Division III conferences had similar changes in size over the past several decades.
The findings were published on July 12 in the Journal of Athletic Training.
SOURCE: Tufts University, news release, July 12, 2016
HealthDay
Copyright (c) 2016
HealthDay
. All rights reserved.
News stories are provided by HealthDay and do not reflect the views of MedlinePlus, the National Library of Medicine, the National Institutes of Health, the U.S. Department of Health and Human Services, or federal policy.
More Health News on:
Tuesday, July 19, 2016