Racial disparities in stroke incidence and death | National Institutes of Health (NIH)

Racial disparities in stroke incidence and death
At a Glance
A study found that differences between black and white people in rates of stroke death are due to rates of stroke occurrence, not to outcomes following stroke.
The findings highlight the importance of efforts to control stroke risk factors such as high blood pressure and diabetes that disproportionately affect black people.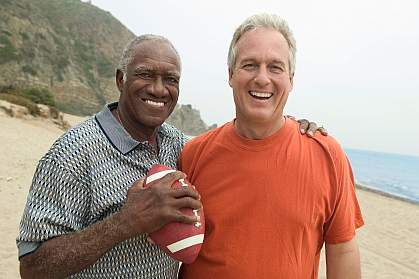 IPGGutenbergUKLtd/iStock/Thinkstock
A stroke occurs when blood vessels that supply the brain become ruptured or blocked. When blood can't bring nutrients and oxygen to brain cells, the cells stop functioning and die.
Stroke death rates have declined almost 70% in the past 50 years, with stroke now the fifth leading cause of death in the U.S. This decrease is thought to stem from better control of stroke risk factors—including hypertension, diabetes, and smoking cessation—and advances in post-stroke care.
Studies have found that black people between the ages of 45 and 54 die of strokes at a rate that's 3 times greater than their white counterparts. This difference declines with increasing age, so that by the age of 85 it no longer exists.
A team led by Dr. George Howard at the University of Alabama set out to determine the factors that underlie this racial disparity in stroke death. The research was supported by NIH's National Institute of Neurological Disorders and Stroke (NINDS). Results appeared online on June 2, 2016, in Stroke.
The researchers analyzed data on almost 30,000 black and white participants, ages 45 and older, from a diverse sample of the U.S. population. Participants completed a telephone interview and an in-home physical exam that included measurements of stroke risk factors, such as blood pressure and cholesterol levels. Participants were contacted at 6 month intervals to ask about stroke symptoms, hospitalizations, and general health. Medical records were reviewed for stroke events.
The researchers followed the participants for an average of almost 7 years. During this time, there were 1,168 strokes, of which 242 were fatal. When the team looked at stroke incidence by age, they found a pattern similar to that previously documented. In those ages 45-54, more black participants had a fatal stroke. In later years—ages 75 and up—similar ratios of black and white participants had fatal strokes.
The pattern for the total number of strokes, both fatal and nonfatal, was similar. These findings suggest that, once a stroke occurred, black participants had no greater chance of dying than white ones. The black–white disparity in stroke mortality was due to the incidence of stroke, not to outcomes following a stroke.
The team noted that a higher percentage of black participants in the study had proven stroke risk factors, such as high blood pressure (71% of black participants vs 51% of white) and diabetes (31% vs 16%).
"This study shows that improved risk factor prevention and management is critical if we are going to reduce the apparent increased risk of stroke and stroke mortality in blacks," says study author Dr. Claudia Moy of NINDS.
Related Links
Reference:
Where to Focus Efforts to Reduce the Black-White Disparity in Stroke Mortality: Incidence Versus Case Fatality?
Howard G, Moy CS, Howard VJ, McClure LA, Kleindorfer DO, Kissela BM, Judd SE, Unverzagt FW, Soliman EZ, Safford MM, Cushman M, Flaherty ML, Wadley VG; REGARDS Investigators.
Stroke.
2016 Jun 2. pii: STROKEAHA.115.012631. [Epub ahead of print]. PMID: 27256672.
Funding:
NIH's National Institute of Neurological Disorders and Stroke (NINDS).