Obesity in Teens Seems to Raise Risk for Illness, Death in Middle Age: MedlinePlus
Obesity in Teens Seems to Raise Risk for Illness, Death in Middle Age
Health experts worry trend will only get worse, since teens followed in long-term study were thinner than kids today
Wednesday, April 13, 2016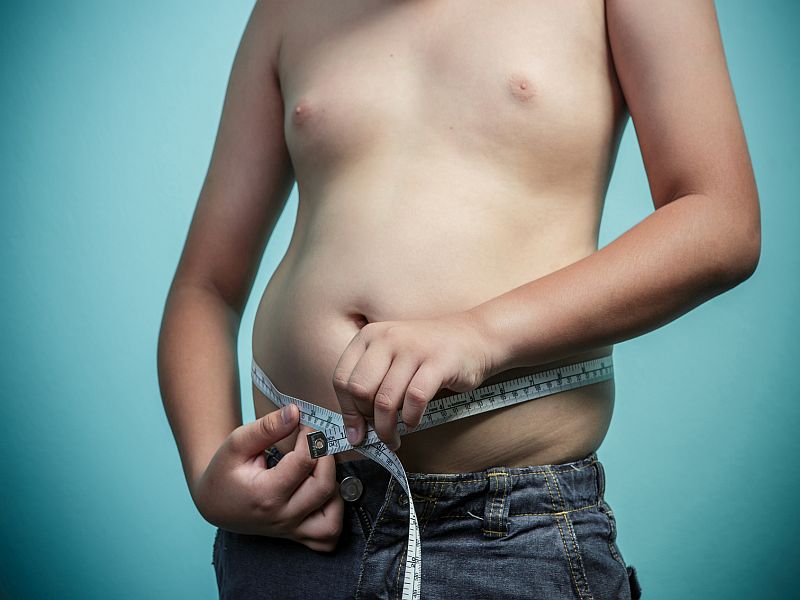 WEDNESDAY, April 13, 2016 (HealthDay News) -- Overweight teenagers may face an increased risk of dying from heart disease or stroke by the time they reach middle age, a large new study suggests.
The study of more than 2 million Israelis found that those who were overweight or obese as teenagers were two to three times more likely to die prematurely of cardiovascular causes, compared to those who'd been thin as teens.
Experts called the findings, published online April 13 in the New England Journal of Medicine, worrisome, if not all that surprising.
The concern is largely related to the fact that teen obesity has become so prevalent. In the United States, about one-fifth of 12- to 19-year-olds are obese, according to the U.S. Centers for Disease Control and Prevention.
"This is an important study," said Dr. Carl "Chip" Lavie, medical director of cardiac rehabilitation and prevention at Ochsner Medical Center, in New Orleans.
According to Lavie, who was not involved in the research, the findings are concerning for a number of reasons. For one, he pointed out, many people in the study were teenagers at a time when severe obesity was uncommon -- and when teenagers, regardless of weight, were more physically active than they are now.
"The situation has now drastically changed, with kids only getting physical activity if they participate in organized sports," Lavie said.
On top of that, he added, many teens spend a "substantial" amount of time being completely sedentary -- in front of the TV or on their phones and computers -- while eating more junk food compared with past generations.
"I am very concerned that overweight and obese teenagers will be in serious trouble 30 years down the road," Lavie said. "Many will no longer be just overweight or mildly obese, but will likely have much more severe obesity."
The findings are based on records from close to 2.3 million Israeli teenagers who underwent physical exams ahead of their mandatory military service between 1967 and 2010.
By 2011, just over 36,000 had died -- at which point the oldest members of the group had been followed for about 40 years.
Since the study group was still fairly young, death rates from heart trouble and stroke were low across the board. But men and women who'd been obese as teens showed higher risks, especially when it came to heart disease -- where fatty plaques build up in the arteries and can eventually cause a heart attack.
Obese teenagers were five times more likely to die of heart disease by middle age, versus those who were thin but not considered underweight. Their risk of death from any cardiovascular cause -- including stroke and cardiac arrest -- was more than tripled.
Similarly, overweight teenagers had a threefold higher risk of dying from coronary heart disease later in life, and a twofold higher risk of death from any cardiovascular cause, the findings showed.
The study does not, however, answer the question of why.
It's not clear whether it's the extra pounds early in life or other factors -- such as a poor diet or lack of exercise -- that raised people's cardiovascular risks, according to Dr. Steven Heymsfield, a spokesperson for the Obesity Society. He is also a professor at Pennington Biomedical Research Center, in Baton Rouge, La.
Still, Heymsfield said the study is impressive in its size and careful measurements of teenagers' body mass index (a measure of weight in relation to height).
"This gives us confirmation of something I think we knew," Heymsfield said. "Being obese as a teenager is bad for you."
It's not certain whether childhood obesity carries a special health hazard, or whether heavy kids are at risk simply because they often become even heavier adults.
The study lacked information on adulthood weight, said lead researcher Dr. Gilad Twig, of Sheba Medical Center, in Tel Hashomer, Israel.
Regardless, he said, teen obesity is a "strong predictor" of premature death from cardiovascular disease -- even if it is through effects on adulthood weight.
"This study stresses the importance of maintaining a healthy weight [during] childhood and adolescence," Twig said.
Lavie and Heymsfield agreed, and emphasized that a healthy diet and regular exercise -- which can boost cardiovascular fitness -- are key.
Childhood is the "best time" to ward off obesity, Heymsfield said. But, he added, it's never too late to adopt healthier habits, even if you've been overweight most of your life.
"The important things," Heymsfield said, "are to not smoke, get your blood pressure down to normal levels, watch your lipid [cholesterol] levels, and be physically active."
He noted that other studies have shown it's possible to be "fat but fit," with the help of regular exercise.
SOURCES: Gilad Twig, M.D., Ph.D., Sheba Medical Center, Tel Hashomer, Israel; Carl "Chip" Lavie, M.D., medical director, cardiac rehabilitation and prevention, Ochsner Heart and Vascular Institute, Ochsner Medical Center, New Orleans; Steven Heymsfield, M.D., professor, Pennington Biomedical Research Center, Baton Rouge, La., and spokesperson, The Obesity Society; April 13, 2016, New England Journal of Medicine, online
HealthDay
Copyright (c) 2016
HealthDay
. All rights reserved.
News stories are provided by HealthDay and do not reflect the views of MedlinePlus, the National Library of Medicine, the National Institutes of Health, the U.S. Department of Health and Human Services, or federal policy.
More Health News on: