It's Time to Get Your Flu Shot Again: MedlinePlus Health News
Thursday, September 28, 2017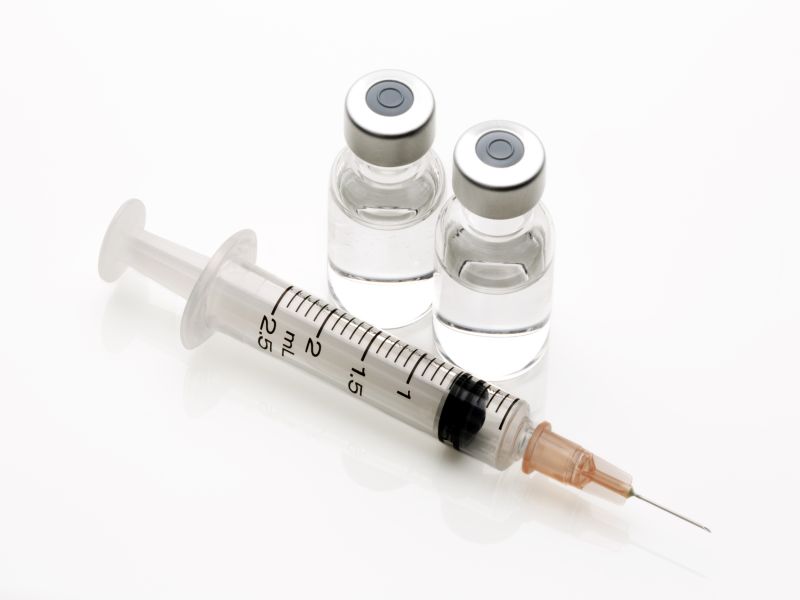 THURSDAY, Sept. 28, 2017 (HealthDay News) -- Flu season is fast approaching, and U.S. health officials are worried that this season could be a bad one.
That's why the U.S. Centers for Disease Control and Prevention is urging everyone 6 months and older to get a flu shot.
Why the extra concern? Australia, which experiences its flu season in summer because it's in the southern hemisphere, has been hard hit this year. And the major culprit has been the H3N2 flu strain, which is known for causing severe disease, especially among older people.
And small clusters of H3N2 are already showing up in the United States, according to published reports.
"We don't know what's going to happen but there's a chance we could have a season similar to Australia," Dr. Daniel Jernigan, influenza chief at the CDC, told the Associated Press.
And, even when severe strains aren't circulating, flu is an illness that needs to be taken seriously.
"Influenza is not just a few days at home with a runny nose -- it can be a lot worse," Dr. Thomas Price, secretary of the U.S. Department of Health and Human Services, said during a Thursday morning news briefing.
Flu can lead to hospitalization and death, Price said. "This is particularly true for certain groups: older adults, pregnant women, people with some long-term medical conditions and young children," he explained.
Getting a flu shot is easy, Price said. "There are thousands of places where you can get your flu shot," he added.
"Each flu season, flu causes millions of illnesses, hundreds of thousands of hospitalizations, and thousands and sometimes tens of thousands of deaths," Price said.
The CDC estimates that since 2010, flu-related hospitalizations in the United States have ranged from a low of 140,000 to a high of more than 700,000. And deaths ranged from 12,000 to 56,000, depending on the year.
"These numbers are far too high, especially when we consider that there is a vaccine that can prevent a significant proportion of this disease," Price said.
But too few children and adults get their yearly flu shot, he noted.
Among children and teens, the number who were vaccinated last year didn't change from the year before, remaining at about 59 percent. For adults, vaccination rates increased about 1 percent, from 46 percent in 2015-2016 to 47 percent in 2016-2017.
Last year's vaccine was 42 percent effective, which means that if you were vaccinated, you had a 42 percent lower risk of getting the flu.
But even at that low level, the CDC estimated that the vaccine prevented more than 5 million cases of flu, nearly 3 million doctors' visits and 86,000 hospitalizations, Price said.
According to a report in the Sept. 29 issue of the CDC's Morbidity and Mortality Weekly Report, 79 percent of health care workers got flu shots in 2016, the same as in the past three flu seasons.
Although the vaccination rate among health care workers seems high, it ranged from 92 percent of those who worked in hospitals, to 68 percent of those working in nursing homes and to 76 percent in clinics.
But Dr. Marc Siegel, a professor of medicine at NYU Langone Medical Center in New York City, stressed that "100 percent of health care workers should be vaccinated."
People who are already sick are more likely to get the flu and die from it, especially in nursing homes. Health care workers need to think of their patients and not run the risk of giving them influenza, Siegel said.
Among pregnant women, 54 percent said they were vaccinated in 2016, which is the same as the last four flu seasons, the CDC researchers reported.
It's especially important for pregnant women to get their flu shot, Siegel said. If a pregnant woman gets the flu, it can result in her infant suffering from a birth defect, he explained.
"It's hard to convince pregnant women that putting anything into their body is safe at a time when they have a developing infant," Siegel said. "But that's an emotional reaction. In reality, the risk of flu is far greater to the fetus and there's zero risk from a flu shot."
For this year's flu season, about 166 million doses of vaccine will be available, Price said.
Price advised three steps to fight the flu. First, get vaccinated. Second, take measures to prevent the spread of the disease. That means staying home if you're sick, avoiding people with the flu, washing your hands often and coughing into your arm. Third, if you get the flu, take antiviral medications, such as Tamiflu.
SOURCES: Marc Siegel, M.D., professor, medicine, NYU Langone Medical Center, New York City; Sept. 28, 2017, news conference with Thomas Price, M.D., Secretary, U.S. Department of Health and Human Services; Sept. 29, 2017, Morbidity and Mortality Weekly Report, U.S. Centers for Disease Control and Prevention; Associated Press
HealthDay
Copyright (c) 2017
HealthDay
. All rights reserved.
News stories are written and provided by HealthDay and do not reflect federal policy, the views of MedlinePlus, the National Library of Medicine, the National Institutes of Health, or the U.S. Department of Health and Human Services.
More Health News on