For Seniors, Treatment for One Eye Disease May Cause Another: MedlinePlus Health News
For Seniors, Treatment for One Eye Disease May Cause Another
Risk of glaucoma tied to 7 or more injections for macular degeneration, study suggests
Thursday, March 16, 2017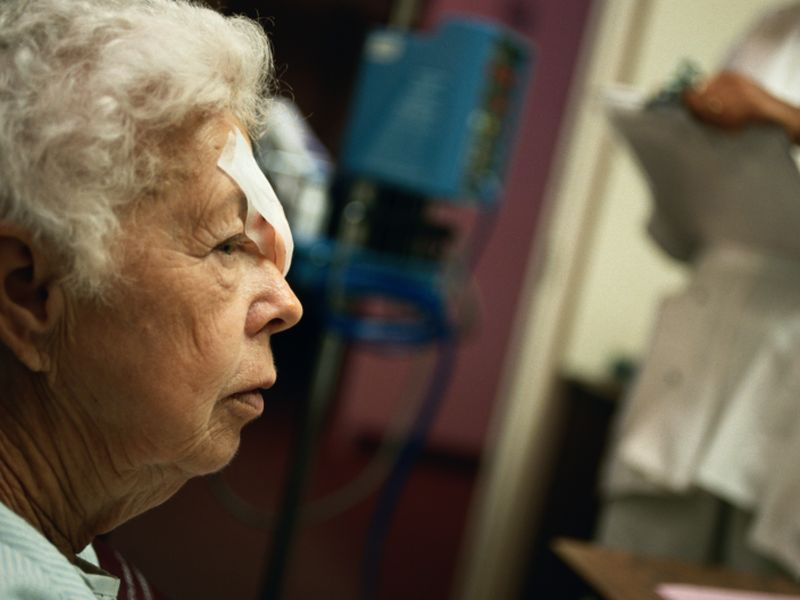 THURSDAY, March 16, 2017 (HealthDay News) -- Drugs that preserve vision in people with the eye disease called age-related macular degeneration might increase the risk of another eye condition -- glaucoma, a new study suggests.
People who received at least seven eye injections of the drug bevacizumab (Avastin) each year to treat macular degeneration have a higher risk of eventually needing surgery to treat glaucoma, the Canadian study found.
But, the researchers aren't suggesting that people forgo these treatments for macular degeneration. These drugs help stave off a previously untreatable cause of blindness in the elderly, and should continue to be used, the researchers said. And, if glaucoma does develop, treatments are available.
"Even though there may be a risk here, this doesn't mean you should not be getting injections for macular degeneration," said study lead author Dr. Brennan Eadie. He's an ophthalmology resident at the University of British Columbia in Vancouver.
"This is something we should monitor for, with the understanding there is a real risk of needing glaucoma surgery if the pressure remains elevated," Eadie said.
The study was published March 16 in the journal JAMA Ophthalmology.
Bevacizumab helps treat macular degeneration by blocking a substance that promotes the development of new blood vessels called vascular endothelial growth factor (VEGF).
Bevacizumab and other anti-VEGF drugs have revolutionized the treatment of "wet" macular degeneration, said Dr. Michael Kass. He's a professor of ophthalmology at the Washington University School of Medicine in St. Louis.
About one in five people with macular degeneration suffers from the wet form of the disease. In wet macular degeneration, new and abnormal blood vessels grow in the eye and cause rapid loss of vision, according to the American Academy of Ophthalmology.
"Sometimes you can grow blood vessels where you don't want them," said Kass, who wrote an accompanying editorial for the new study. "In the example of macular degeneration, you don't want extra blood vessels growing underneath the retina and then leaking fluid or blood."
While the anti-VEGF drugs have revolutionized the treatment of macular degeneration, isolated cases of increased fluid pressure in the eyes of patients receiving these injections have been reported, Eadie and Kass said.
"The retina doctors here in Vancouver were noticing that patients' pressures were elevated with time, over several months of giving these injections to certain people," Eadie said.
Glaucoma occurs when fluid pressure increases so much inside the eyeball that it damages the optic nerve. Eye drops or laser surgery can be used to reduce this pressure, but in extreme cases doctors may have to perform surgery that allows the eye to drain excess fluid, Kass said.
To examine whether anti-VEGF drug injections increase risk of glaucoma, the researchers reviewed the cases of more than 800 people in British Columbia who received bevacizumab injections to treat age-related macular degeneration between 2009 and 2013.
The research team identified 74 people who wound up needing glaucoma surgery, and compared them against 740 "controls" who received the eye injections but didn't require glaucoma surgery.
The researchers found that seven or more injections a year were associated with 2.5 times increased risk of glaucoma surgery, compared with people who received three or fewer treatments per year.
It isn't unusual for macular degeneration patients to receive at least seven injections per year, Kass said.
But Kass added that the injections did not appear to increase a person's overall risk of developing glaucoma by a large amount.
"[The researchers] looked for a long period of time in a whole part of western Canada and came up with 74 cases," Kass said. "This is not exactly a common occurrence."
The anti-VEGF drugs allow doctors to slow or halt the progression of what had been an incurable vision-destroying disease, and the new study "still doesn't change the benefit ratio," he said.
"These drugs are still a huge benefit to patients with the wet form of macular degeneration," Kass said.
The study wasn't designed to prove a cause-and-effect relationship. It only found an association between the macular degeneration treatment and the development of glaucoma.
Also, it's not clear why the injections might cause pressure to build inside the eye, Kass said.
Repeated injections might cause trauma and inflammation that spurs pressure buildup, or the drug might interfere with the natural channels that allow fluid to seep out of the eyeball, he said.
"We think there may be something happening at the drainage system of the eye," Eadie said. "I think that's where most of the studies will be focused on in coming years, to figure out what's going on."
In the meantime, patients receiving these injections should be regularly monitored for increased eye pressure, especially if they already had glaucoma prior to treatment, Eadie and Kass said.
SOURCES: Brennan Eadie, M.D., Ph.D., ophthalmology resident, University of British Columbia, Vancouver; Michael Kass, M.D., professor, ophthalmology, Washington University School of Medicine, St. Louis; March 16, 2017, JAMA Ophthalmology
HealthDay
Copyright (c) 2017
HealthDay
. All rights reserved.
News stories are written and provided by HealthDay and do not reflect federal policy, the views of MedlinePlus, the National Library of Medicine, the National Institutes of Health, or the U.S. Department of Health and Human Services.
More Health News on: