Weight-Loss Surgery Doesn't Boost Bone Health: Study: MedlinePlus
Weight-Loss Surgery Doesn't Boost Bone Health: Study
Increased risk for fractures remained after procedure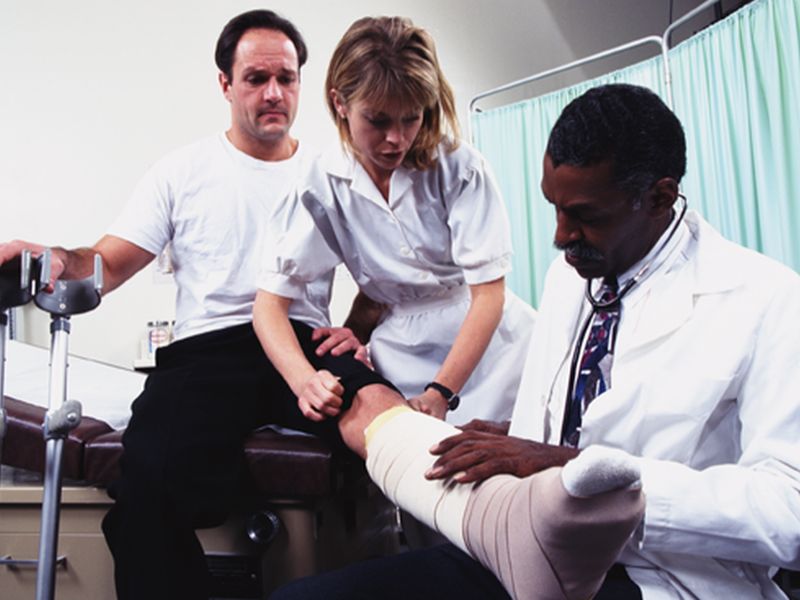 FRIDAY, July 29, 2016 (HealthDay News) -- Weight-loss surgery helps severely obese patients shed pounds and can even reverse diabetes, but a new Canadian study suggests it can't erase an existing higher risk of broken bones.
Researchers found that compared to other people, weight-loss surgery patients were in greater jeopardy of fractures both before and after they underwent their procedure.
According to the study authors, the findings suggest that being obese doesn't provide as much protection against broken bones as had been assumed.
Study senior author Dr. Claudia Gagnon, of Laval University in Quebec, and colleagues, tracked more than 12,600 weight-loss patients, more than 38,000 obese people and almost 127,000 normal-weight people. The patients were followed from 2001 to 2014.
Prior to surgery, 11 percent of the weight-loss surgery patients had broken at least one bone, compared to 8 percent for the obese group and 7 percent for the normal-weight group.
Over an average follow-up of four years after surgery, 4 percent of the weight-loss surgery patients broke at least one bone. This is compared to 3 percent for the obese group that didn't undergo the surgery and 2 percent for the normal-weight people.
The higher risk remained even when researchers adjusted their statistics so they wouldn't be thrown off by other factors. But the study did not prove a cause-and-effect link between weight-loss surgery and an increased risk of bone fractures.
The study was published July 27 in the journal BMJ.
The researchers urge doctors to refer weight-loss surgery patients to specialists if they seem to be at high risk of broken bones.
What's going on? It's not clear, but the study authors speculate that falls and conditions like diabetes could be factors. Also, nutritional deficiencies that can occur from significant weight loss might also play a part, they added.
In an accompanying commentary in the journal, Dr. Marco Bueter, a bariatric surgeon at the University of Zurich in Switzerland, wrote that many questions remain, especially in light of the study's limitations.
"Our understanding of bone physiology after [weight-loss] surgery remains limited, and the clinical consequences of physiological alterations remain untested by appropriate prospective studies," he said.
SOURCE: BMJ, news release, July 27, 2016
HealthDay
Copyright (c) 2016
HealthDay
. All rights reserved.
News stories are provided by HealthDay and do not reflect the views of MedlinePlus, the National Library of Medicine, the National Institutes of Health, the U.S. Department of Health and Human Services, or federal policy.
More Health News on:
Friday, July 29, 2016