Cancer Patients, Doctors Often Disagree About Prognosis: MedlinePlus
Cancer Patients, Doctors Often Disagree About Prognosis
Those with advanced disease are likely to be more optimistic than their doctor, study shows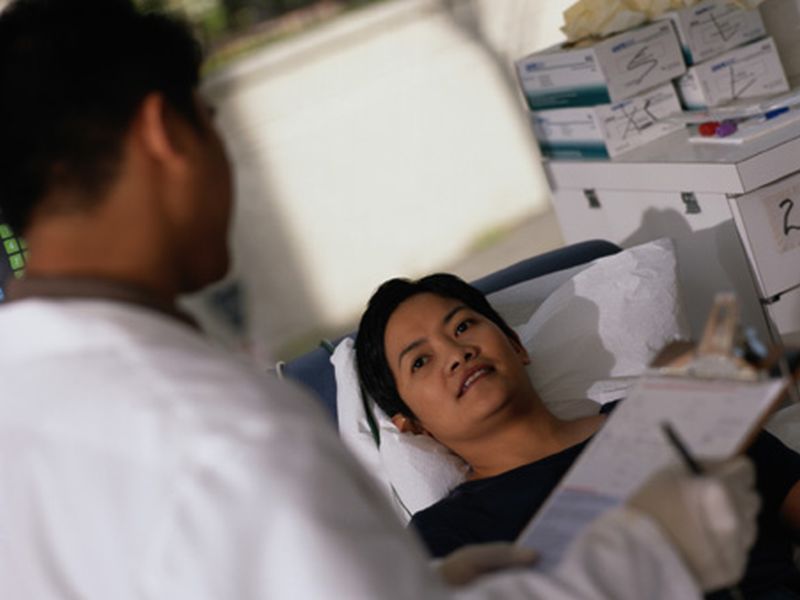 FRIDAY, July 15, 2016 (HealthDay News) -- Cancer patients and their doctors often hold different opinions about the patient's chances for survival and how long he or she might live, according to a new study.
And, in many cases, patients are unaware there's any misunderstanding.
"First, some patients might know the doctor's prognosis estimate but the patient chooses to disagree, often because they believe other sources. And second, some patients think that their doctor agrees with their opinion about prognosis but, in fact, the doctor doesn't," said study co-author Dr. Ronald Epstein. He is a professor of family medicine, psychiatry and oncology at the University of Rochester Medical Center in New York.
For the study, researchers asked 236 patients with advanced cancer about their prognosis. The 38 doctors who treated them independently said they would "not have been surprised" if their patients died within a year.
Researchers also asked whether patients knew their opinions about their prognosis differed from those of their doctors and the extent to which life expectancy influenced treatment options.
"When people think they'll live a very long time with cancer despite evidence to the contrary, they may end up taking more aggressive chemotherapy and agreeing to be placed on ventilators or dialysis, paradoxically reducing their quality of life, keeping them from enjoying time with family and sometimes even shortening their lives," Epstein said. "So it's very important for doctors and patients to be on the same page."
The study, published July 14 in the journal JAMA Oncology, found that 68 percent of patients rated their odds for survival differently from their doctors. Almost all patients were more optimistic than their doctor. Of the 68 percent, only 10 percent understood that their views and their doctor's differed.
"Of course, it's only possible for doctors to provide a ballpark estimate about life expectancy and some people do beat the odds," Epstein said in a journal news release.
"Positive thinking by patients can improve quality of life," Epstein noted. "But when a patient with very advanced cancer says that he has a 90 to 100 percent chance of being alive in two years and his oncologist believes that chance is more like 10 percent, there's a problem."
Talking about a cancer prognosis often involves not one, but several, conversations between doctors and patients about personal priorities and treatment goals amid feelings of fear, confusion and uncertainty, the authors said.
Seven out of 10 patients surveyed said they would opt for supportive care rather than aggressive treatment as the end of their lives neared. To make an informed decision, however, patients need to know when death is imminent, the researchers said.
They added that better communication between doctors and their cancer patients is urgently needed.
SOURCE: JAMA Oncology, news release, July 14, 2016
HealthDay
Copyright (c) 2016
HealthDay
. All rights reserved.
News stories are provided by HealthDay and do not reflect the views of MedlinePlus, the National Library of Medicine, the National Institutes of Health, the U.S. Department of Health and Human Services, or federal policy.
More Health News on:
Friday, July 15, 2016