High School Football Players Suffer More Symptoms After Concussion: Study: MedlinePlus
High School Football Players Suffer More Symptoms After Concussion: Study
Meanwhile, youth league players most likely to return to field less than 24 hours after head injury
Monday, May 2, 2016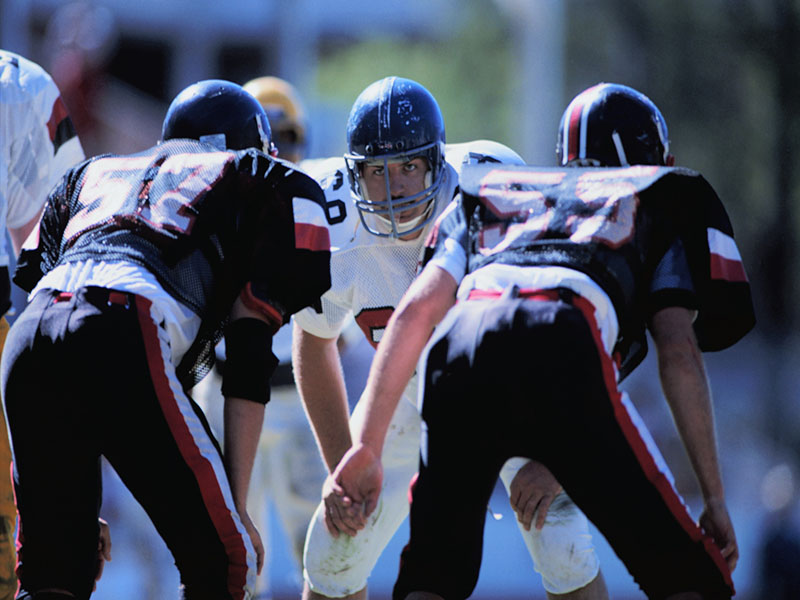 MONDAY, May 2, 2016 (HealthDay News) -- High school football players are more likely to suffer more symptoms after a concussion, and to need more recovery time than their college counterparts, a new study finds.
But those who play in youth football leagues are the most likely to get back on the field less than 24 hours after a concussion, the researchers discovered.
"The finding related to return-to-play under 24 hours being the highest in the youth level is surprising, but may be the result of young football players struggling to identify concussion symptoms and express how they feel [to coaches or trainers]," explained lead researcher Zachary Kerr, from the Datalys Center for Sports Injury Research and Prevention, in Indianapolis.
With mounting evidence suggesting that concussions that happen earlier in life have a cumulative effect on the developing brain, finding ways to better spot and treat these serious head injuries in younger players is more pressing than ever.
For the study, Kerr and his colleagues analyzed data from three injury programs. They found that more than 1,400 sports-related concussions were reported among youth, high school and college football players from 2012 to 2014. The most common symptoms reported were headache, dizziness and difficulty concentrating.
Overall, about 15 percent of players did not return to play for at least 30 days after a concussion, while 3 percent returned to play less than 24 hours after being injured, the researchers found.
The study found that high school football players had the highest average number of reported symptoms of concussion (5.60), followed by college athletes (5.56) and younger players (4.76).
For high school players, the likelihood of returning to play at least 30 days after concussion was higher (19.5 percent) than younger players (just over 16 percent), or college football players (7 percent), the researchers found.
The researchers suggested biological factors, such as puberty and brain development, may explain the differences in recovery time among the age groups.
Meanwhile, the youngest players were the most likely to return to play less than 24 hours after suffering a concussion (10 percent), followed by college (close to 5 percent) and high school players (just under 1 percent), Kerr added.
It's vital to educate young football players about concussions, as well as parents, coaches and officials on recognition and management of these head injuries, Kerr said. "Appropriate medical care includes managing and returning players to the game at the appropriate time," he said.
Most colleges have an athletic trainer on the field during football games and practices to help spot and treat injuries, Kerr said. "However, a number of high schools do not have access to a full-time athletic trainer, and many youth football leagues do not have any access. An investment in an athletic trainer at these games and practices is an investment in the health and safety of our adolescent and children athletes," he said.
The study findings were published online May 2 in the journal JAMA Pediatrics.
About 3 million young kids, 1 million high school students and 100,000 college athletes play football each year, the researchers said. Sports-related concussions, which can cause emotional, mental and sleep-related symptoms, are gaining more attention among players, coaches and parents, the researchers added.
Many factors influence how concussions are managed at different age levels, said Dr. John Kuluz, director of traumatic brain injury and neurorehabilitation at Nicklaus Children's Hospital in Miami.
For example, "college coaches are all over these kids in terms of monitoring, treating and taking them out of class and seeing that they rest," he said.
High school and middle school is a different story, where "it's a chore trying to get these kids accommodations to recover from a concussion," Kuluz said.
High school teachers have academic demands and players are often reluctant to admit they have symptoms, he added.
"Some kids are high achievers. They don't want any accommodations. They want to play so badly they don't admit to having symptoms," Kuluz explained.
"In many cases, high school students are ridiculed or not believed when they report symptoms of a concussion," he said. "I see that all the time."
High schools have to allow these athletes time to recover, Kuluz said.
Luckily, students are becoming savvier, he added: "My hope is that athletes are going to get even smarter about concussions. It's all up to the athletes reporting the symptoms."
SOURCES: Zachary Kerr, Ph.D., M.P.H., Datalys Center for Sports Injury Research and Prevention, Indianapolis; John Kuluz, M.D., director, traumatic brain injury and neurorehabilitation, Nicklaus Children's Hospital, Miami; May 2, 2016, JAMA Pediatrics, online
HealthDay
Copyright (c) 2016
HealthDay
. All rights reserved.
News stories are provided by HealthDay and do not reflect the views of MedlinePlus, the National Library of Medicine, the National Institutes of Health, the U.S. Department of Health and Human Services, or federal policy.
More Health News on: