11/05/2018 09:29 PM EST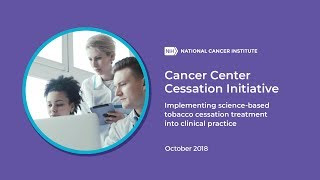 Audio Described version:
youtu.be/mH_Lot3PjR0
How can we help cancer patients quit tobacco? This video, "Cancer Center Cessation Initiative: Implementing science-based tobacco cessation treatment into clinical practice," shows how NCI is working to research and apply the best answers to that question. Its Cancer Center Cessation Initiative, launched in 2017 as part of the Cancer Moonshot℠, aims to advance tobacco cessation efforts in cancer centers across the country. The video interviews the initiative's leaders and representatives from funded cancer centers, who talk about their mission and how they are implementing tobacco cessation treatment in practice.
cancercontrol.cancer.gov/cr-communication-videos.html