EURORDIS Open Academy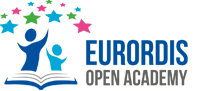 OPEN ACADEMY
The EURORDIS Open Academy
Patients are experts on their diseases and have a valuable contribution to make to shaping meaningful rare disease research, policies and services.

By providing training, EURORDIS empowers patients and ensures they have the confidence and knowledge needed to bring their expertise to discussions on
health care,
research
and
medicines development
with policy makers, industry and scientists.
EURORDIS also provides the link between training alumni and organisations such as the European Medicines Agency (EMA), where trained patients actively engage in many activities including scientific advice.
The goal of the Open Academy is to build the capacity of rare disease patient advocates at large, as well as a select number of researchers and clinicians, so that they can go on to advocate for rare diseases at both local or international levels.
Open Academy programmes are taught primarily in English through a blend of

online and face-to-face trainings

, during which patients acquire an understanding of key concepts and terminology, take part in master classes, discuss case studies and benefit from peer-to-peer learning. The programmes aim to enhance the capacity of patient advocates so they can engage concretely in research, policies and services. All Open Academy programmes are also moving towards offering accreditation to participants.
The Academy is characterised as

open

as all online training modules are also made freely available via the EURORDIS Website to anyone interested in building their capacities independently. As well as patients, each programme is open to a selected number of professionals such as medical and social researchers, clinicians and partners in digital projects. Some programmes are also open to international participants or non-rare disease participants.
To take part in the on-site trainings, candidates proactively respond to a call for applications and successful candidates are selected by an application committee. Participation is co-funded by students and then fellowships are provided by EURORDIS to guarantee equal opportunity.
EURORDIS also nurtures a continued relationship with Open Academy alumni through exchange of information and experiences, peer-to-peer support and regular webinars.
The EURORDIS Open Academy operates independently, ensuring there is no conflict of interest in the programme design, content, faculty or funding mechanisms.