Scientists imitate the Human Blood-retinal barrier on a microfluidic chip

Scientists imitate the Human Blood-retinal barrier on a microfluidic chip
Dr Ananya Mandal, MD.
For years scientists have sought to minimise Animal testing and speed up clinical trials. One alternative is the use of in vitro assays using live cells, but its effectiveness is limited, since it is difficult to reproduce interaction and interconnection between cells.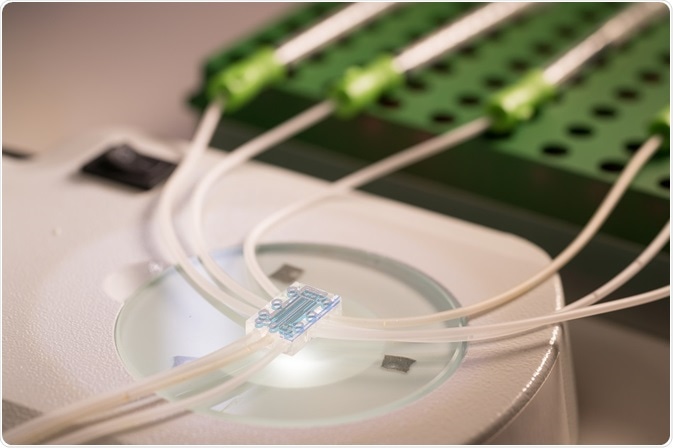 Credit: science photo/ Shutterstock.com
In their latest developments, scientists are creating systems that imitate organ functions and tissues under conditions that closely match reality. Microenvironments and microarquitectures are included in these devices, named "Organ-on-a-chip", to help mimic living tissues and organs.
A microfluidic device that acts as the human blood-retinal barrier has been produced by an extensive team of scientists in Barcelona.
The team comprised of Researchers from the Biomedical Applications Group of the Microelectronics Institute of Barcelona (IMB-CNM) of the Spanish Council for Scientific Research (CSIC), the CIBER-BBN, and from the Diabetes and Metabolism group of the Vall d'Hebron Research Institute (VHIR), CIBERDEM- Institute of Health Carlos III, and the Universitat Autònoma de Barcelona (UAB).
Featured as the cover piece for the journal Lab-on-a chip., the study is referred to by experts as "proof of concept", meaning it proves the design has practical applicability. Lead author of the study, José Yeste, a CSIC scientist at the IMB-CNM and at the Microelectronics and Electronics Systems Department at the UAB, explained how the team constructed the device.
The device has several compartments parallel to each other, mimicking the structure of the retina. There are three types of cells in these layers, including endothelial cells that line the blood vessels, neuron cells that form tiny nerves and retinal pigmented epithelial cells that form most of the blood retina barrier through which drugs pass.
The compartments are connected with each other via a system of microgrooves beneath the cells, that cells can use to transfer signal molecules allowing them to communicate. This means a cellular communication and interaction can be generated from substances from cells connecting with other cells, just as would take place in a real organ.
Rosa Villa, a CSIC scientist and leader of the Biomedical Applications Group, explains that "in the living organism, endothelial cells that cover the inner walls of blood vessels are exposed to the mechanical stimulus of the blood stream. In the cell cultures where this condition is not reproduced, we could say the cells are like "sleepy" and do not react as they would do in real conditions".
According to the researchers, the impact of harming conditions on the human retina or molecules on the human retina can be observed using this system, as well as understanding the effects of diabetes and hypertension on the retina.
The team at IMB-CNM previously created a microfluidic chamber (Liver-on-a chip) that imitates hepatic microcirculation, and another that emulates the blood-brain barrier.