Key Diabetes Test Gives Higher Blood Sugar Readings in Black Patients: MedlinePlus Health News
Key Diabetes Test Gives Higher Blood Sugar Readings in Black Patients
Study suggests difference stems from both biological and care issues
Tuesday, June 13, 2017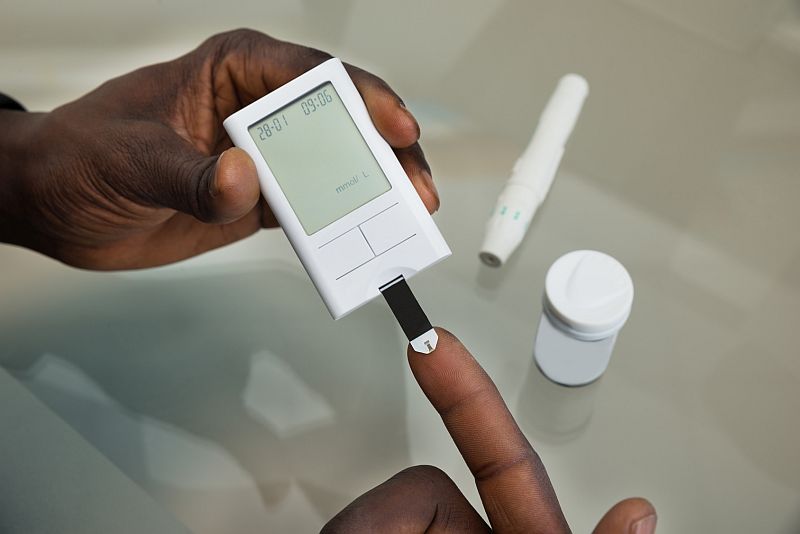 TUESDAY, June 13, 2017 (HealthDay News) -- A commonly used blood test that measures average long-term blood sugar levels -- called hemoglobin A1C -- is known to give higher readings for black people with diabetes, and now new research may indicate why.
"There has been a long debate about why African Americans have a higher hemoglobin A1C than whites [with diabetes]. Is it a biological difference or do African Americans have higher blood glucose because they don't have the same access to care or insurance?" said the study's lead author, Dr. Richard Bergenstal.
"There would be rather profound implications if it was all of one or all of the other," said Bergenstal, who's the executive director of the International Diabetes Center in Minneapolis.
Instead, the study found that both biological and socioeconomic factors appear to play a role in the difference.
"It turned out to be a little bit of each. There's a biological difference, and we don't yet know why, but it accounts for about a half to a third of the blood glucose difference. The other part -- which was an equal part or more -- is from barriers to care," Bergenstal said.
What's important is that doctors and other health-care providers, as well as patients, don't just assume these differences are normal and inconsequential, he noted.
"We can't rest and say, 'Oh, that difference is just normal,'" Bergenstal said.
The hemoglobin A1C test, commonly referred to as A1C, gives doctors a rough idea of what someone's daily blood sugar levels have been over the past two to three months, according to the American Diabetes Association (ADA).
The test works by measuring the amount of hemoglobin -- that's the part of red blood cells that carry oxygen -- that has been "glycated." Hemoglobin that has been glycated has sugar molecules stuck to it. This happens more and more as blood sugar levels rise.
A1C is expressed as a percentage of hemoglobin that has been glycated. For people without diabetes, an A1C of 5.7 percent or lower is considered normal. An A1C of 5.7 to 6.4 percent is prediabetes and 6.5 percent or higher is diabetes, the ADA says.
Once someone has been diagnosed with diabetes, the A1C provides a snapshot of blood sugar management. Your doctor or health-care provider uses the test to get an idea of how well your current management regimen is working, and to see if adjustments need to be made.
The study included 104 black people and 104 white people with type 1 diabetes. The study participants were all aged 8 or older. They had diabetes for at least two years. Patients were recruited from 10 diabetes centers in the United States.
The study volunteers wore a continuous glucose monitor for up to 12 weeks. This device measured blood sugar every 15 minutes. After 12 weeks, A1C levels were tested.
The mean A1C was 9.1 percent for black people and 8.3 percent for whites -- a difference of 0.8 percent, according to the report.
But, based on their daily blood sugar tests, the difference between the two groups should have only been 0.4 percent, the study authors said.
Bergenstal theorized that this may be because more glucose attaches to hemoglobin in black people, which could be due to a shorter life span for red blood cells. But, this study wasn't able to answer that question, and Bergenstal said more research is needed.
"I think these findings may have a small influence on management," Bergenstal said. But he hopes this study's findings will spur people with diabetes to spend more time looking at their individual blood sugar readings to help better personalize their blood sugar management.
"We've fallen back on the A1C because it's easy, but an even better way is to actually look at glucose readings," he said.
Dr. Joel Zonszein, director of the Clinical Diabetes Center at Montefiore Medical Center in New York City, agreed with Bergenstal that health-care professionals shouldn't rely solely on A1C.
"A1C has been a tremendous tool in the diagnosis and management of individuals with diabetes -- both type 1 diabetes and type 2 diabetes," he said.
But, "as with many other tools, it is not perfect," Zonszein said. "There is always intrapatient variability, interpatient variability and racial variability. Many clinicians are aware or should be aware of the black and white differences."
Zonszein noted several limitations with the new study, such as not accounting for iron deficiency, and for using measures such as continuous glucose monitoring that haven't been well-standardized in research yet.
He said he still considered A1C the gold standard. "The study was well-intended and the findings suggest that further research is needed, but no changes in clinical practice are necessary," Zonszein explained.
However, "I do not agree that the A1C has limited or no validity in the African American population. It has been shown to be a very useful test for diagnosis and treatment of a segment of our [hospital's] population that tends to have less stringent glycemic control and more complications," Zonszein said.
The study was published June 13 in the Annals of Internal Medicine.
SOURCES: Richard Bergenstal, M.D., executive director, International Diabetes Center, Minneapolis; Joel Zonszein, M.D., director, Clinical Diabetes Center, Montefiore Medical Center, New York City; June 13, 2017, Annals of Internal Medicine
HealthDay
Copyright (c) 2017
HealthDay
. All rights reserved.
News stories are written and provided by HealthDay and do not reflect federal policy, the views of MedlinePlus, the National Library of Medicine, the National Institutes of Health, or the U.S. Department of Health and Human Services.
More Health News on