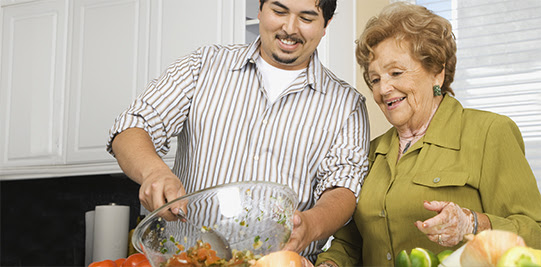 Did you know that more than 50 percent of Hispanic men and women are expected to develop type 2 diabetes in their lifetimes? You can make changes

now

to help you prevent type 2 diabetes or its complications in the future. Making healthier food choices is a great way to start! This can be a challenge, particularly when "abuelita" prepares the family's favorite dish with her delicious secret recipe. But there are ways to prepare healthier—and still delicious—versions of your favorite dishes.
The National Diabetes Education Program (NDEP) offers many resources especially designed for Hispanic and Latino American families that can help you cook tasty and nutritious meals that the whole family will enjoy. This March, during National Nutrition Month,

challenge yourself

to eat healthier! Commit to making

one

small change per week. Involve your family and loved ones and start this journey together. Here are examples of small things you can do to get started.
| | |
| --- | --- |
| • | Eat a variety of fruits and vegetables every day. |
| • | Eat fewer foods that are high in sugar, such as sodas and desserts. |
| • | Eat less fried food. Fried food is hard to avoid—but you can do it, and there are plenty of ways to cook healthy. Bake, sauté, or grill instead! |
| • | Eat smaller portions. |
| • | Visit the NDEP's Healthy Eating and Cooking site for healthy eating tips. |
Check out these other resources from NDEP:
LOS HISPANOS O LATINOS Y LA DIABETES >>
¡Lo que come puede afectar su salud!
¿Sabía que se prevé que más del 50 % de los hombres y las mujeres hispanas presenten diabetes tipo 2? Usted puede hacer cambios,

desde ahora

, que lo ayudarán a prevenir la diabetes tipo 2 o sus complicaciones en el futuro. Una gran forma de empezar es mejorando su alimentación al preparar y elegir platos más saludables. Esto puede ser un reto, especialmente cuando la abuelita prepara el plato favorito de la familia con su deliciosa receta secreta. Pero hay maneras de preparar versiones más saludables de sus platos favoritos, que aún encontrará deliciosos.
El Programa Nacional de Educación sobre la Diabetes (NDEP, por sus siglas en inglés) ofrece muchos recursos específicamente diseñados para las familias hispanas o latinas que le pueden ayudar a preparar alimentos deliciosos y nutritivos para toda la familia. Durante el mes de marzo, que es el Mes Nacional de la Nutrición, ¡propóngase el reto de comer más saludablemente! Comprométase a realizar

un

cambio pequeño por semana. Involucre a su familia y a sus seres queridos, y empiecen juntos esta jornada. Aquí hay ejemplos de pequeñas cosas que puede hacer para empezar.
| | |
| --- | --- |
| • | Consuma una variedad de frutas y verduras cada día. |
| • | Consuma menos alimentos que tengan mucha azúcar, como las bebidas gaseosas y los postres. |
| • | Consuma menos alimentos fritos. Los alimentos fritos son difíciles de evitar, pero lo puede hacer, y hay muchas formas de cocinar saludablemente. ¡Mejor cocine los alimentos al horno, salteados o a la parrilla! |
| • | Consuma porciones más pequeñas. |
| • | Visite esta página web del NDEP para obtener consejos para alimentarse saludablemente. |
Aquí encontrará otros recursos del NDEP: