U.S. Medical Experts Issue Warning on Yellow Fever's Advance: MedlinePlus Health News
U.S. Medical Experts Issue Warning on Yellow Fever's Advance
Brazil outbreak has officials worried, and transmission to United States is possible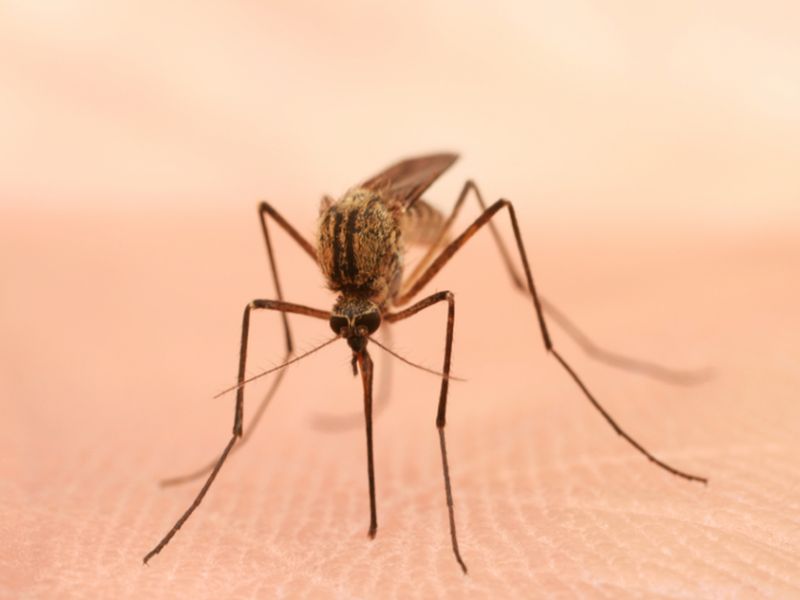 THURSDAY, March 9, 2017 (HealthDay News) -- U.S. health officials are sounding the alarm over yet another potential mosquito-borne health threat to Americans -- yellow fever.
In an essay published Wednesday in the New England Journal of Medicine, Dr. Anthony Fauci, director of the U.S. National Institute of Allergy and Infectious Diseases, and colleague Dr. Catharine Paules said that a large outbreak of yellow fever in Brazil must be closely monitored.
Yellow fever has a relatively high death rate and "is the most severe [insect-transmitted] virus ever to circulate in the Americas," Fauci and Paules wrote.
"Although it is highly unlikely that we will see yellow fever outbreaks in the continental United States . . . it is possible that travel-related cases of yellow fever could occur, with brief periods of local transmission in warmer regions such as the Gulf Coast states, where A. aegypti mosquitoes are prevalent," the team added.
According to the experts, yellow fever has the potential to be the fifth mosquito-borne infection to appear in the continental United States since the 1990s, following dengue, West Nile, chikungunya and the Zika virus.
Yellow fever is perhaps the most dangerous of those five, however. In one outbreak that began in the Congo in December 2015, there were 137 deaths among 961 confirmed cases, the report noted.
And in the current Brazilian outbreak, there have so far been 234 cases and 80 confirmed deaths, according to health authorities.
More ominous in the Brazilian outbreak is the fact that the illness appears to be moving from its typical rural setting towards the cities.
"The outbreak is affecting areas in close proximity to major urban centers [in Brazil] where yellow fever vaccine is not routinely administered," Fauci and Paules warned.
The authors stressed that there's yet no evidence that mosquitoes are transmitting yellow fever between infected people. However, the advent of outbreaks near urban centers "raises concern that, for the first time in decades, urban transmission of yellow fever will occur in Brazil," they explained.
The disease is not a complete stranger to the United States, although scientists say the last major outbreak lies far back in history.
"The Philadelphia yellow fever epidemic of 1793, for example, killed approximately 10 percent of the city's population," Fauci and Paules noted.
Luckily for Americans today, the yellow fever vaccine -- first developed in 1937 -- is effective in preventing illness. The current vaccine is thought to be 99 percent effective over a lifetime.
For those already infected, it's crucial that symptoms are spotted early.
However, "early recognition may be difficult in countries such as the United States, where most physicians have never seen a case of yellow fever," the experts pointed out. Early symptoms include a fever that can mimic flu, followed by a period of remission, and then a stage called "intoxication" -- high fever, liver dysfunction and jaundice, and even kidney failure, heart and nervous system dysfunction, and shock.
No such cases have emerged in the United States, but international travel means unvaccinated people might bring the illness back home after visiting an endemic area.
The yellow fever outbreak comes as the Zika virus continues to affect countries throughout the Americas. Both viruses are spread by the same mosquito species.
To prevent the Brazil outbreak from spreading, "early identification of cases and rapid implementation of public health management and prevention strategies, such as mosquito control and appropriate vaccination, are critical," Fauci and Paules concluded.
SOURCES: March 8, 2017, New England Journal of Medicine; U.S. National Institute of Allergy and Infectious Diseases, news release, March 8, 2017
HealthDay
Copyright (c) 2017
HealthDay
. All rights reserved.
News stories are written and provided by HealthDay and do not reflect federal policy, the views of MedlinePlus, the National Library of Medicine, the National Institutes of Health, or the U.S. Department of Health and Human Services.
More Health News on:
Thursday, March 9, 2017