Soy Safe, Even Protective, for Breast Cancer Survivors: MedlinePlus Health News
Soy Safe, Even Protective, for Breast Cancer Survivors
Study of 6,200 women finds the food linked to lower risk of death after nearly a decade of follow-up
Tuesday, March 7, 2017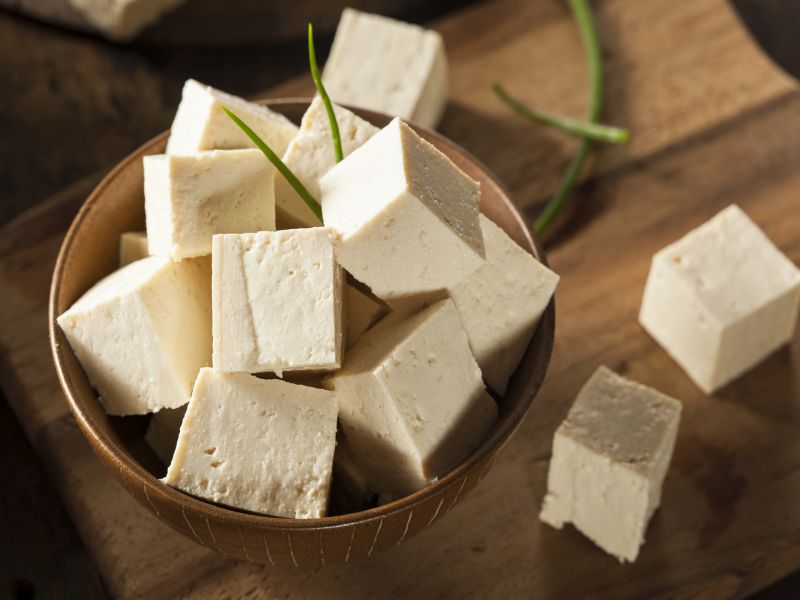 TUESDAY, March 7, 2017 (HealthDay News) -- The pros and cons of soy for breast cancer patients have been debated for years.
Now, research involving more than 6,200 breast cancer survivors finds that those who ate the most soy had a lower risk of death from all causes during the nearly 10-year follow-up period.
"We didn't find any harmful effects of women diagnosed with breast cancer consuming soy in terms of mortality," said study leader Dr. Fang Fang Zhang. She's an assistant professor of epidemiology at Tufts University's Friedman School of Nutrition Science and Policy in Boston.
"Overall, consuming higher levels of soy is associated with a 21 percent reduction in the risk of death compared to women who consumed soy at a lower level," she said.
Concerns around soy's "risk/benefit" profile have arisen because the food has estrogen-like compounds called isoflavones. That's important, experts says, because in so-called hormone-receptor positive breast cancers -- the most common tumor type -- higher estrogen levels may spur cancer cells' growth.
But the new study should settle the soy controversy once and for all, said Dr. Omer Kucuk, a professor of medical oncology and director of the Integrative Medicine Center at Emory University's Winship Cancer Institute, in Atlanta.
He wrote an editorial accompanying the study, which was published online March 6 in the journal Cancer.
Kucuk said the study's large population is one point in its favor. The new findings also echo the results of a prior study that found higher soy intake lowered the odds of breast cancer's return.
"When you have decreased recurrence, you have decreased mortality," Kucuk noted.
"I think now we can say women with breast cancer should not worry about going out to eat edamame, miso soup, tofu and other soy products, and [to] drink soy milk," Kucuk said.
All of the participants in the new study were enrolled in the Breast Cancer Family Registry, which began in 1995. At the study's start, the women averaged 52 years of age.
During the study, just over 1,200 of the participants died. Zhang's team tracked data on all the women's diets, some obtained even before they had received their diagnosis of breast cancer.
The researchers found an association between higher soy intake and better survival after breast cancer diagnosis. However, the study wasn't designed to prove cause-and-effect.
Still, Zhang's team noted that the benefit was strongest for women who did not have hormone-receptor positive cancers -- the type that's sensitive to estrogen. These women had a 50 percent reduced risk of dying from any cause during the follow-up.
Women who had never taken hormone therapy for menopause also appeared to gain a substantial benefit from high soy intake -- they had a 32 percent reduced risk of death during the follow-up period.
How much soy was needed to see an effect? According to the researchers, women in the "low-soy" group ate less than 0.3 milligrams (mg) of soy isoflavones daily, while those in the highest took in 1.5 mg or more. Most women ate more than 1.5 mg/day, with the average intake being 1.8 mg of soy isoflavones daily.
But even that amount is not a lot of soy, Zhang said. An intake of 1.8 mg, she noted, is equal to about one-half to one full serving of soy foods, such as soy beans or tofu, per week.
The experts could only speculate as to why soy might be protective against breast cancer death.
"The plant-based estrogen, once it attaches to the surface of the cell, makes estrogen less likely to be able to attach to the same cell," Zhang pointed out. In essence, the soy isoflavone bumps estrogen out of its preferred spot on the cancer cell, keeping its effects at bay.
Another idea, Zhang said, is that the soy components may inhibit the growth of nutrient-rich blood vessels that help feed a tumor.
Most women -- especially those in the United States, where soy consumption is lower -- don't need to worry about taking in too much soy, Kucuk noted. In Asian countries, intakes of 20 to 25 mg a day are not unusual, he said.
"If you drink a glass of soy milk, that is about 27 mg of soy," he said.
SOURCES: Fang Fang Zhang, M.D. PhD., assistant professor, epidemiology, Friedman School of Nutrition Science and Policy, Tufts University, Boston; Omer Kucuk, M.D., professor, hematology and medical oncology, and director, Integrative Medicine Center, Emory University Winship Cancer Institute, Atlanta; March 6, 2017, Cancer, online
HealthDay
Copyright (c) 2017
HealthDay
. All rights reserved.
News stories are written and provided by HealthDay and do not reflect federal policy, the views of MedlinePlus, the National Library of Medicine, the National Institutes of Health, or the U.S. Department of Health and Human Services.
More Health News on: