Preventing alcohol use among American Indian and rural youth | National Institutes of Health (NIH)

Preventing alcohol use among American Indian and rural youth
At a Glance
Two distinct prevention strategies reduced alcohol use among American Indian and other youth living in rural communities.
The findings add to evidence that such interventions can help reduce alcohol problems in diverse communities.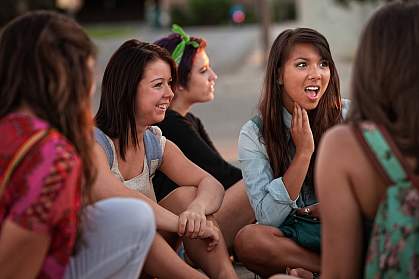 CREATISTA/iStock/Thinkstock
American Indian teens drink at rates similar to other U.S. teens, but they have higher rates of alcohol use before age 15 and higher rates of alcohol problems. Rural teens in general are also at increased risk for alcohol misuse. Early prevention is critical in these populations. However, solutions for underage drinking haven't been well studied in these groups.
To address this gap, a team led by Dr. Kelli A. Komro of Emory University worked with the Cherokee Nation to test 2 strategies to reduce underage drinking and its consequences. The study was conducted within the Cherokee Nation area of northeastern Oklahoma. Cherokee citizens constitute nearly half the population, but whites and other racial/ethnic minorities also live within the area. The study was supported by NIH's National Institute on Alcohol Abuse and Alcoholism (NIAAA) and National Institute on Drug Abuse (NIDA). It was published in the March 2017 issue of the American Journal of Public Health.
One of the strategies was a community-organizing intervention called Communities Mobilizing for Change on Alcohol (CMCA). Teams of adults were trained to take actions to reduce youth access to alcohol in their communities through both social and commercial sources. In the other strategy, known as CONNECT, full-time school social workers conducted brief one-on-one consultations with each student each semester to encourage healthy drinking behaviors. Students who reported high-risk drinking attended follow-up sessions and were referred to specialty treatment when appropriate.
Six communities, each served by a single high school, participated in the study. Students were in 9th or 10th grade when the study began, and were followed for 3 years. Students in 2 communities received both interventions. Those in 2 communities served as controls and received neither intervention. One of the remaining communities used only CMCA. The other used only CONNECT. A total of more than 1,600 students participated.
The researchers found that alcohol use, including any use and heavy drinking episodes (5 or more drinks on at least one occasion) in the past 30 days, was significantly reduced among students receiving either or both interventions. CMCA alone reduced alcohol use by 25% and any alcohol-related consequences by 22%. CONNECT alone reduced alcohol use by 22% and alcohol-related consequences by 23%.
"The 2 distinct interventions alone and in combination resulted in similar patterns of effect across time," Komro notes, "but, interestingly, we found no evidence that the 2 interventions combined had significantly greater effects than either alone."
Other prevention activities unrelated to the study were reported in the communities. These can affect the results of the study. In addition, outcomes were based on student self-reports, which aren't always accurate. Finally, school leadership knew which study condition their school was assigned, potentially affecting outcomes. Nevertheless, the study results were significant. They were also consistent with previous findings in other groups showing that these interventions can significantly reduce youth alcohol use.
Related Links
Funding:
NIH's National Institute on Alcohol Abuse and Alcoholism (NIAAA) and National Institute on Drug Abuse (NIDA).