Noninvasive strategies for lung cancer testing | National Institutes of Health (NIH)

About NIH Research Matters
Editor:
Harrison Wein, Ph.D.
Assistant Editors:
Tianna Hicklin, Ph.D., Geriann Piazza
ISSN 2375-9593
Noninvasive strategies for lung cancer testing
At a Glance
Researchers discovered that the activity of a number of genes are altered in the nasal cells of patients with lung cancer who have been smokers.
The findings suggest a noninvasive way to screen for lung cancer.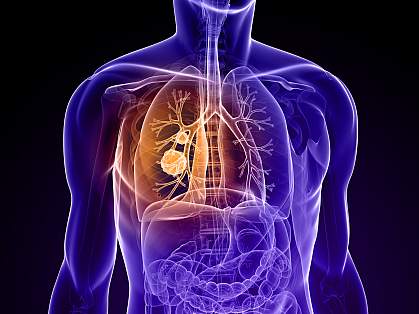 Eraxion/iStock/Thinkstock
Lung cancer is the leading cause of death from cancer nationwide. Smokers, especially heavy smokers, are at the highest risk for developing lung cancer. Smoking can cause changes to your cells' DNA that lead to uncontrolled cell growth, or a tumor.
Finding cancer at an early stage can make it easier to treat. Low-dose spiral CT scan screening has been shown to decrease the risk of dying from lung cancer in both current and former heavy smokers. However, if early signs of cancer are found, an invasive biopsy test is often necessary to determine if the lesion in the lung is malignant (cancer).
Identifying changes in genetic activity, or "gene expression," associated with lung cancer can help doctors better diagnose lung cancer early. Studies have shown that the activity of certain genes within lung cells of current or former smokers can be used to distinguish people with lung cancer from those whose lesions were found to be benign. However, collecting lung samples is an invasive procedure.
To investigate a noninvasive approach, a team of scientists led by Drs. Avrum Spira and Marc Lenburg at Boston University School of Medicine looked at gene expression in nose cells from current or former smokers with a potentially cancerous lung lesion. The study was supported in part by NIH's National Cancer Institute (NCI). Results appeared on February 27, 2017, in the Journal of the National Cancer Institute.
The researchers collected cell samples swabbed from the noses of current or former smokers who were being evaluated for a suspected cancerous lung lesion. Using microarray analysis, the team looked at gene expression in 375 patients. They found 535 genes that were expressed differently between patients who were diagnosed with lung cancer and those whose lesions were found to be benign a year after enrollment into the study.
The scientists compared these gene expression changes with microarray data from bronchial airway samples taken from the same group of patients. They found a number of changes that were similar between the nose and lung samples of patients with lung cancer. These findings suggest that smoking may cause similar genetic changes throughout the entire airway.
The team used the 30 most prominent changes to create a biomarker panel. They tested whether the panel could predict a lung cancer diagnosis for an independent group of 130 patients. They compared the results with a clinical risk factor model that considered the patients' age, smoking status, and other factors. The biomarker panel had a better predictive value. When the 2 models were combined, the ability to accurately detect lung cancer was further improved.
"We find that nasal gene expression contains information about the presence of cancer that is independent of standard clinical risk factors, suggesting that nasal epithelial gene expression might aid in lung cancer detection," explains Lenburg. "Moreover, the nasal samples can be collected noninvasively with little instrumentation or advanced training." Future studies will be needed to assess uses of the biomarker panel in clinical settings.
—by Tianna Hicklin, Ph.D.
Related Links
Funding:
NIH's National Cancer Institute, the Department of Defense, Boston University Coulter Award, and Veracyte, Inc.