Many With Irregular Heartbeat Not on Meds They Need: Study: MedlinePlus Health News
Many With Irregular Heartbeat Not on Meds They Need: Study
More than 80 percent of patients who suffered a stroke weren't getting adequate anti-clotting therapy
Tuesday, March 14, 2017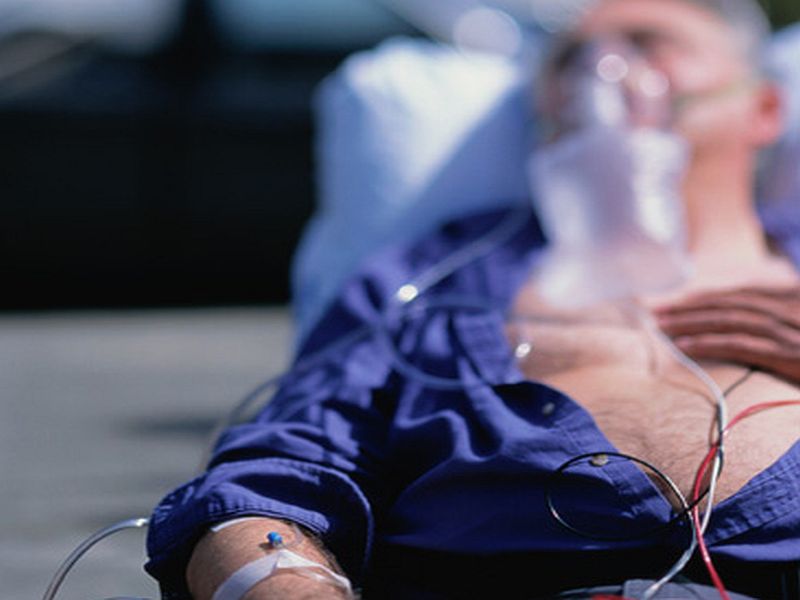 TUESDAY, March 14, 2017 (HealthDay News) -- Many people with an irregular heartbeat who suffer a stroke may not have been on medications that might have prevented their stroke, a new study suggests.
Duke University researchers found that 84 percent of stroke patients with the heart condition known as atrial fibrillation (AF) had not been getting adequate clot-preventing therapy.
Dr. David Wilber, a cardiologist at Loyola University Medical Center in Illinois, called the findings "sobering."
"This emphasizes the fact that probably the most important cause of stroke in AF patients is under-anticoagulation or no anticoagulation," said Wilber, who is also editor-in-chief of the journal JACC: Clinical Electrophysiology.
Study lead researcher Dr. Ying Xian agreed.
"We estimate that the vast majority of these strokes could have been prevented if patients had the appropriate anticoagulation," said Xian, an assistant professor of neurology at Duke, in Durham, N.C.
About 3 million Americans have atrial fibrillation, according to the Heart Rhythm Society.
Atrial fibrillation is an arrhythmia in which the heart's upper chambers quiver chaotically. The condition is not immediately life-threatening, but it raises the risk of blood clots forming in the heart. From there, a clot can travel to the brain to cause a stroke.
Because of that, guidelines say that many such patients should be on an anticoagulant. Those drugs include warfarin (Coumadin), which has been used for decades, and newer medications such as Pradaxa, Eliquis or Xarelto.
Yet studies have long shown that many atrial fibrillation patients who should be on an anticoagulant are not.
What's going on? Clot-preventing drugs do carry risks, Xian pointed out. Those include the risk of internal bleeding in the gastrointestinal tract or the brain.
But, Wilber said, some doctors are probably "overestimating" those risks, while also under-appreciating the benefits of anticoagulants for atrial fibrillation patients at high risk of stroke.
There are other reasons for the underuse.
Warfarin, for example, is difficult to take, Xian explained: It interacts with many medications, supplements and foods, and patients need monthly tests to make sure their blood levels of the drug are within a narrow "therapeutic window." That window is high enough to prevent dangerous clots, but low enough to avoid internal bleeding.
The latest findings are based on records from over 94,000 U.S. patients who'd suffered an ischemic stroke -- the kind caused by a blood clot -- and had a history of atrial fibrillation.
Overall, Xian's team found, 84 percent had not been getting adequate clot-preventing treatment before their stroke.
That was despite the fact that almost all of the patients would have been considered high-risk for a stroke. (Doctors use a standard scoring system to estimate AF patients' stroke risk -- based on factors including age and whether they also have conditions such as heart disease, high blood pressure or diabetes.)
Some patients were not on an anticoagulant at all, while others were on a warfarin dose that wasn't high enough to prevent clots. Some were only on aspirin.
But, Wilber said, "aspirin is not effective for preventing AF-related strokes."
And that may be another issue, he said: Some doctors may believe that aspirin is enough.
There are, though, "legitimate reasons" for some atrial fibrillation patients to avoid anticoagulants, Wilber said. People at high risk of internal bleeding or falls may not be able to take the drugs.
In this study, some of the patients were at heightened risk of internal bleeding or falling. But for two-thirds, Xian said, there was no documented reason they should avoid the medications.
All of the patients suffered a stroke at some point between 2012 and 2015.
According to Wilber, it's possible the situation is somewhat different now, as the newer anticoagulants have come into wider use.
In general, those drugs are less likely than warfarin to cause dangerous bleeding, and they require no monthly tests, Xian pointed out.
However, Wilbur said they are very expensive.
According to Xian, atrial fibrillation patients should talk with their doctors to make sure their stroke risk is being managed as well as it can be.
If you are not taking an anticoagulant, Wilber said, ask your doctor why.
The report was published in the March 14 issue of the Journal of the American Medical Association.
The study was funded by the Patient-Centered Outcomes Research Institute, a government-sponsored nonprofit. Xian and some co-authors on the study have received research funding from anticoagulant makers.
SOURCES: Ying Xian, M.D., Ph.D., assistant professor, neurology, Duke University School of Medicine, and member, Duke Clinical Research Institute, Durham, N.C.; David Wilber, M.D, director, cardiology division, Loyola University Medical Center, Maywood, Ill., and editor-in-chief, JACC: Clinical Electrophysiology; March 14, 2017, Journal of the American Medical Association
HealthDay
Copyright (c) 2017
HealthDay
. All rights reserved.
News stories are written and provided by HealthDay and do not reflect federal policy, the views of MedlinePlus, the National Library of Medicine, the National Institutes of Health, or the U.S. Department of Health and Human Services.
More Health News on: