Many College Football Players Lack Vitamin D: Study: MedlinePlus Health News
Many College Football Players Lack Vitamin D: Study
Deficiency could put them at risk for muscle injuries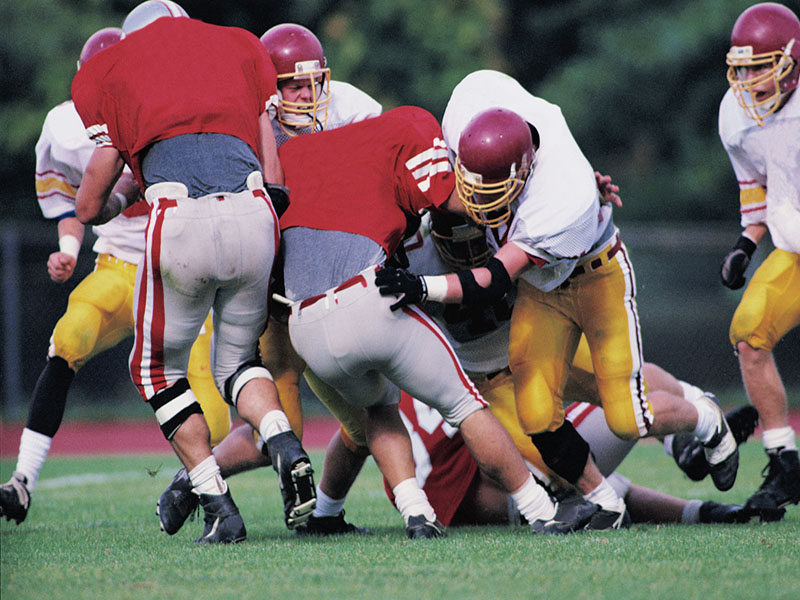 THURSDAY, March 16, 2017 (HealthDay News) -- Low vitamin D levels are common among college football players and may put them at increased risk for injuries, a new study suggests.
"Vitamin D has been shown to play a role in muscle function and strength," said senior study author Dr. Scott Rodeo, co-chief emeritus of the sports medicine and shoulder service at the Hospital for Special Surgery in New York City.
"While most prior studies have focused on the aging population as the group most likely to experience the harmful effects of inadequate vitamin D, few reports have looked at the impact on muscle injury and function in the high-performance athlete," he said in a hospital news release.
In the study, Rodeo's team assessed 214 college football players, average age 22. The investigators found that nearly 60 percent had low levels of vitamin D, including 10 percent with a severe deficiency.
Those players with low vitamin D levels had higher rates of lower extremity muscle strain and core muscle injury than those with normal levels. Of the 14 players who missed at least one game due to a strain injury, 86 percent had low vitamin D levels.
Low vitamin D levels may cause changes in muscle composition that increase the risk of injury, according to the researchers. But the study only found an association, rather than a cause-and-effect link, between vitamin D levels and injury.
"Awareness of the potential for vitamin D inadequacy could lead to early recognition of the problem in certain athletes. This could allow for supplementation to bring levels up to normal and potentially prevent future injury," Rodeo said.
"Although our study looked at high-performance athletes, it's probably a good idea for anyone engaging in athletic activities to give some thought to vitamin D," Rodeo said.
Adequate vitamin D is essential for musculoskeletal structure, function and strength, Rodeo explained. However, more than 40 percent of the U.S. population is vitamin D-deficient, he said.
Often called the "sunshine vitamin," vitamin D is produced by the skin when exposed to sunlight. Milk and fortified foods, including orange juice and some cereals, can also provide some vitamin D. Supplements are usually prescribed for a vitamin D deficiency, the researchers said.
The study was to be presented Thursday at the annual meeting of the American Academy of Orthopaedic Surgeons, in San Diego. Research presented at meetings is viewed as preliminary until published in a peer-reviewed journal.
SOURCE: Hospital for Special Surgery, news release, March 16, 2017
HealthDay
Copyright (c) 2017
HealthDay
. All rights reserved.
News stories are written and provided by HealthDay and do not reflect federal policy, the views of MedlinePlus, the National Library of Medicine, the National Institutes of Health, or the U.S. Department of Health and Human Services.
More Health News on:
Thursday, March 16, 2017