Hepatitis E Virus Infection after Platelet Transfusion in an Immunocompetent Trauma Patient - Volume 23, Number 1—January 2017 - Emerging Infectious Disease journal - CDC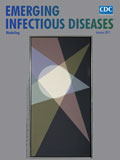 Volume 23, Number 1—January 2017
Letter
Hepatitis E Virus Infection after Platelet Transfusion in an Immunocompetent Trauma Patient
In developed countries, hepatitis E virus (HEV) infection usually results from consumption of contaminated meat or water and causes acute liver disease. Hepatitis E illness is usually self-limiting, and severe, prolonged infections are unusual except in immunocompromised patients. We describe HEV infection in a previously healthy man in France who received massive transfusions of blood, plasma, and platelets after a traumatic skiing accident.
At hospital admission, the patient was in hemorrhagic shock caused by severe blunt splenic injury. He underwent an immediate splenectomy with massive transfusion: 9 packed red blood cells units, 7 fresh frozen plasma units, and 1 whole blood platelet pool. Because of hemopneumothorax, multiple rib fractures, and pulmonary contusions, severe acute respiratory distress syndrome developed, and the patient was treated with venovenous extracorporeal membrane oxygenation for 3 days. The patient received another whole blood platelet pool transfusion at day 5 posttrauma and was treated with renal replacement therapy for 6 weeks.
The patient was not considered to be immunocompromised. Serologic tests for HIV were negative, leukocyte counts were within reference ranges, and no steroids were given to treat trauma. Neither the patient nor his family reported recent travel to HEV endemic areas or intake of uncooked or poorly cooked pork or game meat in the 3 months before the accident. All transfused blood products were retrospectively tested for HEV, and the blood platelet pool transfused at day 5 was identified as coming from an HEV-infected donor, who had viremia reaching 290 copies/mL. Evidence of direct blood contamination was provided by genotyping, which showed the virus in the donor and blood platelet pool were identical. HEV from the patient and the contaminated platelet pool were both HEV subtype 3f, and a phylogenetic study of the open reading frame 2 coding region by neighbor-joining cluster analysis confirmed the homology.