Little Gains in Efforts to Boost Outpatient Care: MedlinePlus Health News
Little Gains in Efforts to Boost Outpatient Care
Large analysis finds declines or stagnation in many basic health measures
Monday, October 17, 2016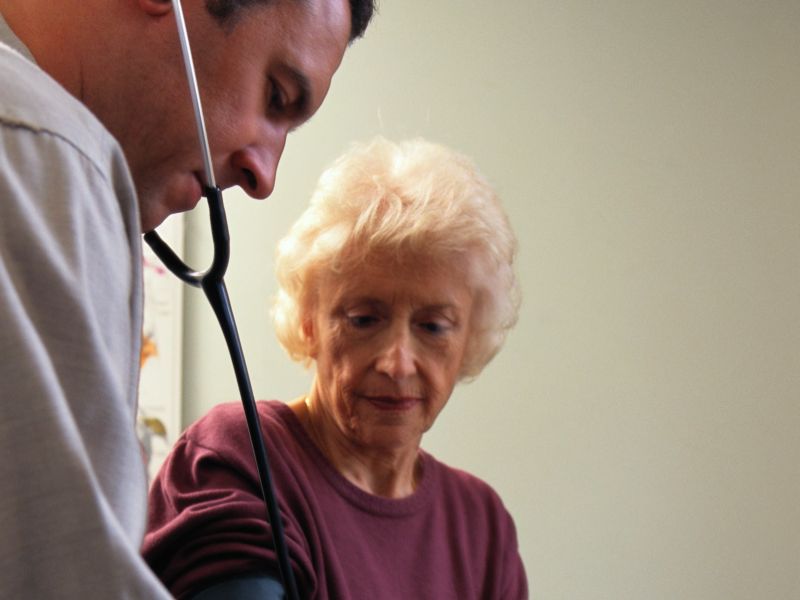 MONDAY, Oct. 17, 2016 (HealthDay News) -- Efforts to improve the quality of care in the United States have had little impact on many aspects of outpatient care, a new, sweeping analysis shows.
The researchers examined the quality of office-based care -- meaning visits to physicians, physician assistants and nurse practitioners -- between 2002 and 2013.
Ongoing deficits in care "pose serious hazards to the health of the American public," the study authors concluded.
One in four eligible Americans, for example, failed to receive recommended cancer screening.
"That didn't change at all over 10 years and, in fact, got worse in places like mammography and cervical cancer screening," said study author Dr. David Levine.
Levine is an internist and research fellow at Brigham & Women's Hospital and Harvard Medical School in Boston.
Levine and his team also identified wasteful spending and possible harm due to inappropriate use of treatments and medicines.
About half of Americans who sought care for a virus were prescribed antibiotics, for instance. And this occurred despite strong evidence that these medicines don't fight viral infections.
Overuse of antibiotics exposes patients to unnecessary cost, possible side effects and increased prevalence of antibiotic-resistant bacteria, the study authors explained. Yet avoidance of inappropriate antibiotic use actually worsened over the study period.
Importantly, the study does not reflect changes that occurred as a result of the Affordable Care Act, also known as Obamacare. The law's insurance expansion kicked in after open enrollment in October 2013.
Still, the researchers had hoped to see "bigger and better changes" over the study period, Levine said.
The Boston research team reported their findings online Oct. 17 in the journal JAMA Internal Medicine.
The new analysis follows on groundbreaking work, published a decade ago, revealing that Americans receive only about half of recommended care.
Since then, local, regional and national efforts have focused on ways to ensure that Americans receive better and safer care.
But gaps in care persist, according to Elizabeth McGlynn, who led the earlier study while at RAND Health in Santa Monica, Calif.
McGlynn is now director of Kaiser Permanente's Center for Effectiveness and Safety Research, in Pasadena, Calif.
In a commentary that accompanied the study, McGlynn and colleagues at Kaiser Permanente and the University of Michigan argue that measuring quality isn't enough to improve it.
Using data from a nationally representative annual survey of the U.S. adult population, Levine's team evaluated 46 quality indicators. These included measures of underuse and overuse of medical treatments and patient experiences.
Between 2002 and 2013, the population as a whole became slightly older, less white, more Hispanic, more college-educated and less likely to smoke, the study found. Meanwhile, the proportion of Americans with three or more chronic diseases jumped from 8 percent to 18 percent.
While the study showed modest gains in a few clinical care measures, other indicators of quality remained unchanged or even declined.
On clinical quality, appropriate use of beta blockers for heart failure and statin drugs for stroke showed the greatest improvement. Levine suspects those gains were driven by the nation's largely fee-for-service system of reimbursing health care providers.
"If you recommend something, you're going to end up getting reimbursed for it," he said.
At the same time, declines occurred in the use of blood pressure medicines -- known as angiotensin-converting enzyme (ACE) inhibitors and angiotensin receptor (ARB) blockers -- in patients with both diabetes and high blood pressure.
Levine couldn't explain the decline. It's "surprising and not encouraging," he said.
Nevertheless, the percentage of adults rating their health care experiences an 8, 9 or 10 out of 10 rose from 72 percent to 77 percent over the study period. And patient ratings of access to care rose from 48 percent to 58 percent.
Among other findings from the study:
About 1 in 4 Americans is not getting recommended diagnostic and preventive screenings.
Nearly one in three Americans fail to receive recommended diabetes care.
About 60 percent of eligible Americans do not receive beneficial treatments for heart and lung disease.
Recommended colon cancer screenings improved, from 48 percent to 63 percent of eligible adults. But the percentage of older adults who escape inappropriate colon cancer screening fell, to 61 percent from 70 percent.
The study doesn't examine why outpatient quality stagnated or eroded. But Helen Burstin, chief scientific officer at the nonprofit National Quality Forum in Washington, D.C., explained that many quality improvement efforts are hospital-based and patient-safety focused.
"It's hard to boil the ocean, and I think some of the targeted improvement efforts have seen targeted improvements," Burstin said.
Levine believes better use of electronic medical records systems would help. But right now, they're mostly used for billing, not patient care, he said.
"When we build a smart enough system to be able to say, 'You know, Mrs. Smith hasn't gotten that recommended care yet or is getting a lot of inappropriate care. Why is that happening? Look at this.' All of a sudden, I think we would see real big changes in the quality of care," Levine said.
SOURCES: David Levine, M.D., internist and research fellow, Brigham & Women's Hospital and Harvard Medical School, Boston; Elizabeth McGlynn, Ph.D., director, Center for Effectiveness and Safety Research, Kaiser Permanente, Pasadena, Calif.; Helen Burstin, M.D., chief scientific officer, National Quality Forum, Washington, D.C.; Oct. 17, 2016, JAMA Internal Medicine, online
HealthDay
Copyright (c) 2016
HealthDay
. All rights reserved.
News stories are provided by HealthDay and do not reflect the views of MedlinePlus, the National Library of Medicine, the National Institutes of Health, the U.S. Department of Health and Human Services, or federal policy.
More Health News on: