Vaccines protect monkeys against Zika infection | National Institutes of Health (NIH)

Vaccines protect monkeys against Zika infection
At a Glance
Three different vaccine approaches protected rhesus macaques from infection with the Zika virus.
The results suggest that each technique holds promise for developing a safe and effective Zika vaccine for people.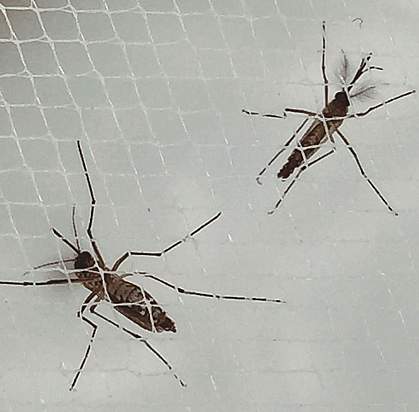 NIAID
The Zika virus spreads through the bite of infected mosquitos. The virus also can be transmitted sexually. Most people who get infected with Zika virus don't become sick. For the 20% of people who do, the illness is generally mild. The most common symptoms in adults are fever, rash, joint pain, and eye infections (sometimes called "pink eye"). Zika virus infection during pregnancy, however, can cause severe fetal defects. Zika has also recently been linked to other problems with the adult nervous system.
NIH's National Institute of Allergy and Infectious Diseases (NIAID) is supporting research and development of multiple
Zika vaccine
candidates. Dr. Dan H. Barouch leads a research team at Harvard Medical School and Beth Israel Deaconess Medical Center that is collaborating with scientists at Walter Reed Army Institute of Research and the University of São Paulo. They previously showed progress developing Zika vaccines in mice. In their latest study, they tested 3 different vaccine approaches in rhesus macaques, an important animal model. Results appeared online on August 4, 2016, in
Science
.
The researchers first tested an inactivated Zika virus vaccine in 16 rhesus macaques. Half the animals received the experimental vaccine and half a placebo injection. Within 2 weeks after the initial injection, all vaccinated animals developed antibodies to the Zika virus. A second dose given 4 weeks later substantially boosted antibody levels. When the monkeys were exposed to Zika virus, the group that received the placebo injections developed high levels of virus in blood and other tissues for 6 to 7 days. Vaccinated animals had no detectable virus and showed no other evidence of infection.
In another experiment, the team tested 2 vaccines designed to trigger an immune response against the viral envelope protein, a key vaccine target on the Zika virus. The scientists administered 2 doses of an experimental DNA vaccine, 1 dose of an experimental adenovirus vector vaccine, or a placebo injection to 3 groups of 4 monkeys each. The group that received the DNA vaccine received a booster shot 4 weeks later.
The researchers detected significant Zika-neutralizing antibodies in the animals after the second DNA vaccine injection. The adenovirus vector-based vaccine induced Zika-specific neutralizing antibodies 2 weeks after the single injection.
The monkeys were exposed to Zika virus 4 weeks after the final vaccinations. Both the DNA and adenovirus vector vaccines provided complete protection against infection. None of the vaccines produced adverse side effects.
"Three vaccines provided complete protection against Zika virus in nonhuman primates, which is the best animal model prior to starting clinical trials," Barouch says. "The consistent and robust protection against Zika virus in both rodents and primates fuels our optimism about the development of a safe and effective Zika vaccine for humans."
Related Links
Reference:
Protective efficacy of multiple vaccine platforms against Zika virus challenge in rhesus monkeys.
Abbink P, Larocca RA, De La Barrera RA, Bricault CA, Moseley ET, Boyd M, Kirilova M, Li Z, Ng'ang'a D, Nanayakkara O, Nityanandam R, Mercado NB, Borducchi EN, Agarwal A, Brinkman AL, Cabral C, Chandrashekar A, Giglio PB, Jetton D, Jimenez J, Lee BC, Mojta S, Molloy K, Shetty M, Neubauer GH, Stephenson KE, Peron JP, Zanotto PM, Misamore J, Finneyfrock B, Lewis MG, Alter G, Modjarrad K, Jarman RG, Eckels KH, Michael NL, Thomas SJ, Barouch DH.
Science
. 2016 Aug 4. pii: aah6157. [Epub ahead of print]. PMID: 27492477.
Funding:
NIH's National Institute of Allergy and Infectious Diseases (NIAID); Walter Reed Army Institute of Research; U.S. Military Research and Materiel Command; U.S. Military HIV Research Program; Henry M. Jackson Foundation; Ragon Institute of MGH, MIT, and Harvard; and São Paulo Research Foundation.