Has Butter Gotten a Bad Rap?: MedlinePlus
Has Butter Gotten a Bad Rap?
Study finds little added health danger for those who love the spread, but some nutritionists remain wary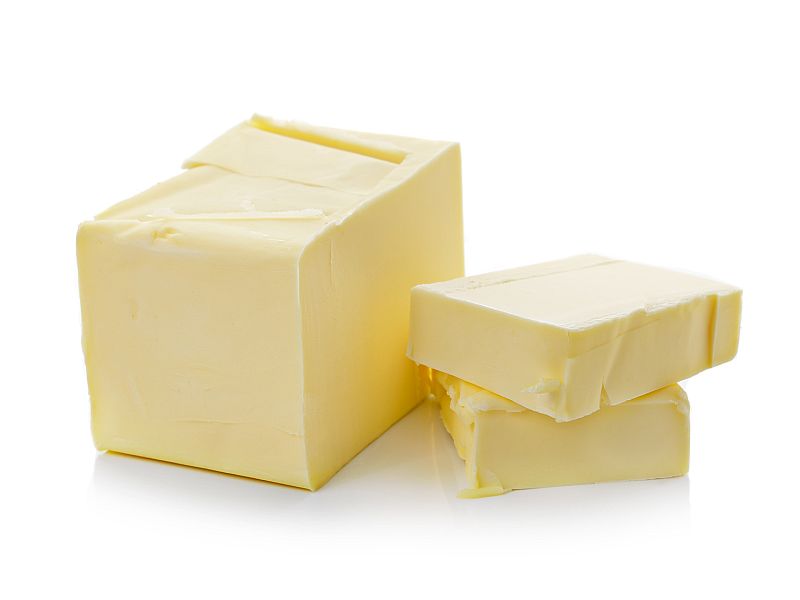 WEDNESDAY, June 29, 2016 (HealthDay News) -- Spread the news: Butter may not be the unhealthy food many Americans believe it to be, new research suggests.
However, that doesn't mean that butter provides any real health benefit, the researchers were quick to add.
"Overall, our results suggest that butter should neither be demonized nor considered 'back' as a route to good health," study senior author Dr. Dariush Mozaffarian, dean of the Tufts University School of Nutrition Science and Policy in Boston, said in a university news release.
His team's review of the data on butter and health found no significant rise in risk of death or heart disease for people who favored the spread.
One nutritionist said her views on butter remain unchanged, however.
"Despite the findings of this study, I am not about to make a huge shift in the recommendations I make about consumption," said Dana White. She is a dietitian and professor of sports medicine at Quinnipiac University in Hamden, Conn.
"Butter remains a very high-calorie and high-fat food with little nutrient density to offer, and therefore still needs to be consumed in strict moderation," White said.
The new study was funded by the U.S. National Heart, Lung, and Blood Institute. Mozaffarian's team reviewed data from nine studies that included more than 636,000 people living in 15 countries.
Average butter consumption for individuals in the study ranged from about one-third of a serving to just over three servings per day. One serving equals about one tablespoon of butter, the team said.
The findings showed that eating butter was only weakly associated with increased risk of premature death and not associated at all with heart disease. There was a slight association with protection against diabetes, the study found.
All of these results were associations only; the study was unable to prove any cause-and-effect relationship between butter consumption and health outcomes.
The bottom line: "Even though people who eat more butter generally have worse diets and lifestyles, it seemed to be pretty neutral overall," said study co-leader Laura Pimpin, a former postdoctoral fellow at Tuft's School of Nutrition Science and Policy. She is now a data analyst in public health modeling for the U.K. Health Forum.
"This suggests that butter may be a 'middle-of-the-road' food: a more healthful choice than sugar or starch, such as the white bread or potato on which butter is commonly spread and which have been linked to higher risk of diabetes and cardiovascular disease; and a worse choice than many margarines and cooking oils -- those rich in healthy fats such as soybean, canola, flaxseed, and extra virgin olive oils -- which would likely lower risk compared with either butter or refined grains, starches and sugars," said Pimpin.
Erin Keane is assistant clinical nutrition manager for outpatient services at Lenox Hill Hospital in New York City. Reviewing the new findings, she agreed that her "healthful eating recommendations as a dietitian remain unchanged" in regards to butter.
"Consuming enough monounsaturated/omega-3 fats while being reasonable with [less healthy] saturated/trans fat is key," Keane said.
"Monounsaturated and omega-3 fat sources (flaxseed, extra virgin olive oil, canola oil, almonds, walnuts, salmon, avocado, natural peanut/almond butters) in place of higher saturated/trans fat foods (such as red meat, dark meat of chicken and poultry, nut butters containing hydrogenated oil, cheese, butter) can positively affect cholesterol levels," she explained.
But what about the finding that butter might lower diabetes risk -- at least a little bit? Study author Mozaffarian urged consumers not to read too much into the finding.
"More research is needed to better understand the observed potential lower risk of diabetes, which has also been suggested in some other studies of dairy fat," he said. "This could be real, or due to other factors linked to eating butter -- our study does not prove cause-and-effect."
The study was published June 29 in the journal PLoS One.
SOURCES: Dana White, R.D., registered dietitian, clinical assistant professor of athletic training and sports medicine, Quinnipiac University, Hamden, Conn.; Erin Keane, R.D., assistant clinical nutrition manager-outpatient, Lenox Hill Hospital, New York City; Tufts University, news release, June 29, 2016
HealthDay
Copyright (c) 2016
HealthDay
. All rights reserved.
News stories are provided by HealthDay and do not reflect the views of MedlinePlus, the National Library of Medicine, the National Institutes of Health, the U.S. Department of Health and Human Services, or federal policy.
More Health News on:
Wednesday, June 29, 2016