May 3, 2016
By: Centers for Disease Control and Prevention (CDC)
About 2 million of the more than 6 million children with attention-deficit/
hyperactivity disorder (ADHD) were diagnosed as young children aged 2-5 years. Children diagnosed with ADHD at an early age tend to have the most severe symptoms and benefit from early treatment. CDC's latest
Vital Signs
report urges healthcare providers to refer parents of young children with ADHD for training in behavior therapy before prescribing medicine to treat the disorder. Learning and practicing behavior therapy requires time and effort, but it has lasting benefits for the child.
"Parents may feel overwhelmed with decisions about their child's treatment for ADHD, but healthcare providers, therapists, and families can all work together to help the child thrive," said Anne Schuchat, MD, Principal Deputy Director, CDC. "Parents of young children with ADHD may need support, and behavior therapy is an important first step. It has been shown to be as effective as medicine, but without the risk of side effects."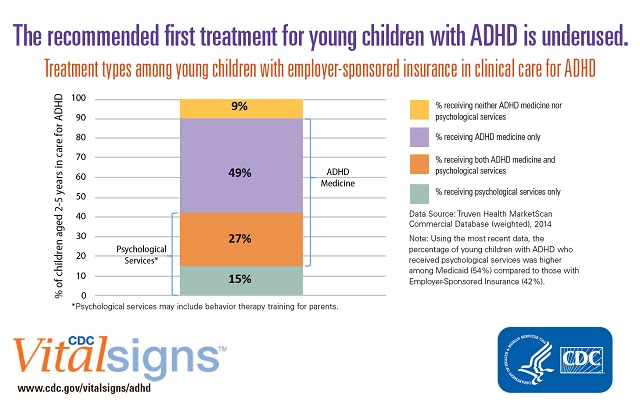 Together with the support of healthcare providers, parents can learn specific ways to improve their child's behavior and keep their relationships strong.
READ MORE: What is the Recommended Treatment for Young Children with ADHD?